Newly Engaged Ginny Thrasher Seeing The Big Picture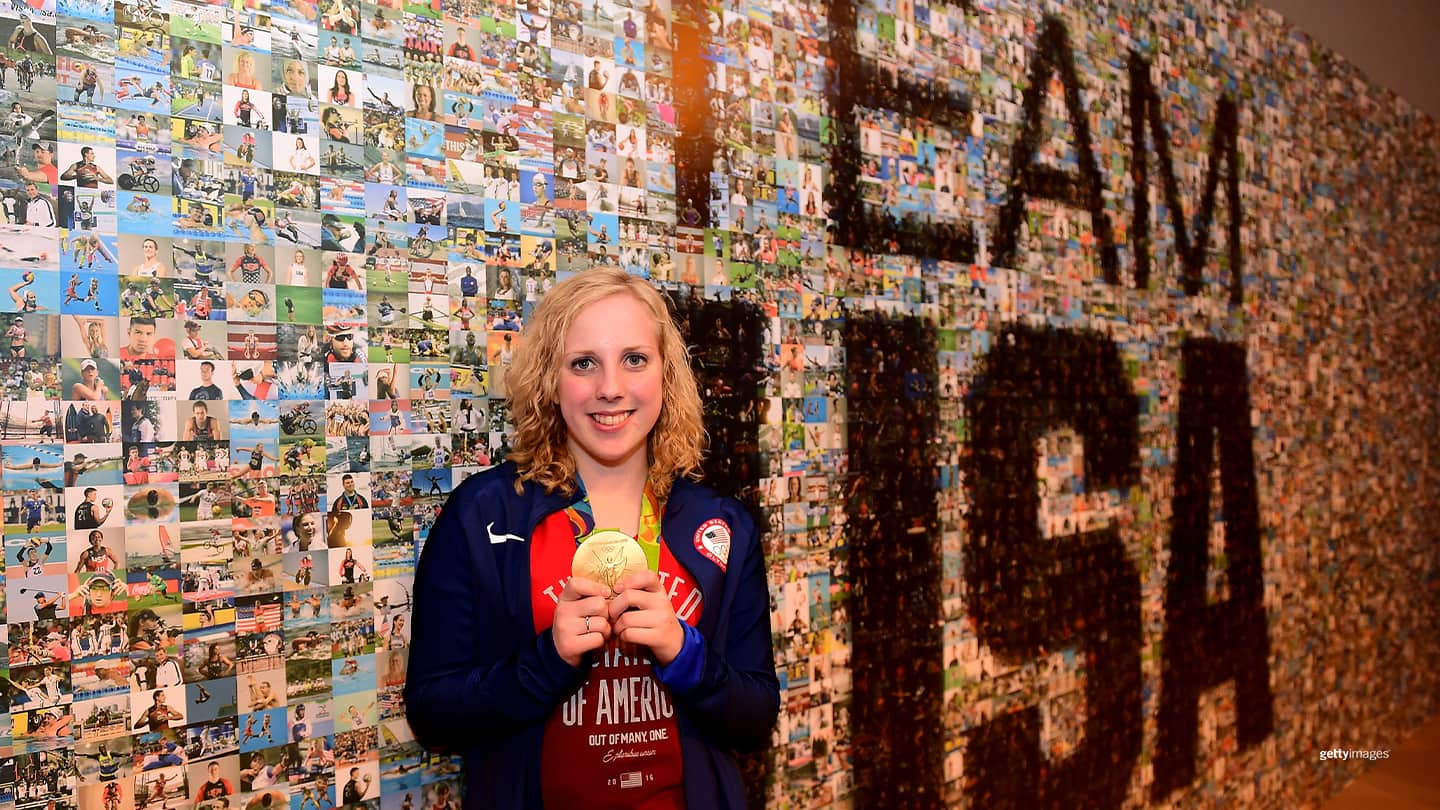 Shooter Ginny Thrasher poses with her gold medal at the USA House on August 3, 2016 in Rio de Janeiro, Brazil.
Given the focus and precision demanded by her sport, Ginny Thrasher — the 2016 Olympic gold medalist in women's 10-meter air rifle — is taking an uncharacteristic approach to her upcoming nuptials.

"I will tell you, I have not planned anything," said Thrasher, who laughed when asked about her wedding date. "We're just trying to enjoy the engagement."

Thrasher and fiancé Connor Smedley, a software engineer, recently announced their engagement on Instagram.
"Connor and I have known each other for 10 years," said Thrasher, "and we've been dating for six of them."
It was yet another milestone for Thrasher, who surprised the Olympic shooting community five years ago by winning the gold medal in Rio at age 19.
"Obviously, it's a surreal experience to go to your very first Olympics and to win a gold medal on the very first competition," Thrasher said.
When the Games ended, Thrasher returned to her day-to-day life as a sophomore at West Virginia University. The transition proved difficult for her.
"I definitely struggled a lot after Rio," Thrasher said. "I didn't necessarily expect to win, and when I did win, I did not have any idea of kind of the aftermath.
"I started feeling this kind of like aimlessness of, 'Why am I shooting? What are my goals now?' The adrenaline high was over. I didn't know that was common. I thought I was having a very special reaction. It was hard for the next probably two years. It was really difficult to compete."
For the first time in her life, Thrasher felt the weight of others' expectations. Now, as a 24-year-old, she has a clearer view of the big picture.
"At the end of the day," said Thrasher, "all you can do is shoot the best you can that day."
That mature perspective helped Thrasher this year, when she fell short of making the U.S. team for the Olympic Games Tokyo 2020.
"On that day, the best I could do was third," said Thrasher, who was an alternate for the team. "That's a really tough place to be. It's really bittersweet. I wish things had turned out differently.
"I've been working on trying to stay a little more present."
Thrasher has plenty of positives in her present. In addition to her engagement, she continues to train full-time at the U.S. Olympic & Paralympic Training Center in Colorado Springs, Colorado, with an eye on next year's world cup events and world championships. She has also developed a new type of kneeling roll for shooting and has increased her social media presence.
"I like to be busy, and I like to have balance in my life," said Thrasher, who owns a degree in biomedical engineering and was a finalist for a Rhodes Scholarship. "I think just being creative and being a well-rounded person helps you to be better at every other thing."
Thrasher said she has been thinking about her legacy these days, which she sees as about more than collecting Olympic medals.
"Legacy is the impact you can have on others," Thrasher said. "I've started taking my social media very seriously in the last year. I'm working really hard on it because I want to grow the sport and help expose new people to the sport. And I also want to elevate the sport."

Thrasher said that she wants to be "the person that I wish I had to look up to when I was 17. People aren't just watching my scores. They're watching how I act on the line. They're watching how I act online."

When she was growing up in a military family, Thrasher tried a number of sports and had settled on figure skating. When the family moved to northern Virginia, she discovered that her new high school had a varsity air rifle team.

"It's not that common," Thrasher said. "Until I found shooting, I hadn't found the combination of what I loved and what I was good at. I considered myself a pretty unathletic kid.

"I definitely find there's a personality type that gravitates towards rifle shooting, and it's a very Type A, precise, typically introverted personality. So, it's kind of nice that I found my sport and I found my people."

After graduating from West Springfield (Virginia) High School, Thrasher moved on to West Virginia, which offered the perfect combination of an outstanding shooting program and her academic major.

"I didn't really have any expectations going into college," said Thrasher of her shooting career. "I just expected to get better."

It didn't take her long. Thrasher became the first freshman in NCAA history to win both individual shooting titles. She still didn't entertain the notion of being an Olympian until she found herself in first place at the Olympic Trials, however.

Now, Thrasher can imagine a career that includes multiple Olympic appearances in a sport that she feels passionate about.

"Until I don't feel that, I'm not going to retire," Thrasher said. "At the end of the day, happiness is a choice."
Bob Reinert spent 17 years writing sports for The Boston Globe. He also served as a sports information director at Saint Anselm College and Phillips Exeter Academy. He is a contributor to TeamUSA.org on behalf of
Red Line Editorial, Inc.