G'Angelo Hancock Closes Out Wrestling Worlds With Bronze Medal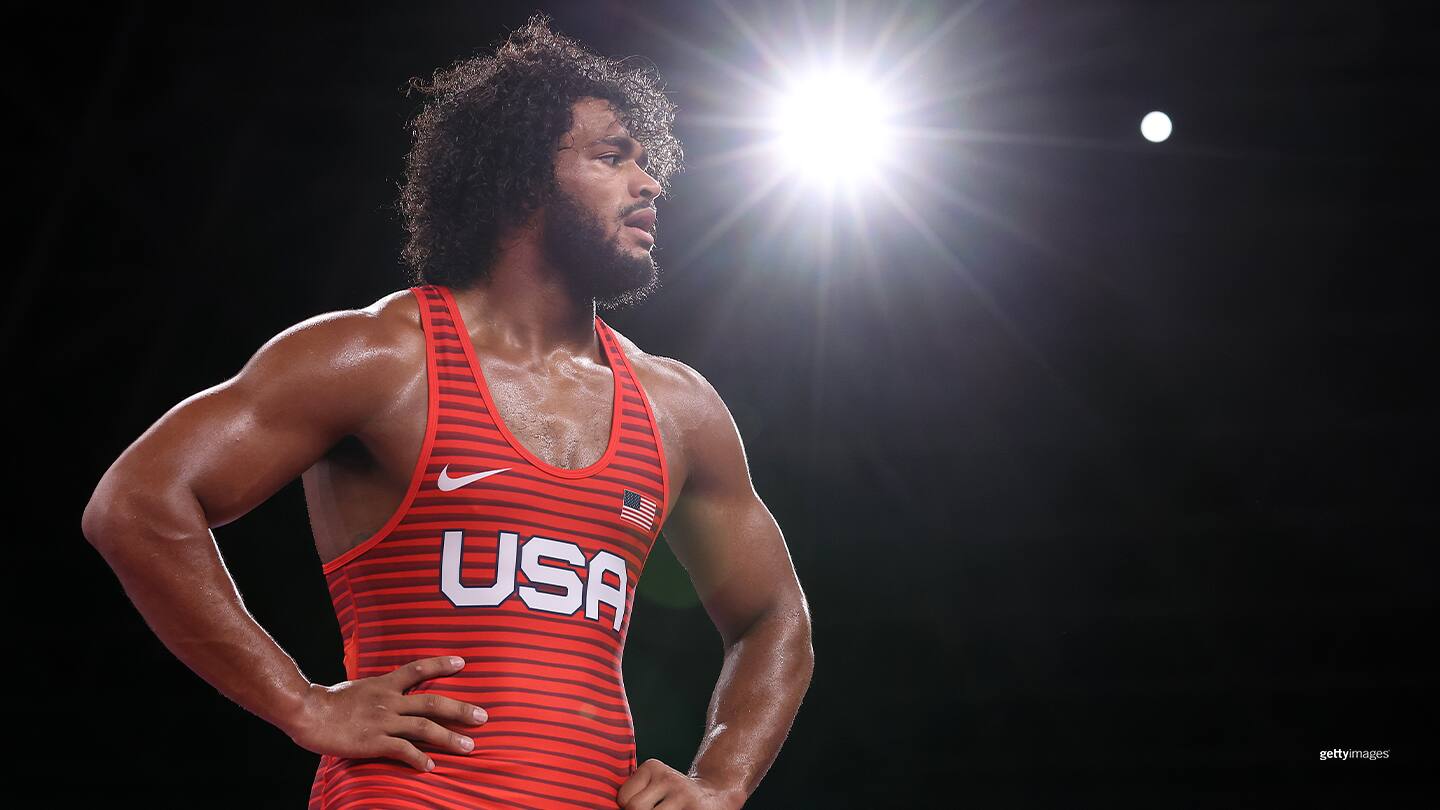 G'Angelo Hancock looks on in his fight against Tadeusz Michalik of Team Poland during the Men's Greco-Roman 97kg 1/4 Final at the Olympic Games Tokyo 2020 on August 02, 2021 in Chiba, Japan.
The fourth time was the charm for Olympian G'Angelo Hancock, who won his first world championship medal in his fourth appearance Saturday in Oslo, Norway, to close out Team USA's campaign.
Bounced back. 🥉@OlympicKidd closes out #WrestleOslo with a bronze medal at 97kg. pic.twitter.com/RjncNXhRLA


— Team USA (@TeamUSA) October 9, 2021
Hancock had suffered a narrow defeat in Friday night's 97 kg. semifinals to Hungary's Alex Szoke, and needed to bounce back quickly in less than 24 hours to wrestle for bronze. Hancock showed no lack of motivation, getting out to a 3-0 lead at the break over Peter Oehler of Germany. After a near takedown by Hancock, Oehler picked up a leg injury and could not continue, giving Hancock the win.
The world championship medal is the career highlight for the 24-year-old from Colorado Springs, Colorado. He previously won a junior world bronze medal in 2016, one year before making his senior worlds debut. Hancock won a silver medal at the 2019 Pan American Games and in 2020 won gold at the Pan American Championships. He competed at both the 2016 and 2020 U.S. Olympic Team Trials, making his Olympic debut at the Olympic Games Tokyo 2020. He advanced to the quarterfinals.
The medal is the 33rd for Team USA in Greco-Roman at the world championships, and its first since 2018. With no U.S. wrestlers still alive for medals on the final day of the world championships Sunday, the U.S. total is complete at 15, second only to the Russian Wrestling Federation with three medals still to be handed out. Both men's and women's freestyle teams won seven medals apiece and each finished second in the team rankings.
Todd Kortemeier is a sportswriter, editor and children's book author from Minneapolis. He is a contributor to TeamUSA.org on behalf of Red Line Editorial, Inc.