Mariah Bell Finishes Fourth At Rostelecom Cup as Olympic Push Continues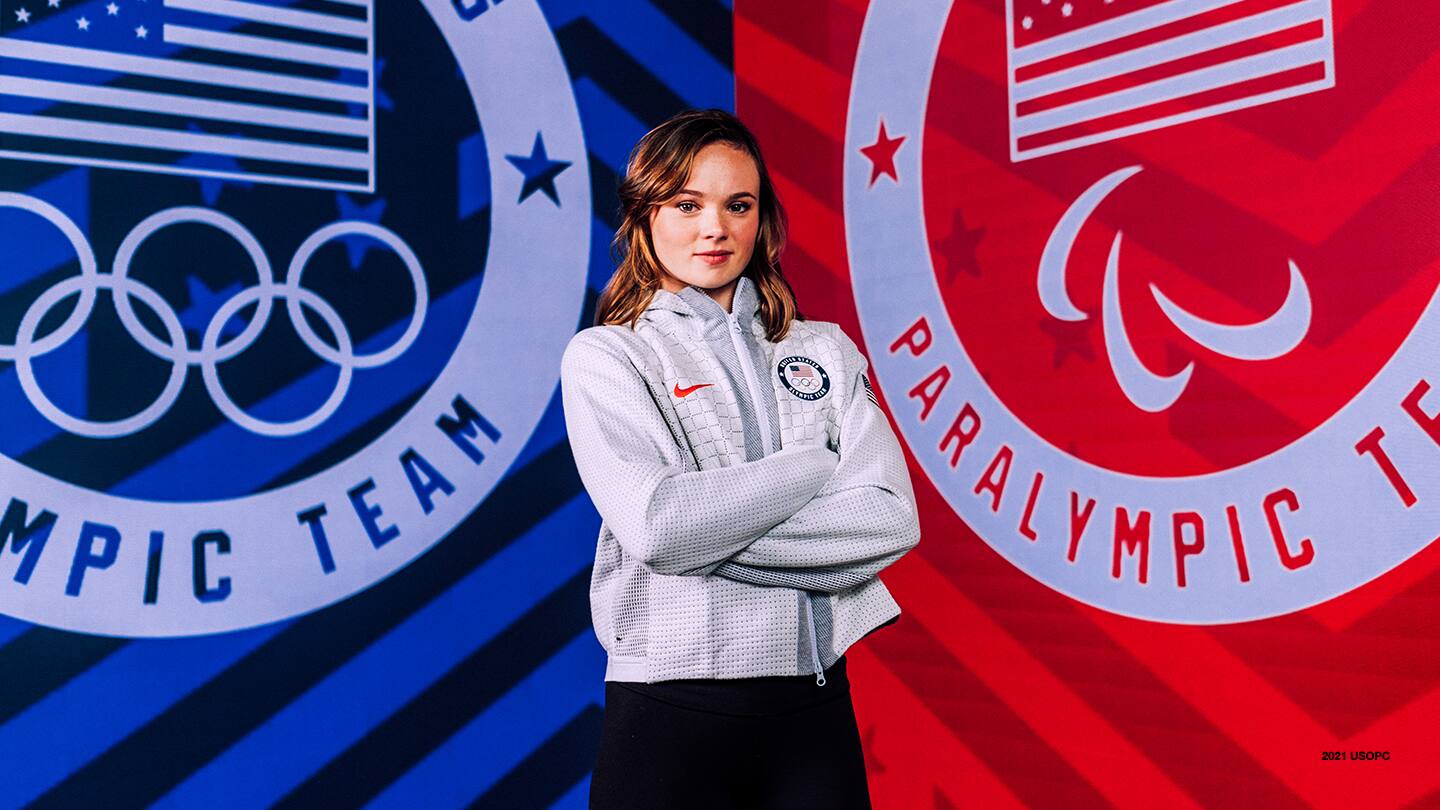 Mariah Bell poses at a Team USA Beijing 2022 Olympic shoot on Sept. 12, 2021 in Irvine, Calif.
Jason Brown did not compete at the Rostelecom Cup, the sixth and final Grand Prix event of the 2021-22 figure skating season held in Sochi, Russia, on Friday and Saturday. Still, the event's results guaranteed him the sixth and final men's spot at the Grand Prix final in Osaka, Japan, on Dec. 9-12.

It is the second time Brown has qualified for the prestigious event, which features the top six performers in each discipline over the six Grand Prix events held in the fall. The veteran skater made the cut with a silver medal at Skate Canada in late October and a bronze last week at Internationaux de France.

Nathan Chen, winner of the last three Grand Prix finals, will join Brown in Osaka. Chen qualified with a bronze at Skate America and a win the following week at Skate Canada. Vincent Zhou, who defeated Chen to win Skate America, was the top U.S. men's qualifier with a gold at Skate America and silver at NHK Trophy.

The three Team USA men will be joined in Osaka by Skate America champions Madison Hubbell and Zachary Donohue, who also won a silver medal at Gran Premio d'Italia, and Madison Chock and Evan Bates, silver medalists at Skate America and the NHK Trophy. Hubbell and Donohue won the event in 2018, while Chock and Bates are three-time Grand Prix final silver medalists.

While no American medaled at Rostelecom Cup this weekend, there were several notable performances.

Mariah Bell skated two solid programs to place fourth in the women's field with a season-best 210.35 points. It is a substantial improvement over her 190.79 points and sixth-place finish at Internationaux de France last week, although she did not try a triple-triple jump combination, an element top women routinely execute in their programs.

Bell acknowledged that omission, saying, "I left points out there, but I was able to get points on the levels and spins I missed in France." As a final warmup to the 2022 U.S. Figure Skating Championships in early January, where she hopes to win one of three U.S. women's spots for the Beijing Games, Bell plans to compete at the Golden Spin of Zagreb, held Dec. 7-11 in Croatia.

Russian women swept the podium in Sochi, with 15-year-old Kamila Valieva landing three quadruple jumps and a triple axel in her free skate to score 272.71 total points, a record. Elizaveta Tuktamysheva won silver with 229.23 points and Maiia Khromykh gained bronze with 219.69 points.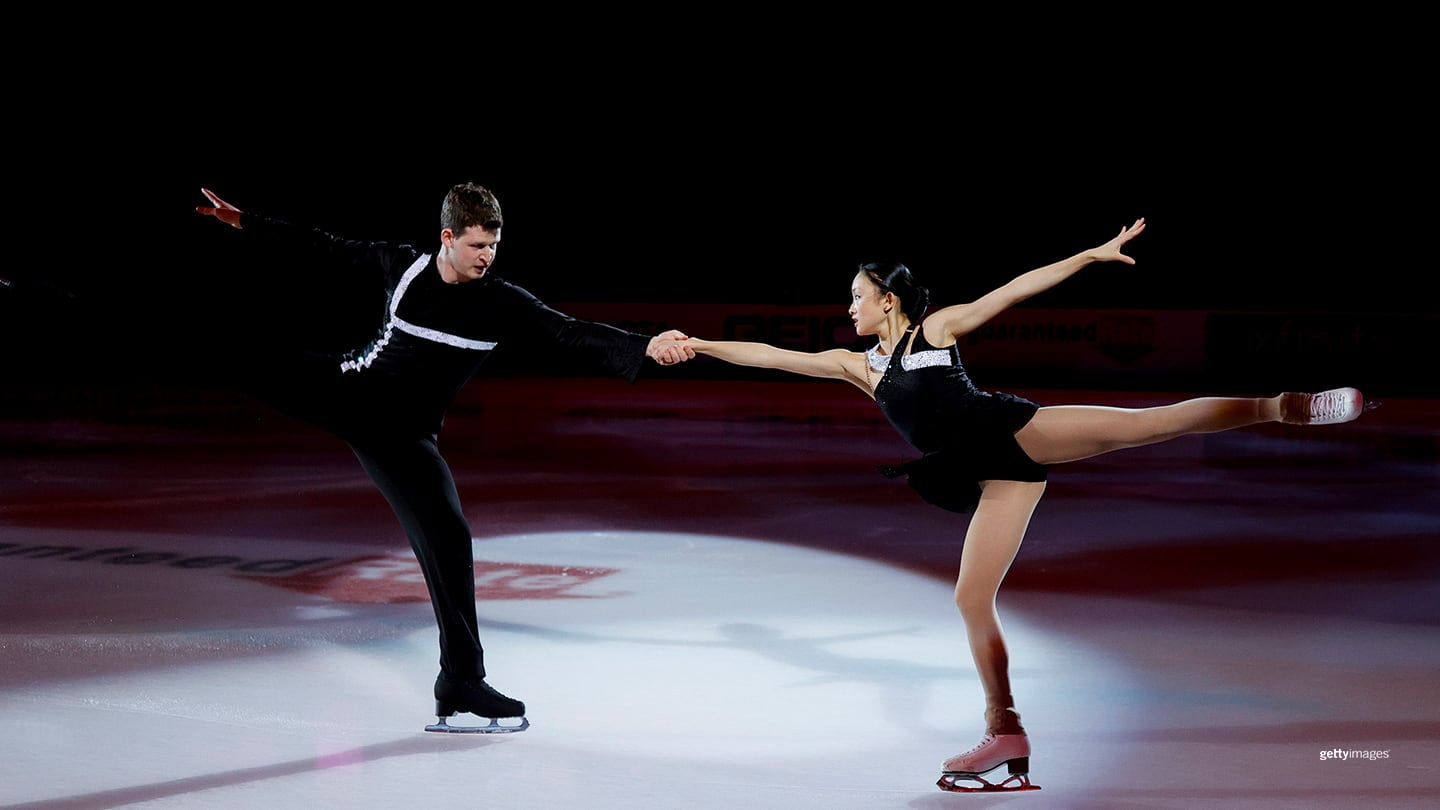 Audrey Lu and Misha Mitrofanov perform during the Skating Spectacular following the U.S. Figure Skating Championships on Jan. 17, 2021 in Las Vegas.
Audrey Lu and Misha Mitrafanov, fourth in U.S. pairs last season, had a career-best short program Friday, landing side-by-side triple-salchow jumps as well as a throw triple lutz. The Boston-based team followed with a strong free skate Saturday, landing two side-by-side triple jumps as well as a solid triple twist, although Lu fell on a throw triple loop. Their 186.16 point total put them fourth in the strong pairs field.

"We're proud of ourselves, that we kept pushing forward and pushing through," Mitrafanov told reporters after the free skate. "We just said, 'No matter what, we are going to keep fighting until the end' and I think we were able to do that."

Russians again swept the podium, with reigning world champions Anastasia Mishina and Aleksandr Galliamov taking gold with 226.98 points. Daria Pavliuchenko and Denis Khodykin, third in the world last season, won silver with 212.69 and Iasmina Kadryova and Ivan Balchenko bronze (193.58).

Three-time U.S. ice dance bronze medalists Kaitlyn Hawayek and Jean-Luc Baker made their season debut at the Rostelecom Cup. The team withdrew from several events earlier this season, including NHK Trophy, due to Hawayek's ongoing recovery from a concussion sustained while training.

On Friday, Hawayek and Baker showed an entertaining disco-themed rhythm dance set to Donna Summer hits. For Saturday's free dance, the couple skated an elegant, lyrical program to Chopin selections. They placed fifth in both segments and fifth overall with 187.62 points.

"This was a much later start to the season than expected," Hawayek said after the rhythm dance. "It was a celebration today and a starting point. We came to this event with an open mind and try to build from here."

Hawayek and Baker, who are expected to contend for one of three U.S. ice dance spots at the Beijing Games, plan to compete at the Golden Spin.

Reigning ice dance world champions Victoria Sinitsina and Nikita Katsalapov of Russia won gold with 211.72 points. Italians Charlene Guignard and Marco Fabbri (203.71) took silver while Canadians Laurence Fournier Beaudry and Nikolaj Soerensen (191.40) claimed bronze.

In the men's event, Camden Pulkinen had a solid short program, landing a quadruple toe loop and triple axel and was fifth Friday. The Colorado Springs, Colorado-based skater fell on the quad in Saturday's free skate but landed two triple axels to finish seventh overall with 237.97 points.

Georgia's Morisi Kvitelashvili became the first skater from his country to win Grand Prix gold with 266.33 points. Russia's Mikhail Kolyda (264.64) took silver and Japan's Kazuki Tomono (264.19) won bronze.
Lynn Rutherford is a sportswriter based out of New York. She is a freelance contributor to TeamUSA.org on behalf of
Red Line Editorial, Inc.