Historic Combined Para Snow Sports World Championships Sets The Stage For Winter Paralympics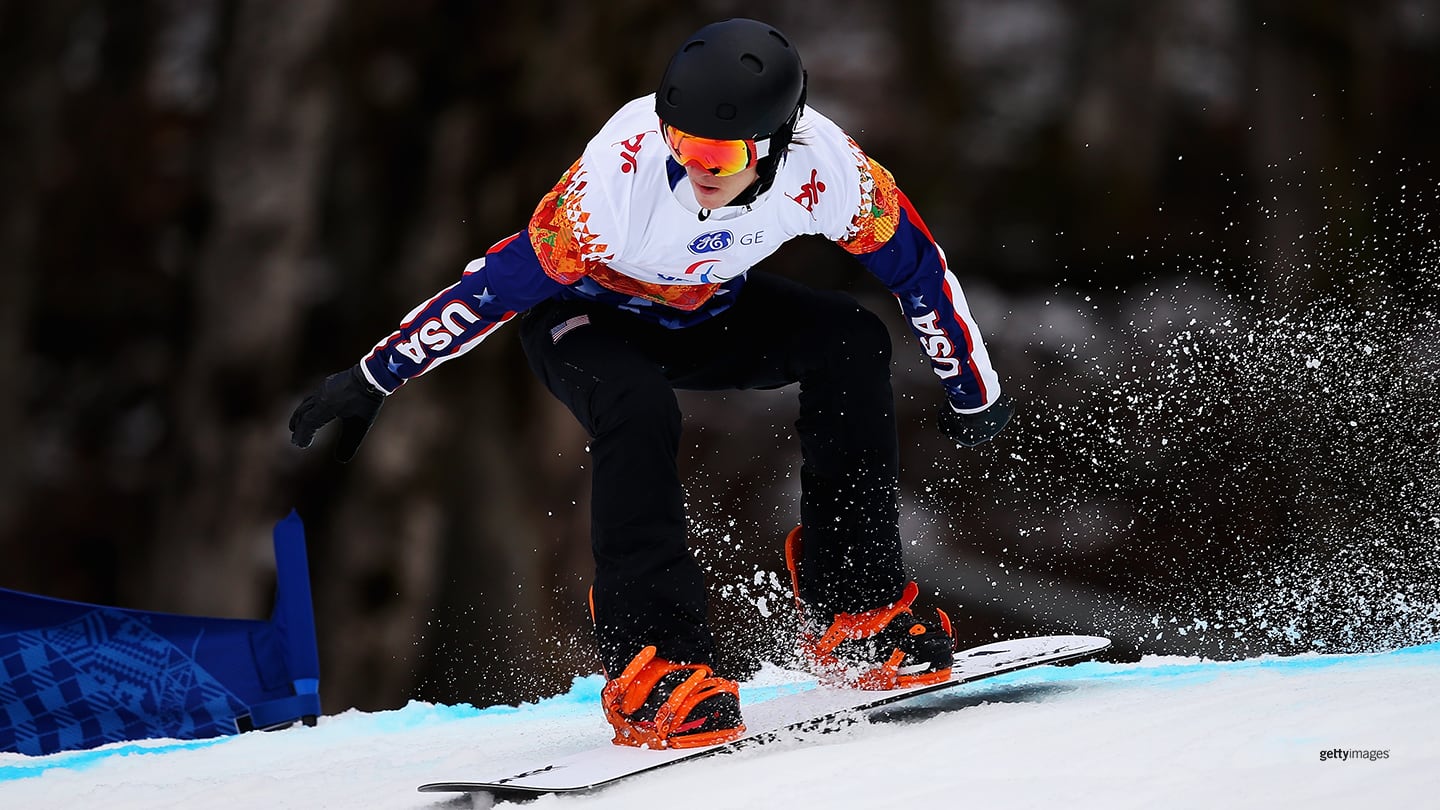 Evan Strong competes during the men's Para snowboard cross standing at the Paralympic Winter Games Sochi 2014 on March 14, 2014 in Sochi, Russia.
New milestones seem to arrive in the Paralympic sports world with each passing year — be they in participation numbers, access, media coverage or any number of in-competition exploits.

For athletes in three winter sports, though, this was a big one.

The idyllic winter sports town of Lillehammer, Norway, had stepped forward to host the inaugural World Para Snow Sports Championships, a historic event that would for the first time bring together competitions in for Para alpine skiing, Nordic skiing and snowboarding.

The announcement came in late 2018, with the event set for February 2021.

"Lillehammer and Norway have delivered fantastic events and festivals before and I know they can do it again," Birgit Skarstein, a Paralympic cross-country skier from Norway, said at the time, reflecting the optimism shared by many in the three sports.

Of course, we all know what happened between then.

The event that once promised to elevate Para sports to a new level was postponed, like so many others around the world, due to the COVID-19 pandemic. Optimism was replaced by uncertainty for the athletes who hoped to use Lillehammer as a springboard for the next year's Paralympic Winter Games in Beijing.

And yet the world keeps turning. And much like togetherness in the face of hardship is a major theme for the Beijing Games, the world championships can also set an inspiring example.

"We have the amazing power to inspire the world," said Oksana Masters, a multi-sport athlete who is aiming to qualify for her third Winter Games as a Nordic skier, "inspire society, and change the way people view hard circumstances and difficult choices and show that anything is possible with the right mindset."

Now with sports on their way back and excitement growing for the Paralympic Winter Games Beijing 2022, which begin in 100 days on March 4, the historic combined world championships are back on. For Team USA athletes, it will still mark an important steppingstone on the way to Beijing.

The rescheduled event is set for Jan. 8-23, 2022, while retaining the Lillehammer 2021 name. In addition to being a crucial test for athletes just weeks before the Paralympics, the world championships will also factor into which Team USA athletes qualify for Beijing, with the final roster announcement coming afterward.

And that's not to mention the increased exposure of having all three world championships together under the same banner — and now in a Paralympic year, with the increased media coverage that comes with it.

"With the championships now taking place about eight weeks before the (Beijing 2022 Paralympic Winter) Games, we are optimistic that the next season will be an all-time high for the athletes with increased — and well deserved — awareness of Para Snow Sports in general," said Ola Keul, director of the Lillehammer 2021 organizing committee, when the new dates were announced in April.

The back-to-back big-time events are a welcome development for many of the U.S. Para athletes planning to compete this winter, many of whom were hit particularly hard as their sports were all but shut down during the early stages of the pandemic.
Over the past two years, just finding competitions has been a challenge, and athletes have had to get creative just to stay in shape.

"This is like nothing we've ever seen before," said Evan Strong, a two-time Paralympic medalist in snowboarding, during the Team USA virtual media summit in October. "So, just being adaptable, being able to roll with the punches as professional athletes, it's just like, no matter where we're at, what we're doing, just give us the opportunity and we'll do what we do best."
With 100 days to the Paralympics, U.S. athletes finally have concrete training and competition plans to look forward to.

Members of the U.S. Para snowboarding national team spent most of the offseason training individually. In October, the squad traveled to Saas-Fee, Switzerland, for their fall training camp. It was an opportunity to work on advanced training and test new gear prior to the start of the season.

The team's world cup competition officially kicks off Nov. 28 in Landgraaf, Netherlands, followed by races in Pyha, Finland; Hochfuegen, Austria; Almasa, Sweden; and Big White, British Columbia.

The Para Nordic ski team is coming off a pair of on-snow camps, one in Germany in September and another in Canmore, Alberta, which runs through Nov. 30. The team is gearing up for the opening world cup race in December at the Canmore Nordic Centre's Provincial Park in the Canadian Rockies.
This event, which includes cross-country skiing and biathlon, will be followed by a residence camp along with races in Bozeman, Montana. In early January, the team will compete at the Sit Ski Nationals in Bozeman before heading to Lillehammer.

This past summer, the Para alpine ski team took part in a camp on Mt. Hood's Palmer Glacier. The camp focused on fundamentals and fine-tuning basic techniques. In August, the squad traveled to Saas-Fee for race discipline and preparation.

In October, they returned to Saas-Fee for another camp with more intense, advanced training and simulated races. The team held a testing camp in Colorado Springs, Colorado, then more training in nearby Aspen before the first North American Series race at Panorama Mountain Nov. 22 and 23 in British Columbia. World cup competition begins Dec. 17-21 in St. Moritz, Switzerland.

For all three sports, the world cup seasons are just the appetizer for the bigger competitions to come.

The rescheduled World Para Snow Sports Championships will be the largest Para-sport competition in Lillehammer since the city hosted the 1994 Paralympic Winter Games. About 750 athletes from over 30 countries are expected to participate. Event organizers believe the timing of the championships couldn't be better for the athletes and staff of all the countries involved.

Many of the athletes recognize the significance of the event, both for its importance to their Paralympic goals and its uniqueness.

"I think it's going to be great," said three-time U.S. Paralympic alpine skier Jasmin Bambur. "We're going to have members of our national team all together. It's never really happened before. Our team is big, there's a lot of positive people there, and we'll all want to do well."

And if they don't? This time they'll have another opportunity on the world stage just a few weeks later.
Stephen Kerr is a freelance journalist and newsletter publisher based in Austin, Texas. He is a freelance contributor to TeamUSA.org on behalf of
Red Line Editorial, Inc.