Ron Lykins, Coach Of Four Wheelchair Hoops Gold-Medal Teams, Retires From Team USA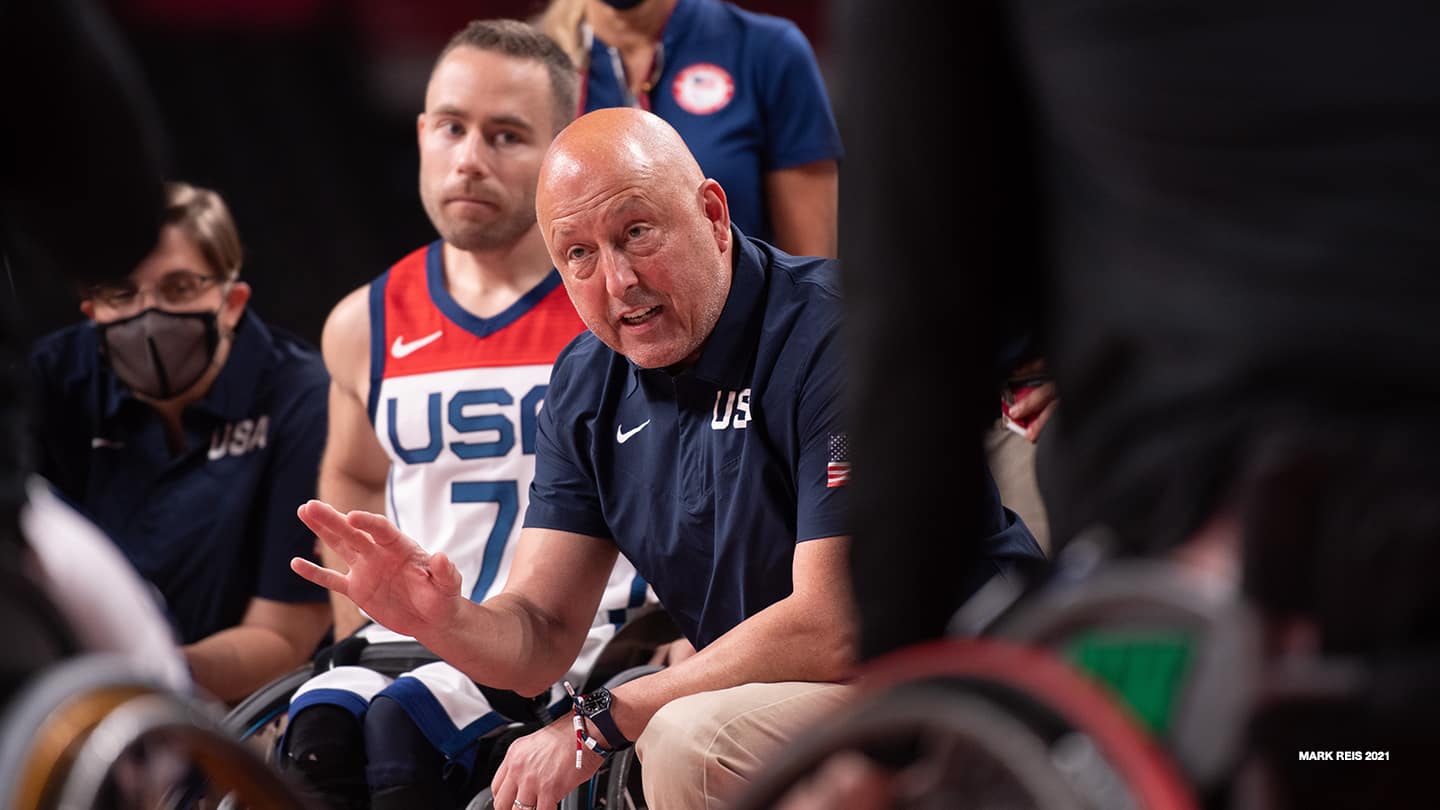 Ron Lykins speaks to the U.S. men's wheelchair basketball team at the Paralympic Games Tokyo 2020 on Aug. 26, 2021 in Tokyo.
Ron Lykins, the longtime wheelchair basketball coach who led the U.S. men's and women's teams to a combined four Paralympic gold medals, is going out on top.

The winningest coach in National Wheelchair Basketball Association history announced his retirement from international coaching on Wednesday, just weeks after leading the U.S. men to a successful title defense at the Paralympic Games Tokyo 2020. Prior to taking the helm of the U.S. men's team, Lykins also led the American women to back-to-back gold medals in 2004 and 2008.

Already an NWBA Hall of Famer, he'll focus his attention now on his role leading the wheelchair basketball team at the University of Missouri.

Lykin got his start in the sport while in college at the University of Kentucky in the early 1980s, learning under the tutelage of then NWBA commissioner and future hall of famer Stan Labanowich. Over the following decades he's gone on to coach at every level within the NWBA, guiding community and collegiate teams, including at the universities of Kentucky and Wisconsin-Whitewater, in addition to his current role at Mizzou.

However, he's best known for his work with Team USA, which also includes a Paralympic silver medal in 1992 with the women's team and more than 10 international championships.

The last of those proved to be one of the most thrilling.

Reaching the gold-medal game in Tokyo, Team USA met host Japan for the title. The two teams traded leads throughout the intense game, but with time running down the hosts built a five-point lead. No sweat for the Americans. Led by veteran Steve Serio and his 28 points, Team USA came back to win the thrilling final 64-60.

In an interview with the Mizzou website prior to the Olympic Games Tokyo 2020, Lykin reflected on how the sport has changed during his nearly four decades.

"It's kind of unrecognizable now from when I first started," he said. "When we went to Barcelona (in 1992), we had to pay our own way over there — flight, uniform, fees — everything to participate in the Games. Now you're completely covered by the United States Olympic and Paralympic Committee. The support of that organization has taken the game to a whole new level. Kids are chomping at the bit to play, and that's great … The increased awareness of it, and for people to see it for the true athletic event it is, all that helps the movement too."
Chrös McDougall has covered the Olympic and Paralympic Movement for TeamUSA.org since 2009 on behalf of
Red Line Editorial, Inc.
He is based in Minneapolis-St. Paul.