U.S. Men Lose Final Group Stage Match, Semifinals And Olympic Qualification Await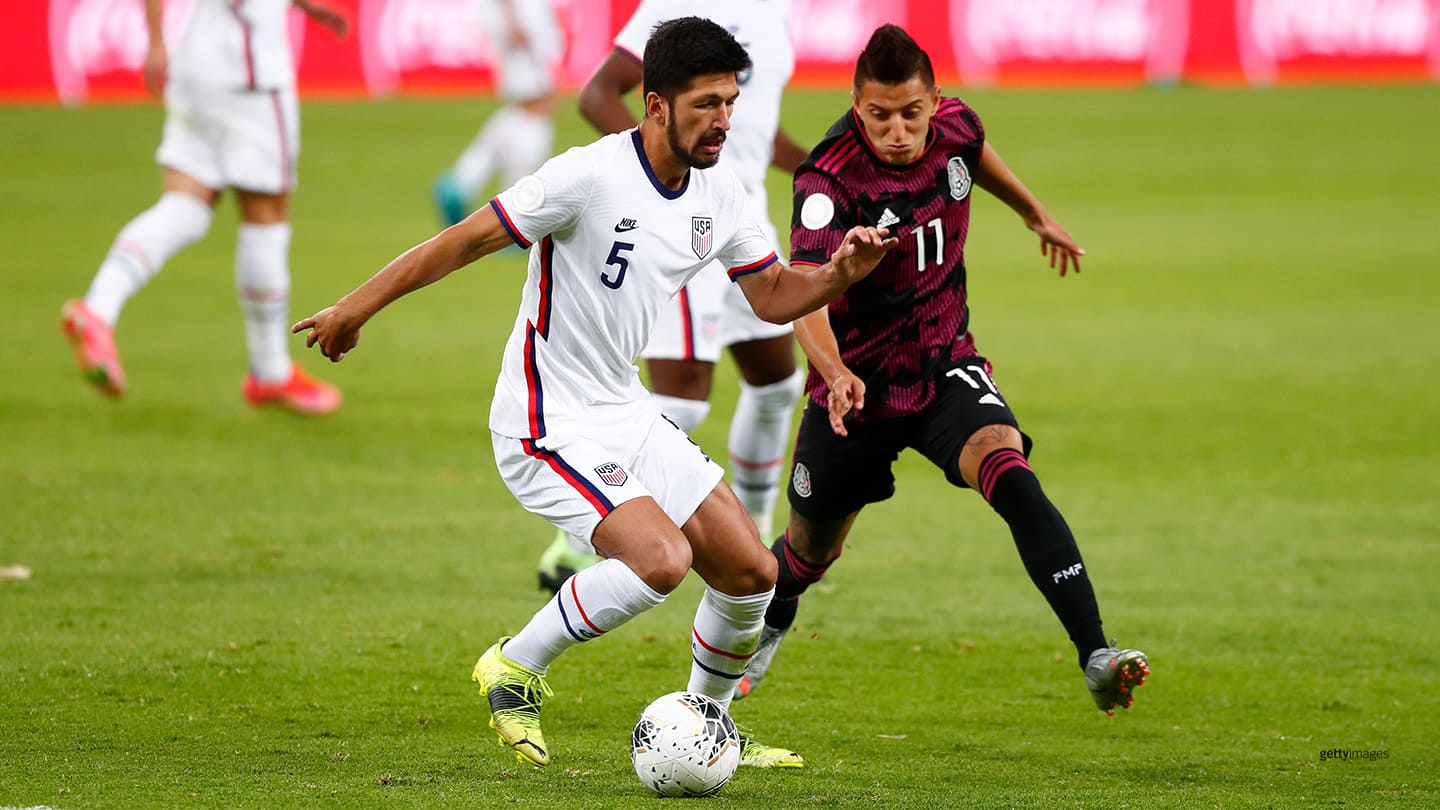 Mauricio Pineda fights for the ball during the match between Mexico and USA as part of the 2020 Concacaf Men's Olympic Qualifying at Jalisco Stadium on March 24, 2021 in Guadalajara, Mexico.
The U.S. men fought hard but came up short in a 1-0 loss against host Mexico Wednesday night in their final group stage match of the Concacaf Olympic Qualifying Championship, and now will turn their attention to Sunday's semifinal that will determine their Olympic fate.

Playing in front of a pandemic-limited but raucous hometown crowd of 10,000, the U.S. defended well throughout the first half and applied significant pressure. But just before halftime, an ill-timed turnover from Sebastian Soto in the U.S. end created an immediate scoring chance going the other way. Uriel Antuna converted the chance as the U.S. allowed its first goal of the tournament.

The U.S. created some scoring chances off set pieces in the second half but couldn't find a way through the Mexico defense. Antuna's goal held up as the U.S. failed to score for the first time in its three group stage matches. Possession was mostly even but Mexico held the edge in shots, 12-5.

The loss changes little for the U.S. except its opponent in the semifinal Sunday with Olympic qualification on the line. As the runner-up in Group A, the U.S. will play the winner of Group B to be determined Thursday. All four teams in the group are mathematically still alive but the teams most likely to advance are Canada and Honduras.

The U.S. has history with both teams in Olympic qualifying. In 2015, it was Honduras that ended U.S. Olympic hopes with a 2-0 semifinal win. In 2012, it was a group-stage loss to Canada that Team USA couldn't rebound from to advance. However, a 3-0 defeat of Canada in 2008 sent the U.S. to the Games in Beijing, its most recent men's Olympic appearance.

The winners of both of the semifinal matches will automatically qualify for the Olympic Games Tokyo 2020. They also will play a tournament final March 30 essentially for continental bragging rights, meaning the U.S. and Mexico could get a rematch.
Todd Kortemeier is a sportswriter, editor and children's book author from Minneapolis. He is a contributor to TeamUSA.org on behalf of
Red Line Editorial, Inc.