U.S. Beats Dominican Republic 4-0 In Olympic Qualifying, Inching Closer To Semifinals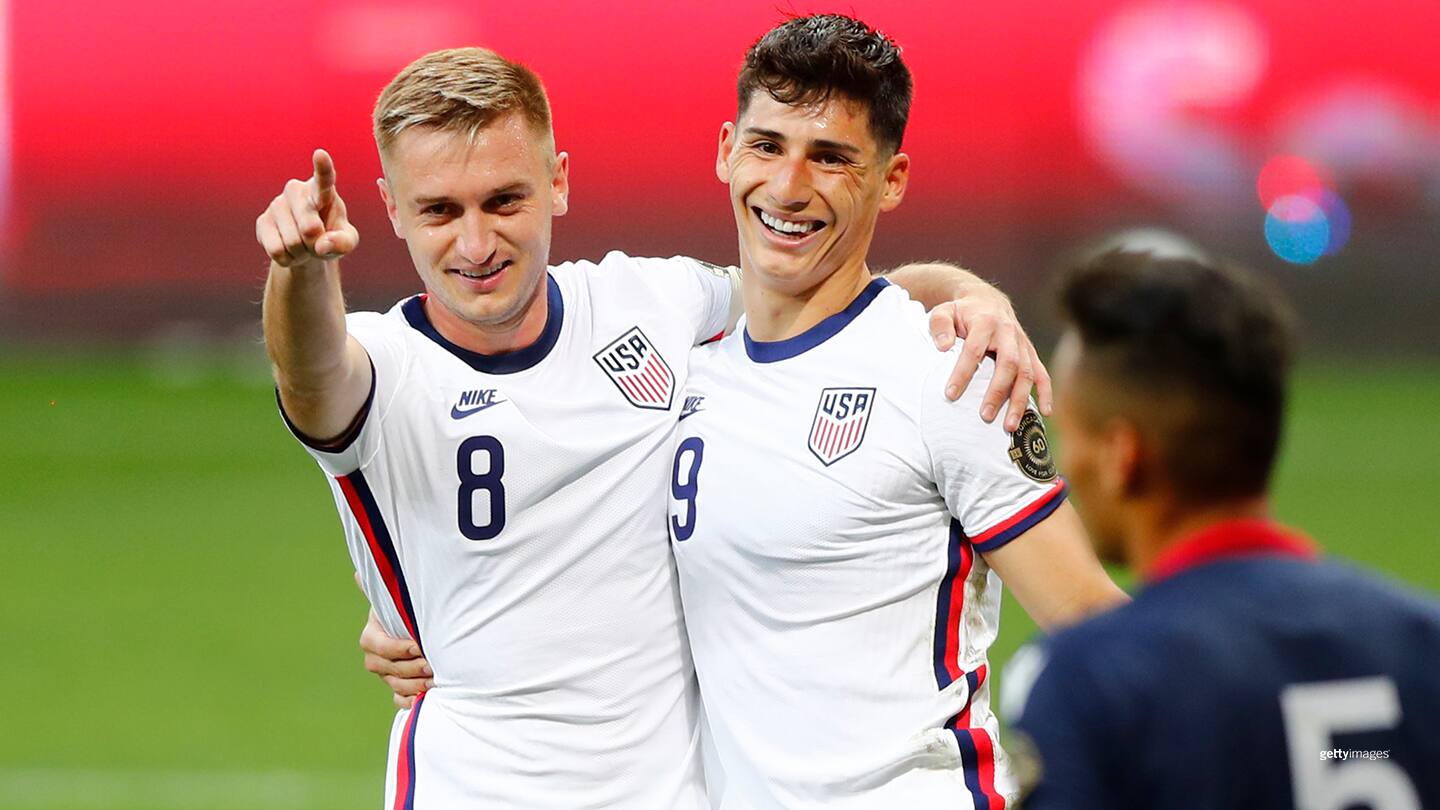 Djordje Mihailovic celebrates with teammates the fourth team goal against the Dominican Republic in 2020 Concacaf Men's Olympic qualifying at Akron Stadium on March 21, 2021 in Zapopan, Mexico.
What at first looked like another missed chance for the U.S. men on a Sunday night full of them turned out to be just the breakthrough they needed to kick on and beat the Dominican Republic 4-0 — and bring themselves to the brink of advancing in the Concacaf Men's Olympic Qualifying Championship.

In the 60th minute of a scoreless match, U.S. midfielder Johnny Cardoso rang the crossbar but his team was able to keep possession. The ball was played up the left, where the U.S. was able to make consistent runs all night, through Sebastian Saucedo. Saucedo sent it across the box where Jackson Yueill used a perfect touch to slot home the opener.

Thursday against Costa Rica, the U.S. had to fight to hang on to a 1-0 victory. Sunday night, the floodgates opened as the ball stayed almost exclusively in the Dominican half for the last half hour. The main beneficiary of those chances was Minnesota United midfielder Hassani Dotson, who scored goals in the 73rd and 78th minute. Dotson then set up the fourth, finding Benji Michel who crossed to Djordje Mihailovic to cap the scoring in the 90th minute. Having to make just two saves, U.S. keeper J.T. Marcinowski wasn't tested as often as teammate David Ochoa was on Thursday but recorded the clean sheet.

The win means the U.S. could very well advance to the tournament semifinals before it even takes the field for its final Group A match with Mexico on Wednesday. With six points, Team USA would clinch advancement should Mexico beat Costa Rica later Sunday. That would mean the Mexico-U.S. match would only determine who wins Group A and thus face the runner-up from Group B, and vice versa. A win in the semifinals would mean instant qualification for the Olympic Games Tokyo 2020 this summer. The U.S. men haven't qualified for the Games since 2008 in Beijing.
Todd Kortemeier is a sportswriter, editor and children's book author from Minneapolis. He is a contributor to TeamUSA.org on behalf of
Red Line Editorial, Inc.