U.S. Men's Under-23 Soccer Team Eager For Opportunity To End Olympic Drought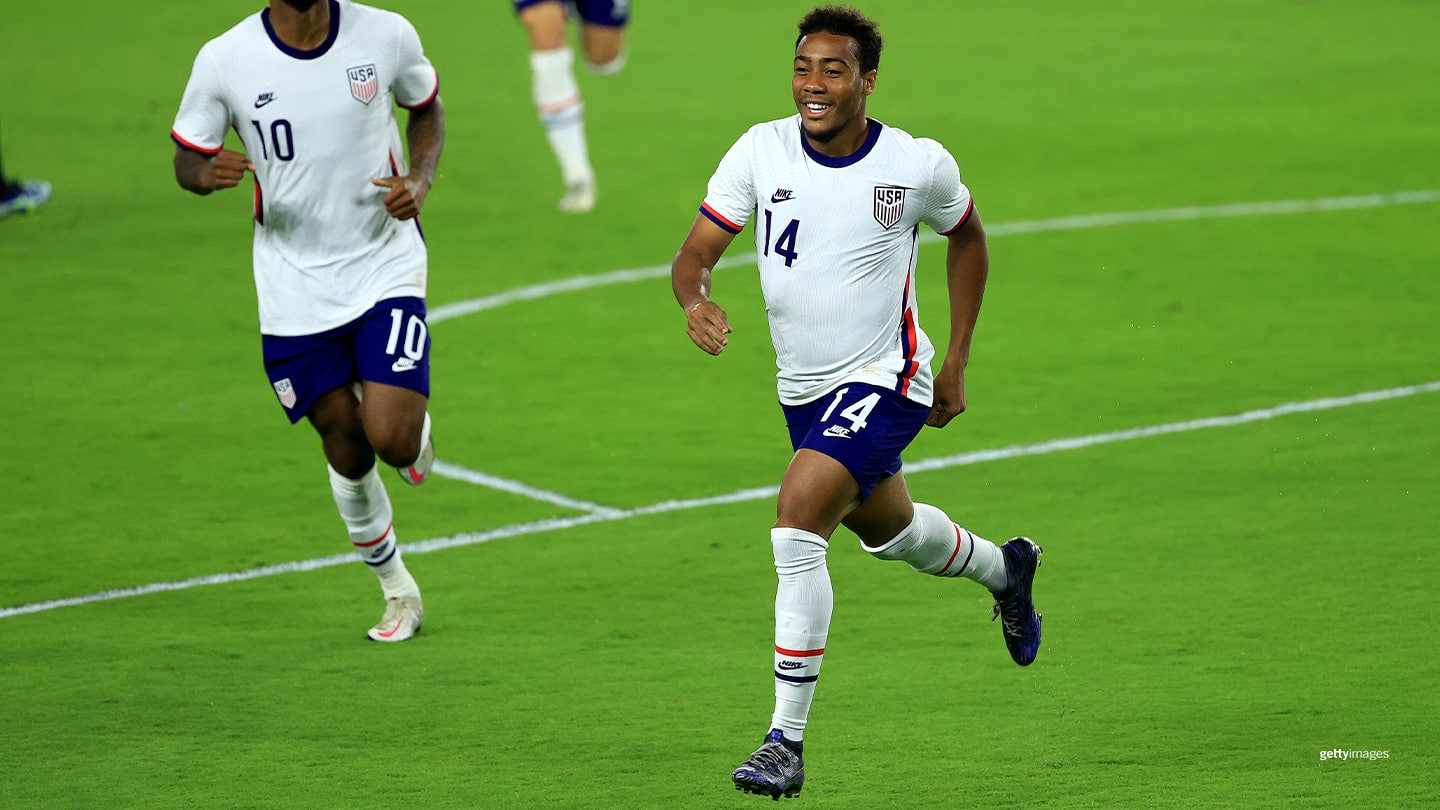 Jonathan Lewis celebrates a goal during a game against the Trinidad and Tobago on Jan. 31, 2021 in Orlando, Fla.
One thing is certain: The U.S. Under-23 Men's National Team that will attempt to qualify for the Olympic Games Tokyo 2020 could look quite different from the one that would take the field in Tokyo this summer.

There will be no big names in the Concacaf Olympic Qualifying Tournament such as Christian Pulisic, Weston McKennie, Gio Reyna, Tyler Adams, Brenden Aaronson or aany of the other European-based players who are age-eligible for the team, which will vie for its first Olympic berth in 13 years next week.

In contrast to FIFA World Cup qualifying, clubs are not required to release players for youth tournaments such as Olympic qualifying. Plus, the COVID-19 pandemic and some of its travel restrictions and protocols haven't helped as well.

That's only one of the challenges that head coach Jason Kreis and the team faces when the tournament kicks off in Guadalajara, Mexico, on March 18.

Of course, Kreis is optimistic his team can end a 13-year drought as it tries to avoid failing to reach three consecutive Olympic Games for only the second time in its history (1960, 1964 and 1968).

Thirteen years is a generation or two in international soccer.

To illustrate how long ago the U.S. men participated at the Summer Games, George W. Bush was president and Freddy Adu was among the standouts during the 2008 qualifying run.

Kreis doesn't see the USA's recent run of luck in Olympic qualifying as an onus.

"I see it as opportunity," he said in a recent Zoom call with the media. "I presented to the guys that we have a chance to almost … make a major step forward.

"I don't think that any of us should feel any real onus about what has happened four years ago and eight years ago. None of us were part of that. For me, (it) is to right some wrongs."

Without any of those aforementioned stars from the top leagues of Europe, the Under-23s will use a 20-man roster dominated by 16 Major League Soccer players. And most of those players will be far from top match fitness. They didn't have any preseason training until Olympic camp started on March 1. They had been forced to train on their own.

Kreis said it was fortunate that several U-23 players were able to train with the senior men's national team in January.

"For six weeks they were on their own left to really, really push their fitness, so they did come into this camp, not like a typical preseason team," he said. "They came in with a good base level of fitness and we've been able to work pretty well to get to the point where we are now."

Four players perform abroad — midfielders Johnny Cardoso (Internacional, Brazil), Sebastian Saucedo (UNAM Pumas, Mexico) and Ulysses Llanez (Heerenveen, Netherlands) and forward Sebastian Soto (Norwich City, England).

On the positive side, the team has 11 players who have performed for the USMNT and 10 who have been on the final roster at a FIFA Youth World Cup. So, they have been involved in Concacaf qualifying competitions and are familiar with some of the ropes.

In fact, six players took part in the USMNT's 7-0 win over Trinidad and Tobago on Jan. 31. Forwards Jesús Ferreira and Jonathan Lewis (Colorado Rapids) scored their first international goals while defender Aaron Herrera (Real Salt Lake) and midfielder Andrés Perea (Orlando City SC) made their debuts.

"They understand what this picture looks like," Kreis said. "That was an actual real consideration for us when we looked at the players and said OK, how many of these guys have already had some Concacaf experience?"

In a bit of a surprise, the tournament will be held in front of some fans. On Thursday, Mexican teams were given permission to host games with up to 25 percent capacity in the stands.

Kreis welcomed playing in front of actual human beings who could cheer and boo instead of having piped in sounds but acknowledged it would be difficult for many U.S. supporters to be able to make the trip.

"But we'll look at it from the bright side and say let's get it out there ASAP and let's get some of our fans down here to support us," he said. "Hopefully (they will) be able to jump through that hoop and make that happen. That will be really nice for our players to have some of their own fans in the stands."

The Americans will need all the help they can find as they are in the group of death. They face Costa Rica in their opener on Thursday, March 18, the Dominican Republic on Sunday, March 21 and Mexico in the final Group A match on Wednesday, March 24.

Kreis said regarding the level of excitement of finally holding the qualifying tournament, "In some ways it could be even higher now because we waited so long for it."

"We've gone through a phase where, oh it's not going happen, the Olympics are going be shut down. It is going to happen, it's not going to happen, going back and forth," he said. "So, to finally be here, it raises the level of enthusiasm. I feel real good energy around the group. I feel like we're heading into this tournament, we will get to the place where I think we want to go with our fitness level and our match preparedness. We're … super ready to go."

Group B is considered the weaker of the groups with Honduras, Haiti, Canada and El Salvador.

The top two teams in each group will reach the semifinals, and the winners of those two games on Sunday, March 28 will clinch a berth for Tokyo. The victors will tussle for Concacaf glory on Tuesday, March 30.

Kreis isn't thinking that far ahead.

Costa Rica is on his mind right now.

"Right now, our focus is very, very narrow on Costa Rica and that's it," he said. "After Costa Rica, we'll be very focused on Dominican Republic. After that, we'll be very focused on Mexico. At the moment it has nothing to do with winning the tournament as with has to do with winning against Costa Rica."
Michael Lewis, who covers soccer for Newsday, has written about the sport for four decades and has written six books about soccer. He is a freelance contributor to TeamUSA.org on behalf of
Red Line Editorial, Inc.