How Jessie Diggins Won The FIS Cross-Country Skiing Overall World Cup Title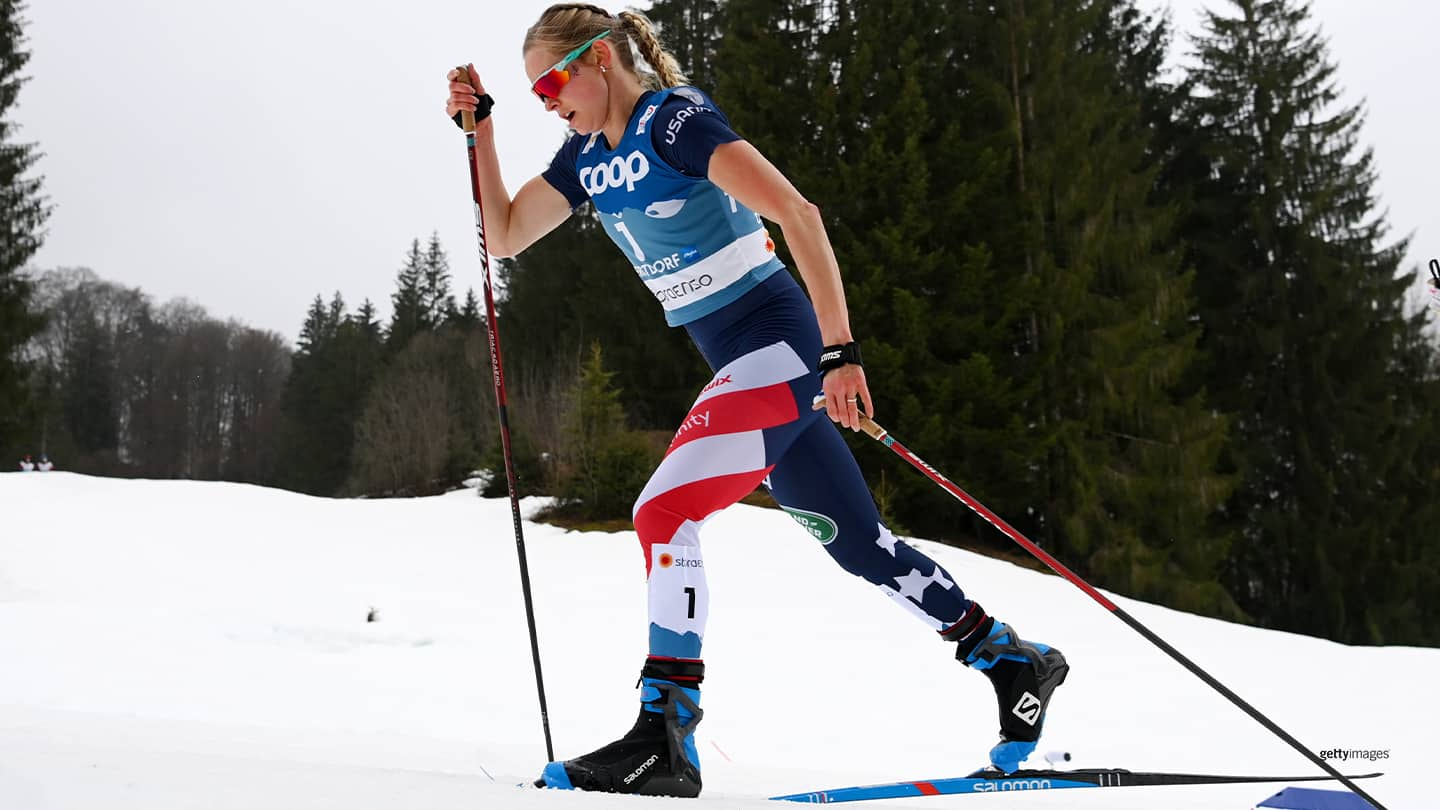 Jessie Diggins competes at the FIS Nordic World Ski Championships on Feb. 27, 2021 in Oberstdorf, Germany.
After today's world cup race—a 30-kilometer freestyle pursuit, the last race of the 2020/2021 season—Jessie Diggins collected the ultimate prize, the large crystal globe given to the overall FIS World Cup winner.

The American cross-country skier finished the 2020/2021 season with 1,347 total world cup points, 268 points head of Russia's Yulia Stupak. Sweden's Ebba Andersson rounded out the top three in the season-long rankings, with American Rosie Brennan in fourth.

Diggins, 29, is the first American woman to win the overall FIS cross-country world cup title and the second American. Olympic silver medalist Bill Koch won the title in 1982.

By finishing fourth in the 30k, Diggins also won the overall distance title. She is only the second American to win a discipline title in FIS cross-country skiing. Kikkan Randall—Diggins's gold-medal teammate at the 2018 Olympic Winter Games—won three sprint titles from 2012-2014.

The consummate team player, Diggins refused to take individual credit for the overall win. Instead, she felt gratitude for her team.

"This is something we've worked towards as a team and something that we've been building momentum towards for many years," she said in a video conference call. "There are so many people working behind the scenes [prepping our] skis, coaching us, writing our training plans, helping us with sports psychology, helping fund our team. There are so many people who get us to the start line.

"This is really something we can celebrate as a team."

The overall world cup title sums up a historic season for Diggins. In January, she was the first American to win the Tour de Ski—dominating the eight-stage race with six podium finishes and two wins. The Tour title was a lifetime goal for Diggins.

But the overall title trumps even that prize.

"The overall world cup globe is the biggest thing that I could ever possibly achieve," she said.

So how did Diggins win the world cup's big crystal globe?



Tour de Ski Win
Diggins arrived at the season's first world cup in November with no expectations. Back then, no one knew how long the season would last. Would the Covid-19 pandemic send everyone home early? And how would Diggins do in races when she had not been on snow since the previous March—particularly in classic races, where finesse is as important as strength and endurance? Her only goal was to show up at every race ready to perform at her best. She worked her way into the season, finally firing on all cylinders by the Holidays. With the Tour de Ski starting on New Year's Day, Diggins felt good in training and was recovering well. "This could be quite a good Tour de Ski," thought her coach, Jason Cork.

In the Tour, Diggins made a statement immediately, finishing on the podium in the first five stages and winning twice. By winning the overall Tour title, she earned 400 world cup points and vaulted into the overall lead—passing teammate Rosie Brennan who had held the no. 1 ranking until the last day of the Tour.

"The Tour for sure was a goal going into the season," said Diggins. "The overall was sort of like a ghost of a goal."

Since the first Tour de Ski in 2006/2007, the winner of the multiday stage race has gone on to claim the overall world cup title 12 of 15 times.

"I'm really proud of staying patient," said Diggins, "trusting in myself and my fitness and trusting in my plan and trusting that my classic technique was going to come back after I had a chance to work on it."



Consistency
After recovering from the Tour de Ski, Diggins never finished a world cup race lower than eighth place. And for the entire season, she competed in every world cup race that was held, earning nine podium finishes and four victories. She was the only woman on the tour to earn points in every race.

Several factors led to this consistency.

She credited masks with keeping everyone on the team healthy.

"There's at least one cold per season," said Diggins. "This year, there were none."

She also credited consistent training at her adopted home of Stratton, Vermont, last summer, with her Stratton Mountain School T2 teammates. In rural Vermont, Diggins and her teammates felt safe in their small bubble, the pandemic leaving the state relatively unscathed until the winter months. The team did not travel to the usual off-season training camps. She also was able to spend the summer with her fiancé, Wade Poplawski, who worked from home.

And in her tenth full season competing on the world cup tour, Diggins credited maturity.

"Getting a little bit older, getting tougher mentally and physically, the more years you've trained, you have more hours, more experience, more intervals, more races under your belt," she said. "I'm learning more about my body and learning how it can perform well in a race."

And Diggins again gave thanks to the wax technicians and coaches for giving the team fast skis.

"That's a huge part of the equation," she said. "You can't separate an athlete's performance from the tech team performance, and they delivered. This year, we had such good skis every day in the Tour and really competitive skis as a whole."

"We win together, and we lose together," she added. It could be the team's motto.



Process, Not The Outcome
When Diggins sits down with her coach every spring to set goals for the next season, they never talk about the medals or trophies that she wants to win. These are outcome goals. Instead, they talk about process goals—her technique, pacing, and mental cues so she crosses every finish line knowing she gave it her all. Which has become Diggins's trademark.

"It's going to be a weird thing to be known for when I retire—the person who's good at being in pain," she quipped.

But Diggins acknowledges that high pain tolerance is her strength—a gift, in fact.

"It's not my technique or my grace on skis," she said with a laugh. "I really push with all I can on the things that I know are my strengths. Crossing the finish line knowing that I've pushed out every last bit of energy possible is something that I do focus on a lot."



No Asterisk On The Season
The 2020/2021 world cup schedule was far from the usual. Several races were canceled, and many teams chose to skip races due to pandemic concerns. For this reason, some question whether Diggins's overall title should have an asterisk.

Diggins is adamant that her victories this season deserve no such negative demarcation. She pointed out that even in non-pandemic years, cross-country skiers frequently miss or skip races. Injuries, illnesses, overtraining, any number of variables can keep athletes from competing. So every win deserves an asterisk. Or none at all.

"It's meaningless to go down that rabbit hole," she said. "At the end of the day, I as an athlete cannot control who's on the start line. That's totally out of my power. I would love for everyone to be there every single race. But that's not up to me. All I can do is go out there and race as hard as I can."

Despite the challenges caused by the pandemic, Diggins was the one who showed up at every world cup race. Back home, fans and supporters thanked her and the whole U.S. team for providing distraction and excitement during a dark winter.

And for that reason, Diggins said "it's been much more meaningful to win [the overall world cup title] during the pandemic."
An award-winning freelance writer based in Vermont, Peggy Shinn has covered five Olympic Games. She has contributed to TeamUSA.org since its inception in 2008.