U.S. Artistic Swimmers Secure Olympic Berth In Women's Duet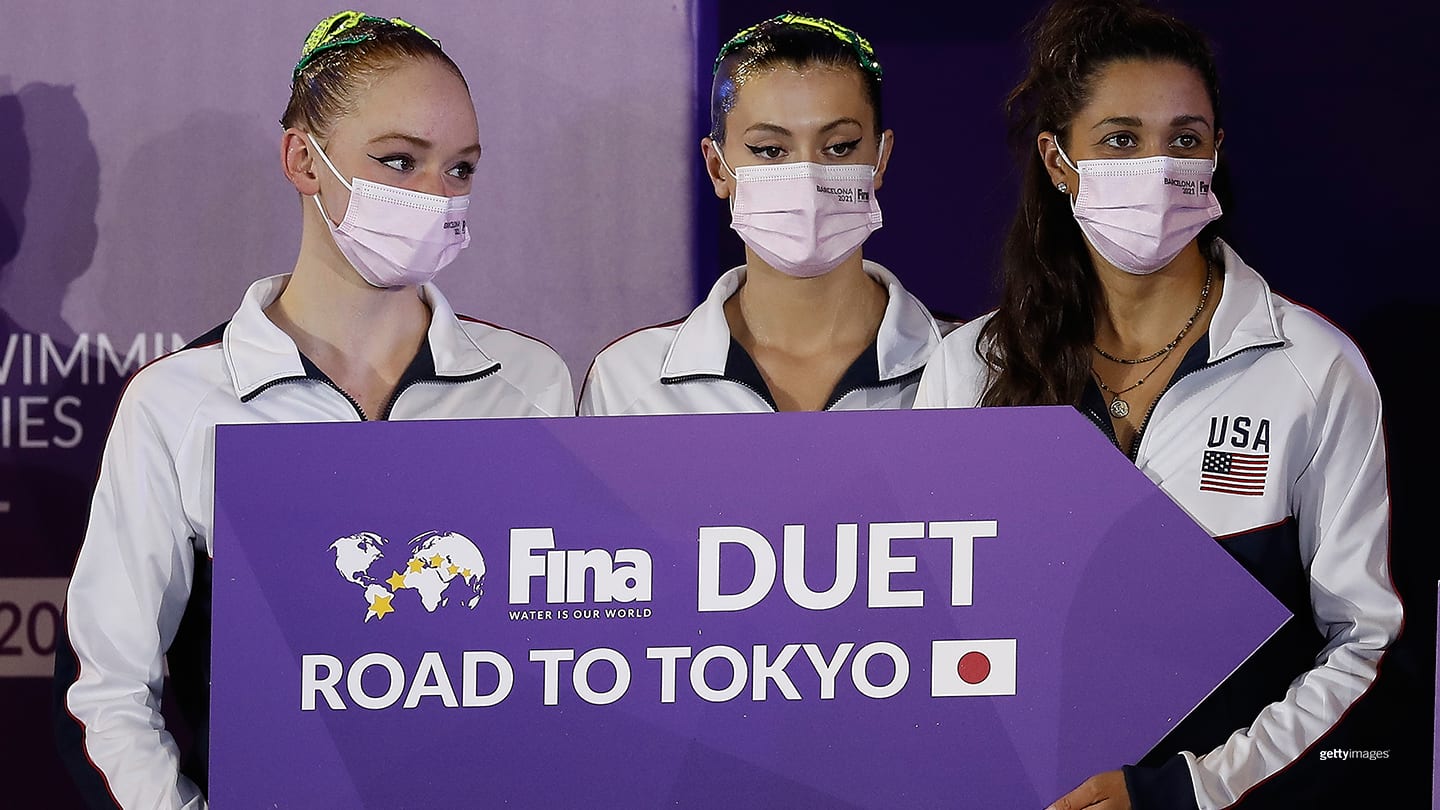 Ruby Remati, Anita Alvarez and Lindi Schroeder qualify a quota in the women's duet at the. FINA Artistic Swimming World Series Super Final on June 13, 2021 in Barcelona, Spain.
It took a trio of U.S. swimmers to secure an Olympic berth in an event called duet, but the team effort was able to get the job done Sunday at the FINA Olympic Games Artistic Swimming Qualification Tournament 2021 in Barcelona.

After Olympian Anita Alvarez swam the preliminary technical and free on Saturday along with Lindi Schroeder, Ruby Remati subbed in for Alvarez for the final free on Sunday. Alvarez had briefly passed out following the preliminary free, dealing with exhaustion after a physically taxing week in which she also earned a silver medal in free solo. Alvarez would be fine, but was unable to swim in the final.

Enter Remati, who finished fifth teamed up with Schroeder to secure the Olympic spot. Teams needed to finish in the top eight to earn qualification. The U.S. has now competed in women's duet at every Games since the event's Olympic debut in 1984.

The success ends the qualification tournament on a high note for Team USA, which just barely missed out on qualifying in women's team. The U.S. finished just .211 points behind Greece for the third and final qualification spot. It would have been the first appearance of a U.S. women's artistic swimming team at the Games since 2008.

But Team USA will be back to seek a duet medal, hoping for its first Olympic hardware in the event since Alison Bartosik and Anna Kozlova took bronze in 2004.
Todd Kortemeier is a sportswriter, editor and children's book author from Minneapolis. He is a contributor to TeamUSA.org on behalf of
Red Line Editorial, Inc.