From Farm to Fame: Runner Elle Purrier Seeking First Olympic Berth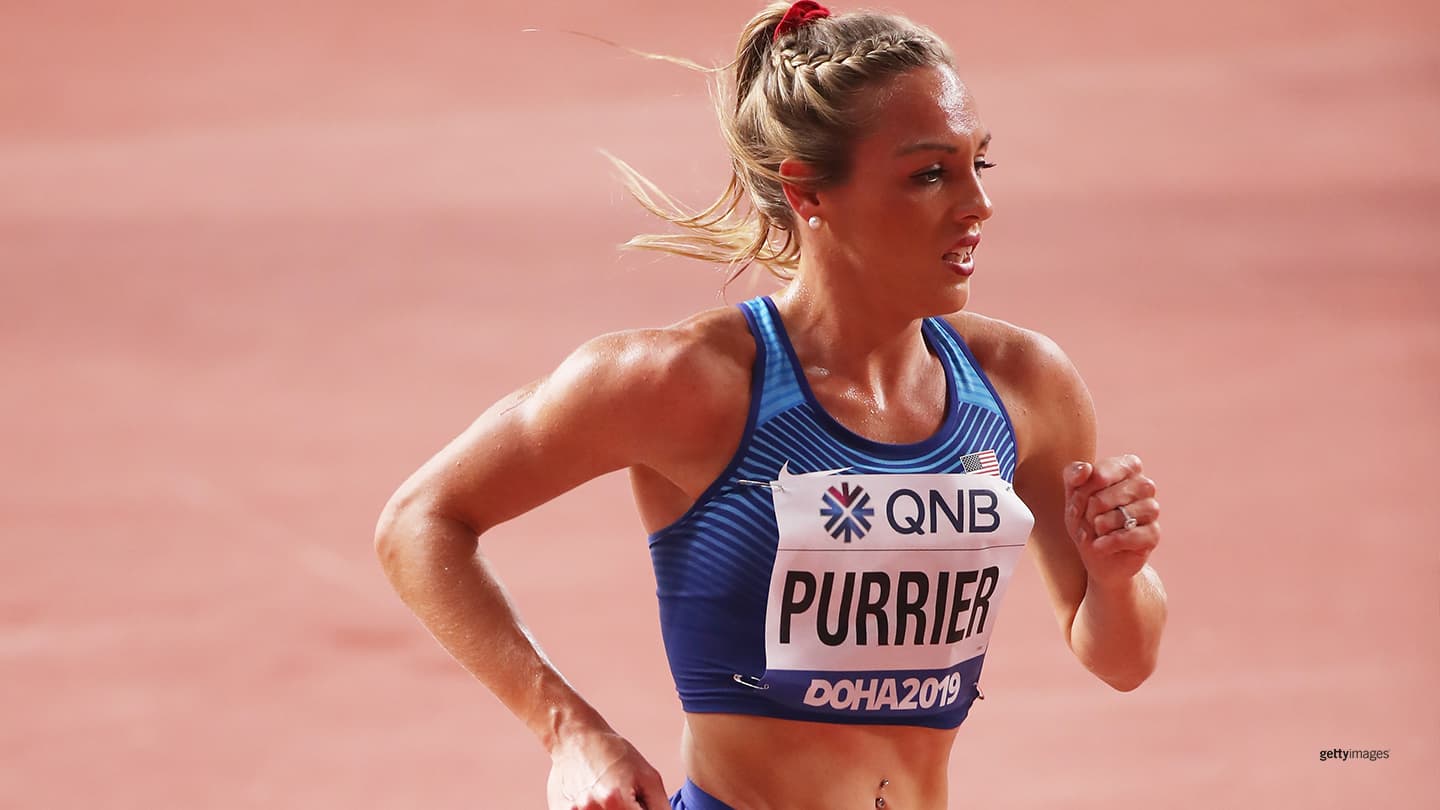 Elinor Purrier competes in the Women's 5000 meters heats during day six of 17th IAAF World Athletics Championships Doha 2019 at Khalifa International Stadium on Oct. 2, 2019 in Doha, Qatar.
In the world of track and field, Elinor Purrier is known as the runner who was raised on a farm. She's hoping that she'll soon be known as an Olympian.

Purrier — who goes by Elle (pronounced "Ellie") — has received so much attention for her upbringing on her family's dairy farm that she cheekily acknowledges it on her Instagram profile, which confirms, "Yes, I grew up on a dairy farm in VT" to her 45,000-plus followers at @elleruns_4_her_life.

The American indoor record holder in the mile and 2 miles, who is hoping to qualify her first Olympic team at the upcoming U.S. Olympic Team Trials — Track & Field in Eugene, Oregon, admits that she wasn't always a fan of the curiosity.

"I think when I was younger it was this thing that everybody defined me as," says the 26-year-old Purrier. "It was this thing that was different and I didn't understand why it was so intriguing for people."

Recently, though, she's embraced the interest in this part of her life.

"Now I'm realizing how few farmers there are in the world, and I'm so proud to represent this industry and to try educate people on what happens around the farm," she says. "Because I do think there's a huge disconnect between the producers and the consumers. It's pretty sad to me. But I'm really passionate about dairy farming and I'm so fortunate to have grown up the way I did."
She is proud to use her growing fame to clear up misconceptions about the conditions that farm animals experience.
"The high opinions [some people have] about how cows are treated is frustrating to me because these people probably don't even know that female cows are the ones that produce milk," she says with a laugh. "All the famers that I know treat their cows really well. That makes sense for so many reasons, both ethically and if you treat your cows badly, then they're not going to produce a lot of milk."
She certainly has first-hand experience on this subject — literally. Growing up just a few miles from the Canadian border in Montgomery, Vermont, Purrier would rise before dawn to milk cows and help with chores on a dairy farm that's been in her family for more than a century.
That work ethic helped prepare for her a steady rise to the top of the American distance running ranks. Purrier ran cross country and track and played basketball in high school, then started attracting national attention at the University of New Hampshire as a steeplechase. She earned All-America status three times in the event, a 3000-meter race that includes barriers and water jumps. But when focused on flat races she really made a splash. Purrier won the NCAA indoor title in the mile as a senior in 2018 and then represented the U.S. at the 2019 World Athletics Championships in the 5000 meters in her first full season as a professional.
She really announced herself in February 2020 when she broke the American indoor record in the mile while victorious against a world-class field at the Millrose Games in New York City. Her time of 4 minutes, 16.85 seconds took nearly four seconds off the previous U.S. indoor best, set by Mary Slaney all the way back in 1982 (and came within a whisker of Slaney's outdoor record 4:16.71, set in 1985). A stunned Purrier admitted that she had no idea what Slaney's American record was until told after the race.
But one thing she did know was that with the Olympic Games Tokyo 2020 just a few months down the road, she had become a serious contender to make Team USA and challenge for the podium. Or so she thought.
"The problem with that was that the whole world stopped about a month later" when the pandemic took hold, recalls Purrier, who says she "didn't really get to put that [confidence] to good use. I felt like I'd built up a lot of momentum and then everything halted."
Purrier usually splits her time between the Berkshire, Vermont, home she shares with her husband, Jamie St. Pierre, and Boston, where she is coached by Mark Coogan, a 1996 U.S. Olympian in the marathon, as a member of Team New Balance Boston. But she spent the early part of the pandemic helping out on the family farm and running solo. (The temporary relocation also gave her a chance to see more of the brown Swiss cow that high school sweetheart St. Pierre gave her as an engagement gift. She named her Rita, short for margarita, since her sire's name is Tequila.)

She enjoyed the chance to get back to her farming roots, and kept a low profile in track circles, competing in only a few low-key time trial meets in New England last summer. Once 2021 rolled around, however, she knew it was time to get serious again. She drew upon the memories from her Millrose triumph when she laced up her spikes.


"Coming back again this winter, I still had that in my mind," she says of her breakthrough performance. "I ran that race, I beat those girls, I ran that time. And that definitely is a huge confidence booster going into races now."


Indeed, she picked up right where she'd left off, breaking the American indoor record for 2 miles at the New Balance Indoor Grand Prix in Staten Island, New York, on February 13. She clocked 9:10.28 to chop more than eight seconds off Jenny Simpson's 2015 standard.


Her early results outdoors have been equally impressive. Already this spring Purrier has run 1:59.99 for the 800 and 3:58.36 for the 1500. She is now one of only four American women to have ever broken 2 minutes for the 800, 4 minutes for the 1500 and 15 minutes for the 5000. (She set her PR in the longer race at the 2019 worlds, clocking 14:58.17.)


With the Olympic trials looming, Purrier is leaning towards running the 1500 over the 5000 — the schedule makes doubling impossible, with the finals of the two events just 35 minutes apart on June 21.


"I think I could definitely make the team in the 5K," she says, "but the 1,500 is more fun to me because it's quicker."


Regardless of the event she runs in Eugene, Purrier will be one of the favorites, not just to make the team, but to win. She's put in the hard work and to borrow a fitting farming analogy that distance runners often use before a big race, the hay is in the barn.
Rich Sands is a New York City-based freelance editor and writer and has been a correspondent for Track & Field News since 1995, covering the sport at the high school, college and professional levels. He was previously an editor at TV Guide Magazine, overseeing the magazine's Olympic coverage.