Austin Krajicek and Tennys Sandgren Finish Fourth In Olympic Mens Doubles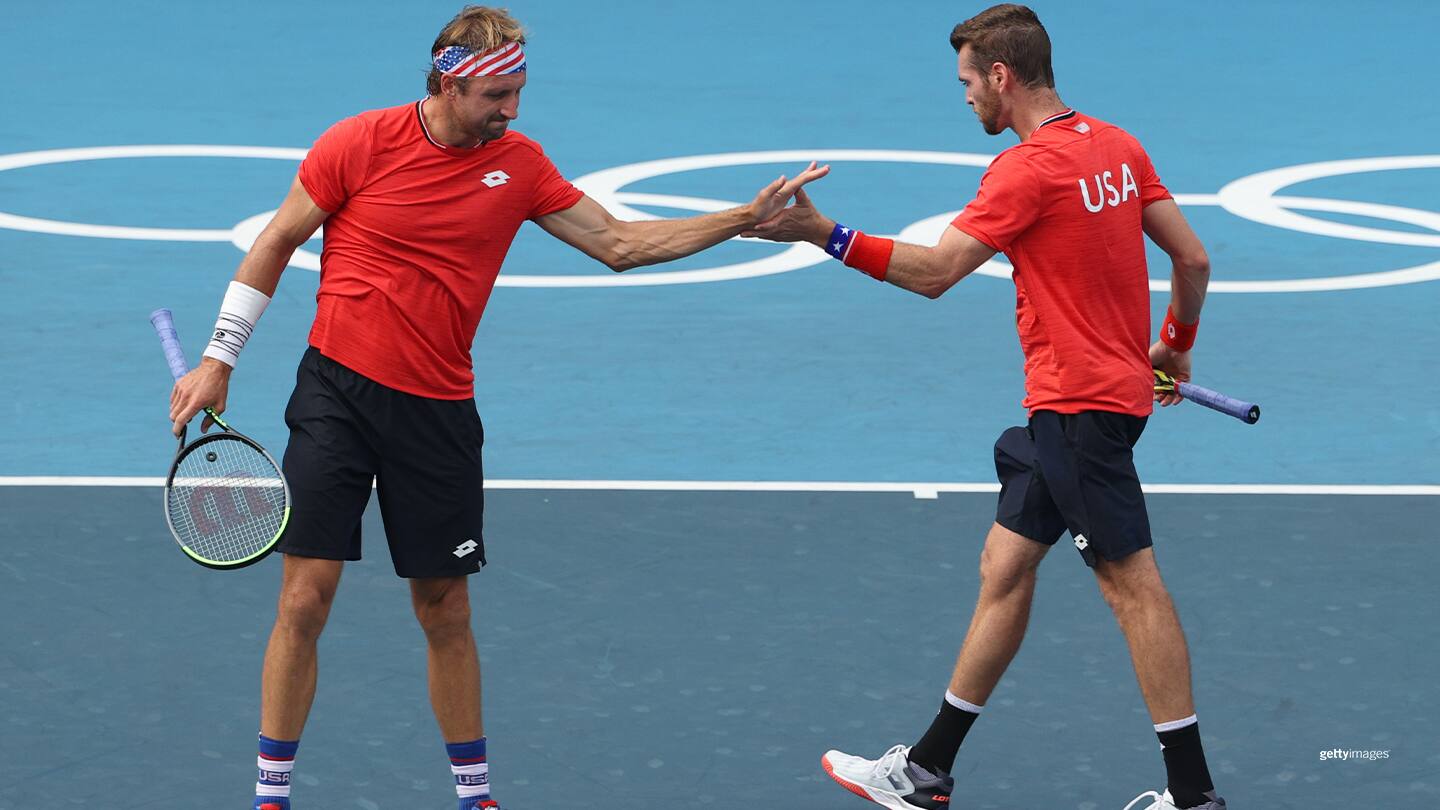 Tennys Sandgren and Austin Krajicek compete in the men's doubles bronze medal match at the Olympic Games Tokyo 2020 on July 30, 2021 in Tokyo.
TOKYO — After the Bryan brothers retired, most people stopped paying attention to tennis doubles. If they had ever paid attention at all. In Olympic competition, the Bryan brothers won two medals in men's doubles — bronze in 2008 and gold at the 2012 Olympic Games.

At the 2020 Olympic Games Tokyo, Austin Krajicek and Tennys Sandgren did their best to keep men's doubles on the nation's radar.

As thunder rumbled and lightning flashed near Tokyo's Ariake Tennis Park, the American duo made it to the Olympic bronze medal match but were struck down by New Zealand's Marcus Daniell and Michael Venus, who won 7-6, 6-2.

"There's no easy way around that match, losing that is pretty devastating," said Krajicek. "That doesn't get much worse than that. But that's sports. Everyone deals with it, so we will too."

It was the last medal chance for Team USA in tennis at the 2020 Olympic Games. In the record books, Krajicek and Sandgren will be listed as finishing fourth in their Olympic debut.

The first set was a duel of American power versus the Kiwis' finesse. Both teams held serve in the first set, but then Krajicek/Sandgren lost the first set tiebreaker (3-7).

Second set, the New Zealanders used their strong net play to go up a break. While Krajicek and Sandgren played defense, hanging on the baseline, Daniell and Venus trolled the net, hitting wily angles and drop shots.

Down 0-3, the Americans fought back. But the final second set score (6-2) did not reflect their effort.

"We had enough chances, enough looks, enough opportunities," said Sandgren, who did not mince words. "You have to execute. If you can't execute, then you lose. Whoever executes, gets the job done and wins. Who doesn't, gets fourth."

Sandgren was also disappointed to play in an empty stadium.

"It would have been a great event with fans," he said. "Playing on an outside court without fans, I mean, you might as well be playing in Idaho in the middle of nowhere."

Despite the loss, the American doubles team had a great run at this Olympic tournament. To reach the bronze medal match, Krajicek and Sandgren beat Alexander Zverev (currently ranked fifth in the world in men's singles) and Jan-Lennard Struff from Germany in the quarterfinal, 6-3 7-6 (4).

Zverev played top-ranked Novak Djokovic in men's singles semifinal, but the match was ongoing at press time. Djokovic is going for a Golden Slam this year — all four Grand Slam titles, plus an Olympic gold medal, in the same calendar year.

In the men's doubles semifinal, Krajicek and Sandgren had faced reigning Wimbledon champions and the world's top-ranked team, Mate Pavic and Nikola Mektic from Croatia. Mektic and Pavic, dominant all year, had only dropped one set in the entire Olympic tournament entering the medal round and played in the 2020 Olympic gold medal match later Friday evening.

By comparison, Krajicek, 31, of Brandon, Florida, and Sandgren, a 30-year-old from Gallatin, Tennessee, entered the semifinal match ranked 48th and 208th, respectively, in the world.

Krajicek played tennis for Texas A&M and turned pro in 2012. In doubles, he has made it as far as the quarterfinal of a Grand Slam tournament, competing with Sandgren at the 2018 U.S. Open.

Sandgren played tennis for the University of Tennessee for two years before turning pro in 2011. As a singles player, he has made the quarterfinals of the Australian Open in both 2018 and 2020. He is named Tennys after his great-great-grandfather, not for the sport of tennis.

Long-time friends, Krajicek and Sandgren played Wimbledon and the French Open together this year, losing in the first and second rounds, respectively.

"Having that chemistry is really important," said Krajicek.

While both men will play the 2021 U.S. Open, they do not know if they will team up again in doubles.

Although they leave Tokyo without a medal, both Krajicek and Sandgren said it was an honor to play with USA on their backs.

"Having an opportunity to represent our country means the world to us," said Sandgren, fighting emotion. "I'm really grateful for the opportunity."

"Like Tennys said, the most exciting part about this is representing your country," added Krajicek. "We obviously don't get a chance to do that very often, so, it's an honor.

"We gave it our best shot, came up a little short."
Want to follow Team USA athletes during the Olympic Games Tokyo 2020? Visit TeamUSA.org/Tokyo2020 to view the medal table, results and competition schedule.
An award-winning freelance writer based in Vermont, Peggy Shinn has covered six Olympic Games. She has contributed to TeamUSA.org since its inception in 2008.