News
Clarence (CJ) Cummings, Jr.
CJ Cummings Places Ninth After Going For Broke In First Olympic Weightlifting Competition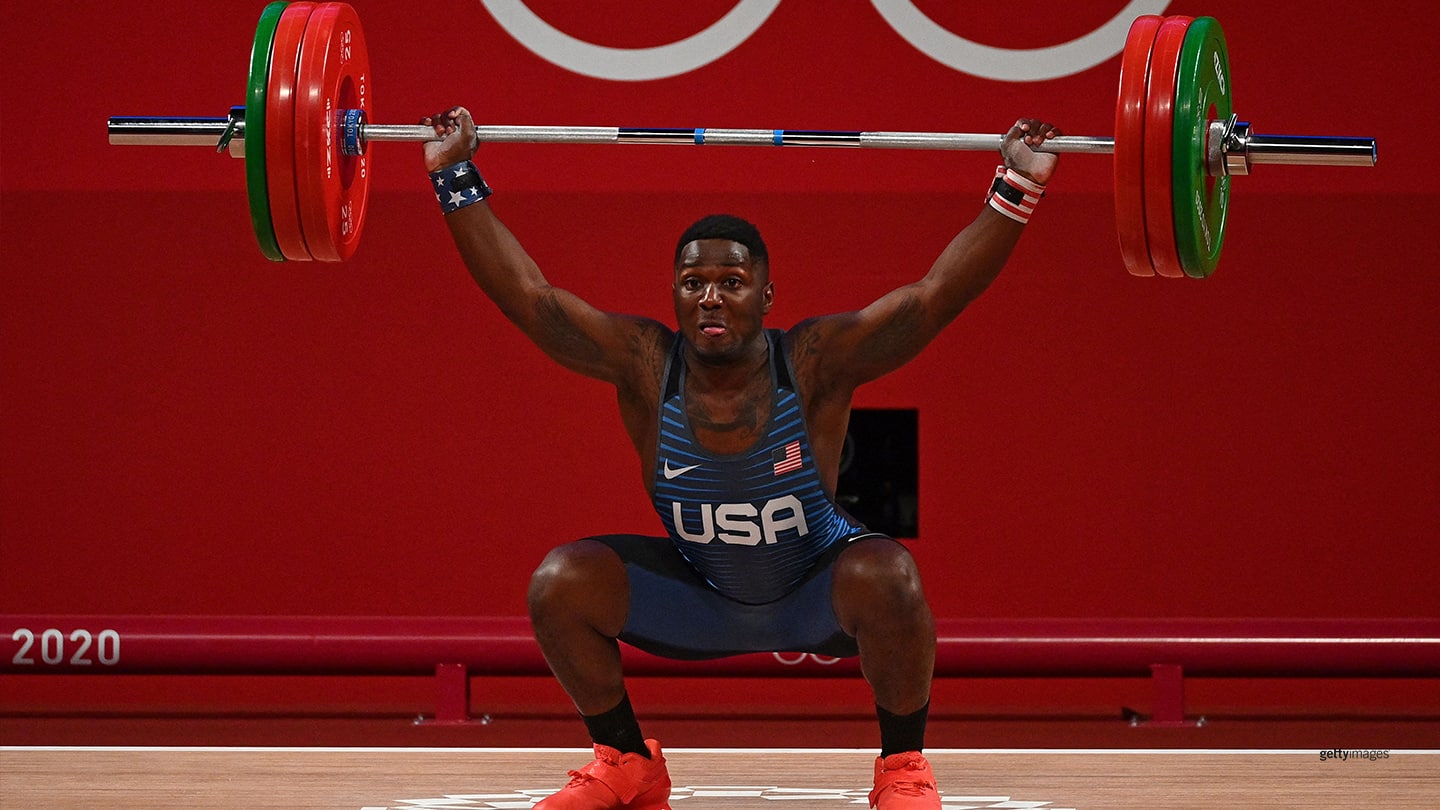 Clarence Cummings Jr competes at the Olympic Games Tokyo 2020 on July 28, 2021, in Tokyo.
TOKYO – CJ Cummings was one of only three weightlifters attempting an Olympic record of at least 198 kilograms in the clean and jerk Wednesday at the Olympic Games Tokyo 2020.

It was a "go big or go home" move as Cummings, 21, was the youngest of the eight lifters on the stage at the Tokyo International Forum in the 73 kg. division.

He missed.

"The last clean and jerk was the bronze medal," Cummings said, "so I just had to do whatever I had to do to make it. It was that or nothing and I gave it my all but I came up short."

Defending Olympic champion and world record holder Zhiyong Shi of China was successful to claim the gold medal with a total of 364 kg. Julio Ruben Mayora Pernia of Venezuela tried 199 kg. and missed, earning the silver medal (346 kg. total).

Cummings, the youngest Team USA weightlifter since 2000, wound up ninth with a total of 325 kg. (145 snatch and 180 clean and jerk). Rahmat Erwin Abdullah of Indonesia, a competitor from the other section, took the bronze (342 kg. total).

"I had some success at a young age, but this is a whole different league," said Cummings, the only weightlifter to become a four-time junior world champion (2016-2019). "This is the big boy league, so I just have to train harder and get better for the upcoming Olympics and the world championships."

The native of Beaufort, South Carolina, got in trouble early when he missed his first snatch at 145 kg., disappointing himself and dismaying his coaches who hoped he could become the first Team USA men's weightlifter to win an Olympic medal in 37 years.

"I kind of rushed it, so I didn't finish all the way," Cummings said.

He was successful on his second try at 145 kg. – although it had to withstand a review by the jury – but then missed at 150 kg. on his final attempt. His personal best is an American record of 155 kg.

Cummings was in eighth place after the snatch, which he admits is his weakness in the sport.

"I had a horrible snatch and that just put me at the bottom," said the lifter known officially as Clarence Cummings Jr. "From that point, in the clean and jerks I just had to fight uphill."

In the clean and jerk, he made his first attempt at 180 kg. He considered 188 kg. on his next attempt, then went up to 190 instead. "Come on, CJ, believe in yourself," someone called out..

Unfortunately, he couldn't complete the lift. For his final attempt, Cummings and the Team USA coaches decided to skip 193 and 196 before settling on 198.

Cummings said his coach, Ray Jones, had words of encouragement before he went out for the lift. "He was saying he's still here, everyone back home is still going to love me and everyone is still proud of me," said Cummings, who holds 23 current American records and is the world junior record holder in snatch, clean and jerk and total.

In practice, Cummings had been successful in the 185-190 kg. range and his American record is 193 kg., but he could barely get the bar off the ground.

Cummings hugged his coaches as he left the stage, his first Olympic experience ending in frustration.

However, Cummings' placement matched his best finish at worlds. Cummings was 30th in his first senior world championships at age 15. He did not total in 2017 after failing to make a clean and jerk successfully and was 10th in 2018 and ninth in 2019. At the 2019 worlds, Cummings missed his third snatch and first and third clean and jerk attempts.

"You're not going to have a great meet every single time," he said. "You're going to have some ups and downs, but it's how you grow and move forward and it determines who we are."

Cummings said he was thinking about the folks back home and his family members who are in Hawaii as part of the friends and family program of USA Weightlifting's Tokyo Strong training camp.

"I know everyone's going to say they're proud of me," he said, "but I'm not proud of my performance. It's kind of a bum moment because everyone's cheering me. It is my first Olympics and I had expectations for myself and I didn't perform."

The United States and China are the only countries sending full teams to Tokyo, with a maximum of four men and four women. The last time Team USA sent a full squad was 1996.

"We have a lot of young, up and coming talent coming out of the woodwork, breaking world records and doing very well," Cummings said. "I think this is just the beginning for USA Weightlifting. We're going to show our true strengths and show how strong we are as a nation, and there's going to be more of us coming back and hopefully we'll be on the podium and getting medals."
Want to follow Team USA athletes during the Olympic Games Tokyo 2020? Visit TeamUSA.org/Tokyo2020 to view the medal table, results and competition schedule.
Karen Rosen has covered every Summer and Winter Olympic Games since 1992 for newspapers, magazines and websites. Based in Atlanta, she has contributed to TeamUSA.org since 2009.