News
Vincent Hancock
Amber English
Vincent Hancock And Amber English Set Olympic Skeet Records In Golden U.S. Sweep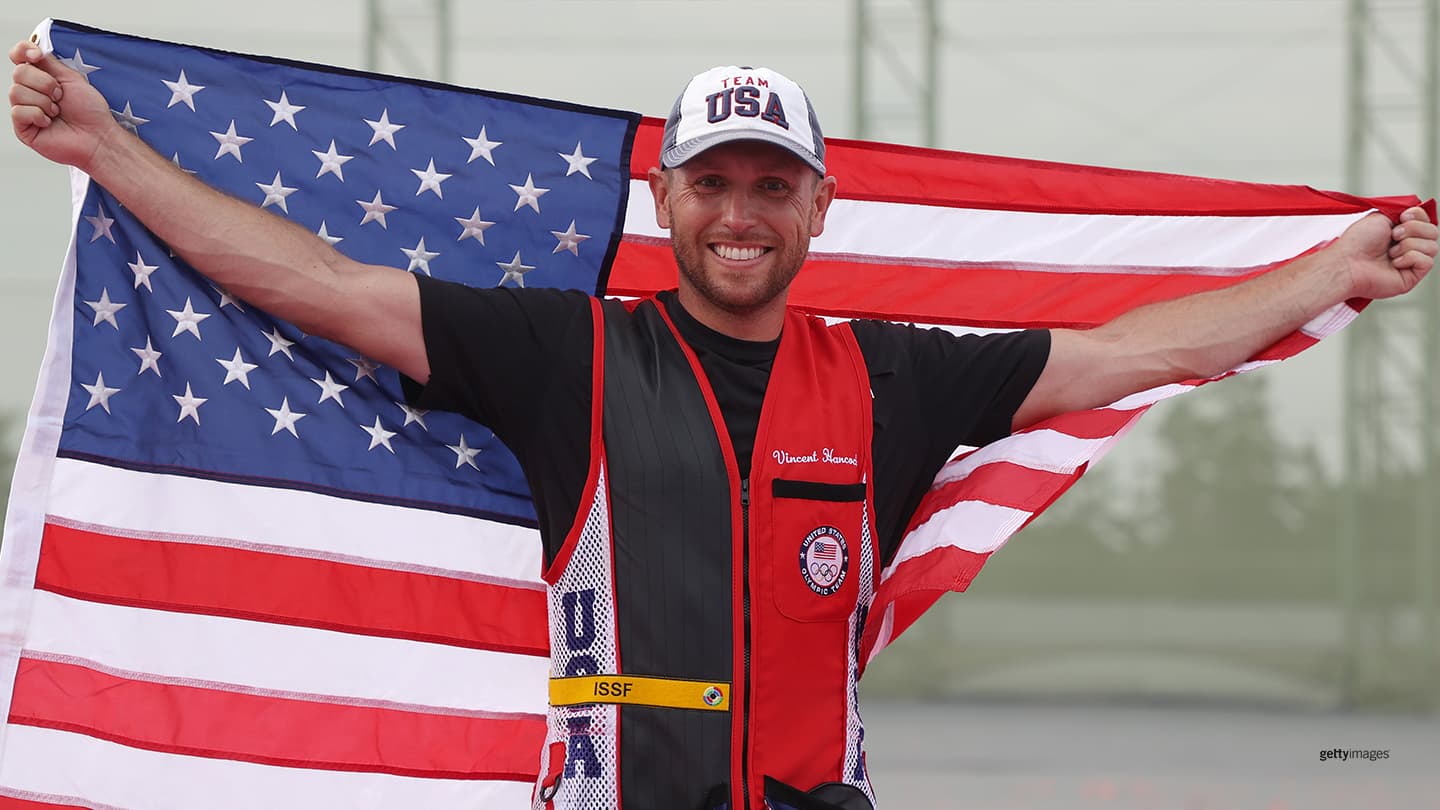 Vincent Hancock following the skeet finals at the Olympic Games Tokyo 2020 on July 26, 2021 in Saitama, Japan.
After a long break, Vincent Hancock is once again an Olympic champion.

The 32-year-old won an unheard of third gold medal in men's skeet shooting, and his return to the top spot on the podium made it a golden sweep for the U.S. after U.S. Army 1st Lt. Amber English toppled reigning Olympic champion Diana Bacosi of Italy and set her own record just prior to the men's final at the Asaka Shooting Range.

For Hancock, the gold medal is redemption after winning in 2008 at the age of 19 and again in 2012 but finishing a disappointing 15th in Rio in 2016. The face of men's skeet shooting in the U.S. was already the first man to win two Olympic gold medals in the event, and his third gold further broadens that legacy.

Hancock said watching English win gold was a great lead-in into his final.

"I knew I was going to be nervous watching her but it was worth it," said Hancock, who was also part of a U.S. sweep in 2012. "I got to see her shoot her last shots to win the gold and she's so deserving of it. I was yelling at the top of my lungs so for me it was really exciting. I was like, 'All right, she's able to do this, now it's my turn.' It really set a great tone and I'm just so proud of her and proud to bring another medal back to the U.S."

The path to Hancock's third gold wasn't without a few bumps. He missed three of his last eight targets in the last round of qualification to land in a shoot-off.

Midway through the final, Hancock, 57-year-old Abdullah Alrashidi from Kuwait, competing in his seventh Olympic Games, and Denmark's Jesper Hansen were all tied at 29 out of 30. Alrashidi would finish with the bronze medal, leaving the competition to just Hancock and Hansen.

Throughout the match, Hancock remained nearly perfect with only a solitary miss on his first 54 targets. When Hansen missed target No. 54, Hancock took a two-shot lead with only six remaining.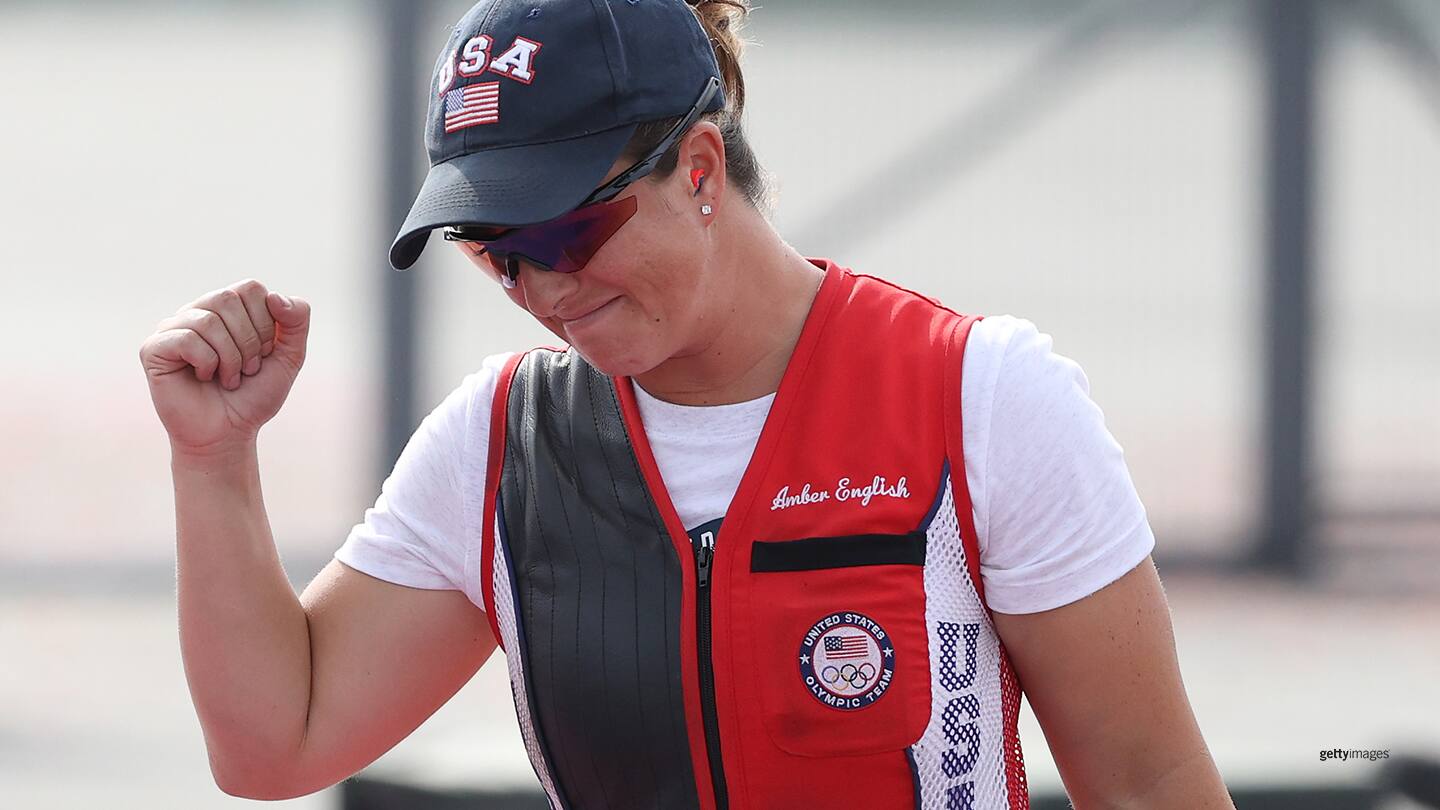 Amber English following the skeet finals at the Olympic Games Tokyo 2020 on July 26, 2021 in Saitama, Japan.
Pressure?
Not a problem for Hancock.

The Eatonton, Georgia, native finished with a streak of 34 targets to once again become an Olympic champion. His 59 out of 60 shots made is an Olympic record. In addition to the three Olympic gold medals, Hancock is also a four-time world champion, another record in the sport.

English, who's ranked No. 24 in the world and is a member of the U.S. Army's World Class Athlete Program, made her Olympic debut this summer after just missing out on making the U.S. team in both 2012 and 2016 (she was an alternate in Rio but did not compete).

She also stepped away from shooting for a time in late 2016 following the death of her father, who was once a member of the national shooting team.

"It was definitely challenging," she said. "After he passed, it was hard to get back on the range, because it actually reminded me of him. Vinny (Hancock) was the one who got me back out there. I owe him a lot for pushing me to get back out there and shoot."

With a podium spot locked down after 40 targets, the question became which one English would take. She and Bacosi were tied at 38 out of 40 shots, with China's Wei Ming, ranked No. 2 in the world, two back.

As Ming fell off it came down to English and the reigning champion. Bacosi missed on shot No. 53, opening the door for the 31-year-old from Colorado Springs, Colorado, who looked calm as ever following up with four targets hit in the grouping and just six remaining.

Moments later, English was the Olympic champion.

"I was very fortunate to put everything together at the right time," she said. "I trained very hard. There are some things that I would like to go back (to) from the match, but the shooters that adapt faster are the ones who get better results. All I could control was my own shooting and emotions. It is always down to the last wire."

English finished with a record 56 shots and became just the second U.S. woman to medal in skeet shooting at the Olympic Games. The other is legend Kim Rhode, a six-time Olympian who competed in trap and skeet and won three golds, one silver and two bronze.

Missing from the women's competition was world No. 1 Amber Hill, an athlete from Great Britain who tested positive for COVID-19 prior to leaving for Tokyo.
Want to follow Team USA athletes during the Olympic Games Tokyo 2020? Visit TeamUSA.org/Tokyo2020 to view the medal table, results and competition schedule.
Karen Price is a reporter from Pittsburgh who has covered Olympic and Paralympic sports for various publications. She is a freelance contributor to TeamUSA.org on behalf of
Red Line Editorial, Inc.