Carli Lloyd Back For Fourth Olympic Games Still A Scoring Threat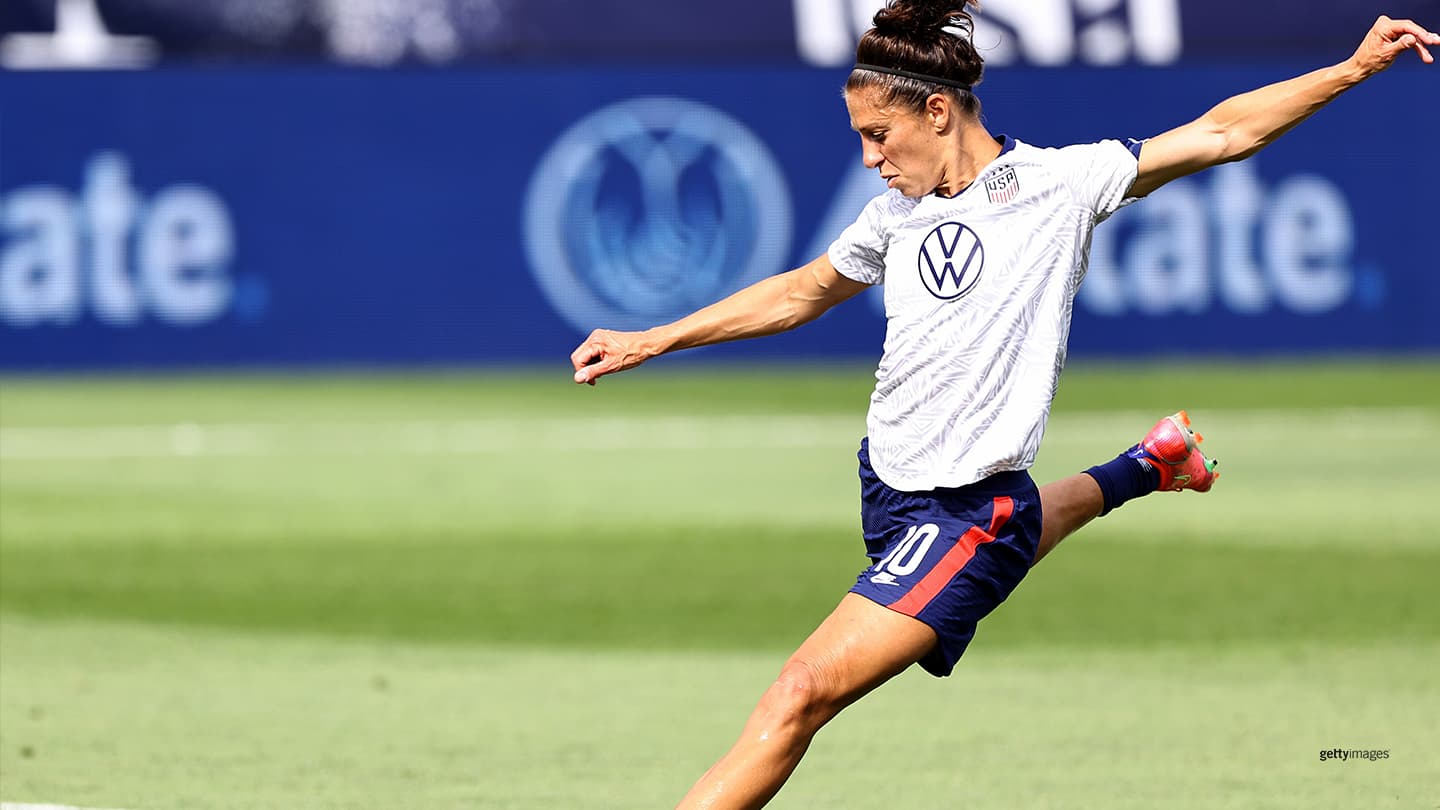 Carli Lloyd warms up at Pratt & Whitney Stadium on July 05, 2021 in East Hartford, Connecticut.
There are a pair of numbers that help illustrate where the legendary international career of Carli Lloyd stands in its 17th year.

The first is 38. Lloyd turns 39 on July 16, but it was at 38 in June that she made some U.S. soccer history. In a friendly against Jamaica, Lloyd became the oldest player to score for the U.S. women, specifically at the age of 38 years, 332 days. Lloyd beat the record of Kristine Lilly, who incidentally is next up for Lloyd to pass on the U.S. all-time scoring list. For Lloyd, it was just another record among many she's broken in her career.

"Records are records, they're always going to be broken," Lloyd told the Associated Press. "For me, it's just about winning games, it's helping the team. I don't go searching for these records, it's just a good reminder just to know how grateful I am to step out on the field. Nothing has ever been given to me. I've had to earn every single opportunity."

The second number is 24. That goal Lloyd scored came just 24 seconds into the match. After kicking off, Lloyd used the instincts of a player who has 125 international goals to her name to find her way into the right position in the 18-yard box. That's where Rose Lavelle found her, and Lloyd did the rest.

Sure, Lloyd is soon to be 39. But she can still change a game in just 24 seconds. That's why U.S. manager Vlatko Andonovski knew she had to be on his roster for the Olympic Games Tokyo 2020.

"I don't judge the players by their age," Andonovski said to the AP. "They are either good, perform well and can help us win, or they can't. In terms of Carli, she's done everything that she needs to do to earn herself a spot on the team. Now, the fact that she is 39, I think it's remarkable, it's incredible and just speaks a lot about Carli and her determination and her mentality. And that's something that is always welcome on this team."

Age is just a number, but experience can be counted in more than just caps and goals. Lloyd has plenty of both, recently passing the 300 career caps mark. The U.S. will count on that experience as it tries to return to the top of the medal stand after missing out in 2016.

Lloyd made her Olympic debut in Beijing in 2008. She did it in dramatic fashion; the only two goals she scored in the tournament were match winners. She scored the lone goal in a 1-0 win over Japan in the group stage, then scored the winner in extra time of the final over Brazil to boost Team USA to the gold medal.

But that was nothing compared to 2012, when Lloyd again did all the scoring in the gold-medal match. This time it was two goals in a 2-1 victory over Japan. Lloyd became the only player, male or female, to score winning goals in back-to-back Olympic gold-medal matches.

Then there are the World Cup performances. Among 10 career World Cup goals, Lloyd has three in World Cup finals — one World Cup final. Her hat trick in the 2015 win over Japan included what was later dubbed FIFA's goal of the year. Spying the Japan keeper off her line, Lloyd launched a shot from near the halfway line to finish her hat trick in the game's first 16 minutes.

Obviously, Lloyd is not alone in bringing experience to the U.S. side. She is joined in the forward line by longtime teammates Megan Rapinoe, 36, and Tobin Heath, 33. Heath will also be making her fourth Olympic Games.

Lloyd has no thoughts of retirement going into Tokyo. So expect the records and big goals to keep coming.

"When you start on a journey like this, you don't know what's going to happen. You don't know how many years you're going to have," Lloyd told U.S. Soccer on the occasion of her 300th cap. "You compete every single day. You're focused on the upcoming championship. When one is done, you're focusing on the next one and before you know it, you get to the tail-end of your career.

"It's an honor because nothing is ever given; everything is earned."
Todd Kortemeier is a sportswriter, editor and children's book author from Minneapolis. He is a contributor to TeamUSA.org on behalf of
Red Line Editorial, Inc.