What USA Triathlon Is Doing To Help Make Its Sport More Inclusive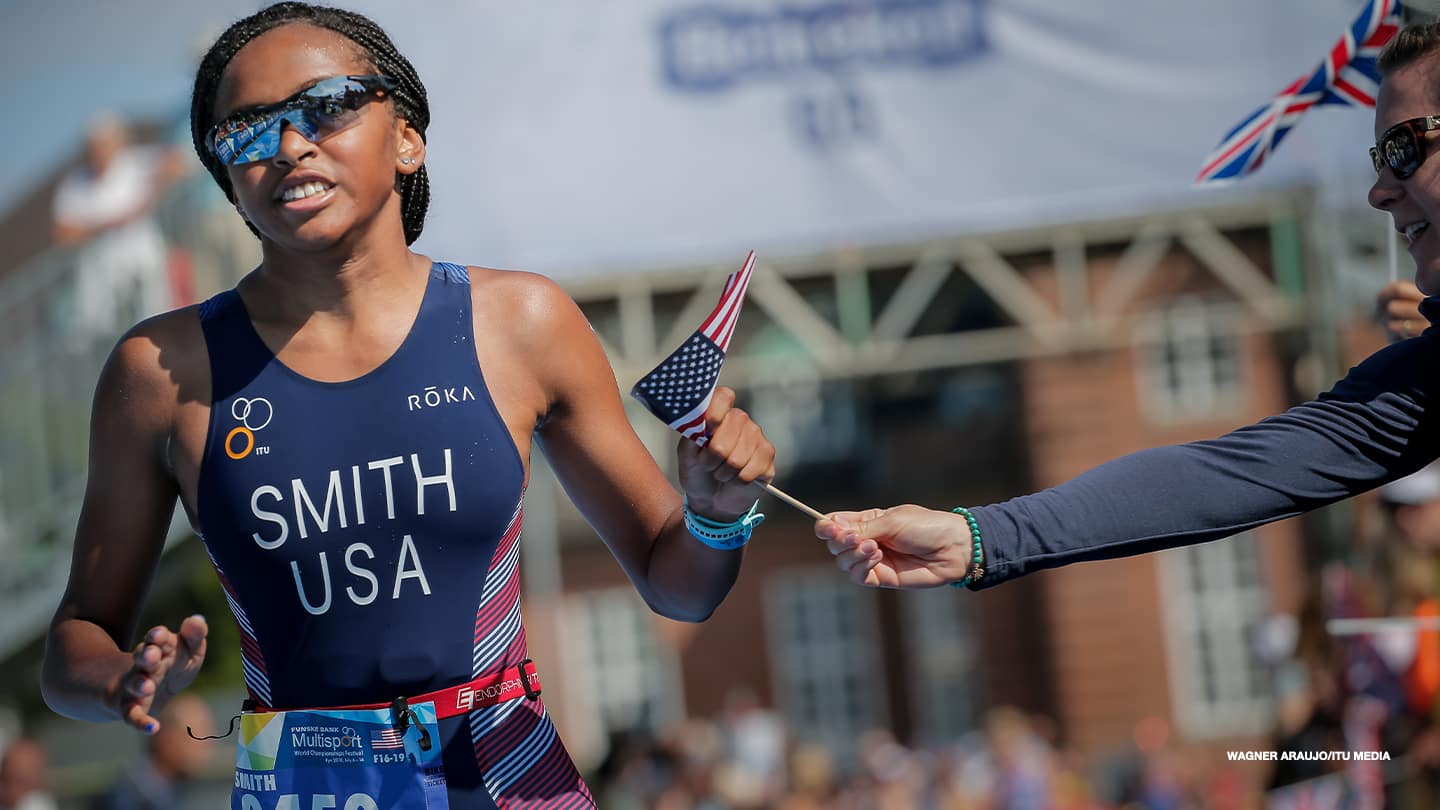 Sadé Smith competes at the 2018 Fyn ITU Duathlon World Championships on July 8, 2018 in Fyn, Denmark.
Sadé Smith started competing in triathlon when she was just 8 years old, and for many years whenever she raced, she was the only athlete of color.

"Thankfully I didn't have to go through any negativity; everyone was very welcoming and that was great," said Smith, a Black American. "It was just noticeable that I was the only one who looked like me."

Smith is now a freshman at East Tennessee State University and a member of the triathlon team, and she's one of the few athletes of color competing in the sport at the collegiate level. With a number of initiatives already in place and more to come, however, officials at USA Triathlon are actively trying to grow diversity in the traditionally white sport.

"The long-term vision is to make triathlon demographics represent the demographics of America," said USA Triathlon CEO Rocky Harris. "That's the ultimate goal, but that is the outcome of many other things that have to happen between now and then."

About eight or 10 years ago, Harris said, the board of directors of USA Triathlon consisted entirely of white men. When he was hired in 2017, they'd already made a commitment to increasing diversity in the sport and Harris decided early on to focus first on leadership.

Now, the board is half male and half female, and they have their first paratriathlete as board president as well as their first Hispanic and African American board members. Harris also hired the first-ever female members of the executive leadership team.

"It wasn't surprising that our diversity and representation didn't really match that of America because at the highest level we didn't represent that," he said.

From there, other steps followed.

The organization was recognized by the United States Olympic & Paralympic Committee three years in a row beginning in 2017 for its diversity and inclusion programs. USAT first received the Advancing Diversity & Inclusion award in 2017 after increasing membership for women and people of color 6.23 percent, higher than any other NGB or High Performance Management Organization. The next year it received the D&I Choice award for the Paratriathlon Military Engagement Program, which is an effort to introduce the sport to injured veterans and increase opportunities for participation on recreational and elite levels.
And in 2019, USAT again received the D&I Choice award for giving a grant of $225,000 to Hampton University in order to establish the first women's varsity triathlon program at a Historically Black College and University. Delaware State became the second HBCU, and eighth Division I NCAA school, to announce the addition of a varsity women's triathlon program in April 2020.
"We're a young sport and we need to create that natural pathway for athletes to aspire to something bigger outside of just the Olympic Games and the very top of what we do," Harris said. "In order for you to get youth excited about it, the NCAA creates credibility for the sport not only in society but also among youth and gives them something to aspire to do. We see it as critical part of our overall strategy."
Then in 2020, Dr. Tekemia Dorsey, who became the first African American to serve on USA Triathlon's Board of Directors in 2019, received the USOPC's Rings of Gold award for her work advancing opportunities for urban youth in the sport through the International Association of Black Triathletes, which she founded in 2014.
The greatest barrier she sees to diversity in the sport has been a lack of leadership in bringing the sport to urban communities.
"This biggest question I get is, 'I didn't know kids could do this,'" she said. "It's just about education, exposure, awareness and the advocacy part, which is how we continue to break down barriers as it relates to the sport in urban communities and diverse populations where they're just unfamiliar and unaware."
There also has to be a bridge between programs, she said, to truly create a pathway for entry into and progression through the sport, particularly in urban communities.
"It's already there for rural and suburban kids, and that's why the sport keeps growing," she said. "But you go to youth nationals and you see 1,500 kids out there and might find 10 that are black. … To have an impact in these communities we really need to be putting this as a lead versus a bullet point."
Increasing diversity and inclusion will take some time, Harris admitted, particularly within communities of color. According to USAT, less than one percent of athletes competing in the sport are Black.
But measuring success just in numbers might not tell the whole story, Harris said.
The organization is seeing more participation among diverse groups at a grassroots level, he said, and there is also more diversity among certified coaches than in the past.
"If we do everything we can to create an inclusive environment then the results will come," he said. "We're really pleased with the progress, but we're at step one and we need to get to step 10."
At East Tennessee State University, the triathlon team is finally getting ready for its first race of the season on March 4 after having the season postponed from the fall due to the pandemic.
Smith said that growing up she was inspired by Simone Manuel, who became the first African American woman to win an individual gold medal in swimming at the Olympic Games Rio 2016. She also looked up to triathlete Gwen Jorgensen, who became the first U.S. triathlete to win Olympic gold the same year, but as of yet there has not been a Black triathlete to compete at the Games.
Smith, from Haymarket, Virginia, wants to become the first. She also loves the idea of becoming someone who young athletes of color can look to as an example.
"That idea sounds amazing to me, to know that I could have an impact on a little kid thinking about doing triathlon but doesn't see anyone who looks like them," she said.
Karen Price is a reporter from Pittsburgh who has covered Olympic and Paralympic sports for various publications. She is a freelance contributor to TeamUSA.org on behalf of
Red Line Editorial, Inc.