Inaugural Junior Pan Am Games Brought Communal Spirit For Athletes, Coveted Rewards For Winners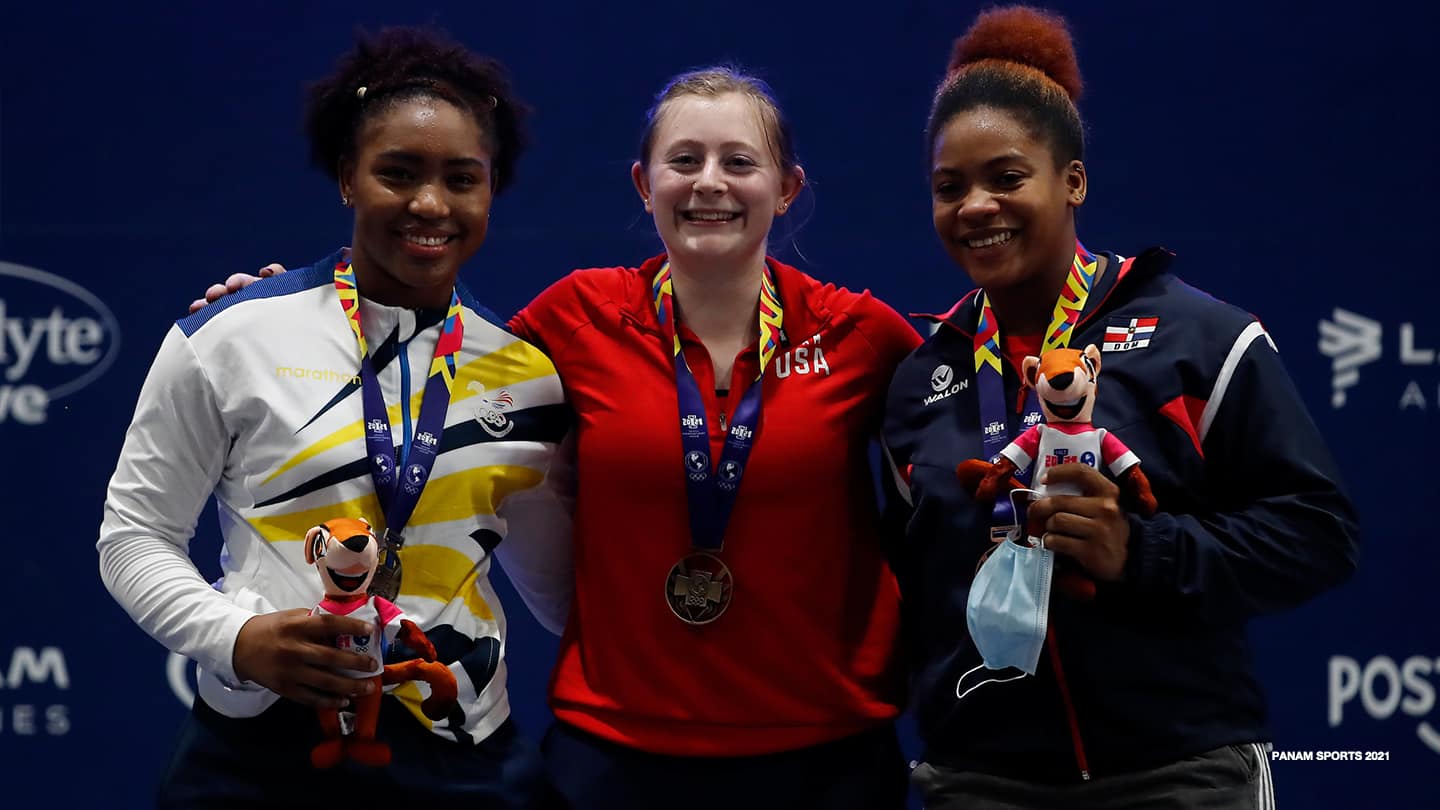 Olivia Reeves poses with her gold medal following the women's 76 kg. weightlifting snatch competition at the Junior Pan American Games Cali 2021 on Nov. 27, 2021 in Cali, Colombia.
There was a moment when Olivia Reeves was walking into the Pascual Guerrero Olympic Stadium that she almost had to pinch herself.

"As I'm walking I'm thinking, there's no way this is real, how is my life not a movie?" she recalled.

The 18-year-old from Chattanooga, Tennessee, is one of the country's most promising young weightlifters, the reigning junior world champion and a four-time youth American record holder. She'd never quite experienced anything like the Junior Pan American Games, though. No one had.

The event, which wrapped up Sunday in Cali and Valle del Cauca, Colombia, was the first of its kind. Modeled after the quadrennial Pan American Games, the junior version featured more than 3,500 athletes from across the Americas competing across 39 sports disciplines. All of the competitions were U-23.

For Reeves, whose burgeoning career has taken her to competitions across the globe, it was that opportunity to take part in a multi-sport event that drew her to Colombia. And no moment encapsulated that communal spirit more than the opening ceremony on Nov. 25, when Reeves and fellow weightlifter Hampton Morris served as flag bearers to lead a U.S. delegation of around 65 into the opening ceremony.

"It's a crazy feeling and an experience that I don't know if that will ever happen again," said Reeves, who is studying public health at the University of Alabama at Birmingham.

Originally scheduled for June and then postponed until September, the inaugural Junior Pan American Games finally went off without any major issues.

Although the pandemic restricted the athletes from going beyond their hotels and venues, many of the qualities associated with an Olympic or Pan American Games were evident. The opening ceremony had a parade of nations, for example, plus the usual music, dancing and fireworks. Meanwhile, most of the U.S. delegation stayed in the same hotel, giving the athletes an opportunity to bond with those from other sports.

For Reeves, hanging out and playing cards with U.S. archers and weightlifters proved to be one of the most memorable parts of the trip.

"When you're so involved in your sport it's sometimes easy to forget there are people who are just as good and as involved as you but in other sports," she said.

The competition went pretty good too.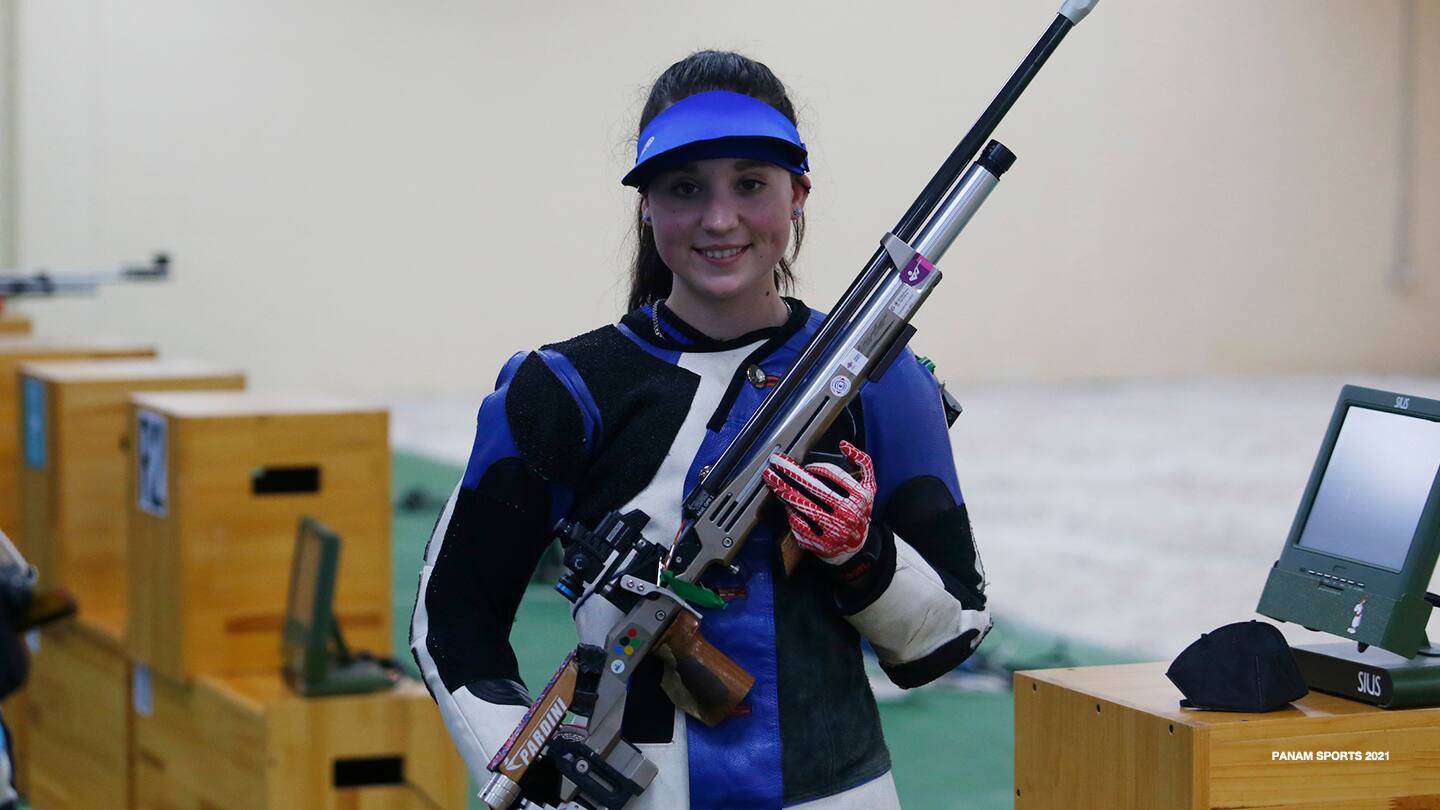 Mary Tucker celebrates winning gold in women's air rifle at the Junior Pan American Games Cali 2021 on Nov. 26, 2021 in Cali, Colombia.
Reeves made all six of her lifts to win the 76 kg. gold medal. It was one of many notable performances for the U.S. weightlifting team that claimed three gold, two silver and two bronze medals in Colombia.

Team USA as a whole won 114 total medals in Colombia, which was the fourth most of any country. Only Brazil (59) and Colombia (48) won more than the U.S.' 47 gold medals.

The last number was especially important to the athletes.

Besides coming home with some hardware, Reeves and the other gold medalists earned something maybe a little more valuable: a berth to the 2023 Pan American Games in Santiago, Chile.

"It's crazy. I still can't believe that actually happened, that my spot is not going anywhere," Reeves said. "Simply because it's such a big deal, the senior Pan American Games is second to the Olympics and it's a huge olympic qualifier, and if I want a shot at (the Olympic Games in) 2024 that is a great step. And the fact that I've already got my spot is crazy."

The full U.S. delegation to Cali-Valle included 149 athletes who competed across 21 sports. Among those taking part were two athletes coming off their first Olympic Games earlier this year in Tokyo — archer Casey Kaufhold, 17, and 20-year-old rifle shooter Mary Tucker.

Tucker won a spot at the 2023 Pan Am Games by winning the women's air rifle event, while Kaufhold took third in women's individual recurve archery.

No sport cleaned up in Colombia quite like the U.S. gymnastics team. In addition to claiming the men's and women's team titles in artistic gymnastics, Americans claimed nine individual gold medals in artistic gymnastics to go with two rhythmic gymnastics gold medals and one in trampoline.

Katelyn Jong and Vahe Petrosyan won the coveted women's and men's artistic gymnastics all-around titles. In total, American gymnasts won 29 medals.

U.S. athletes also claimed gold medals in archery, artistic swimming, boxing, diving, judo, karate, shooting, softball, squash, taekwondo, weightlifting and wrestling.

Although COVID-19 put a damper on some aspects of the event, the spirit of the multi-sport competition was alive, Reeves said.

Life moves fast for the young athletes, and Reeves herself has already turned her focus to her first senior world championships this week in Uzbekistan. The quick trip to South America for the Junior Pan American Games was one she won't soon forget, though.

"I think of almost any competition I've gone to," Reeves said, "that was the most fun."
Chrös McDougall has covered the Olympic and Paralympic Movement for TeamUSA.org since 2009 on behalf of
Red Line Editorial, Inc.
He is based in Minneapolis-St. Paul.