Ski Jumper Logan Sankey On What Scares Her And Her Hopes For The Winter Olympics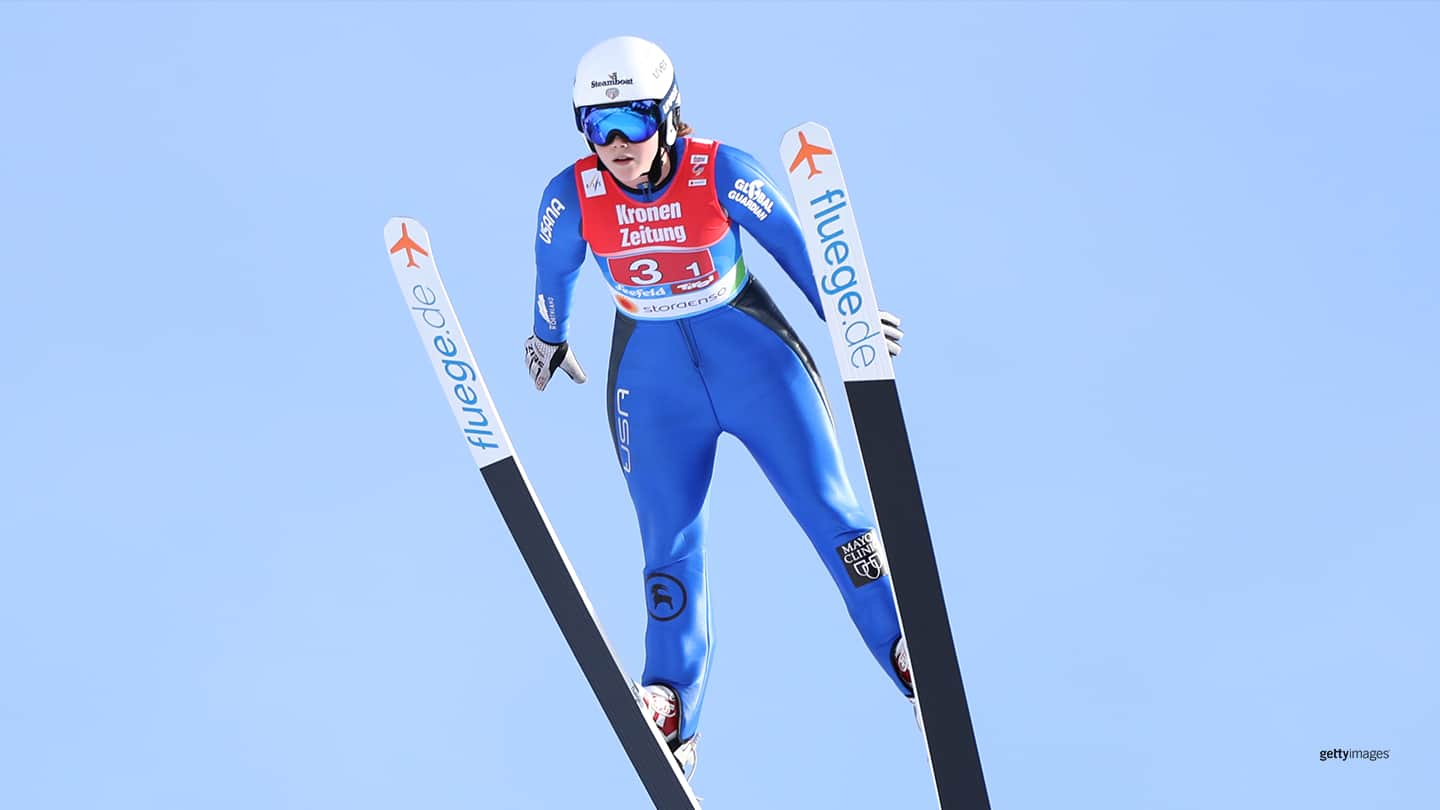 Logan Sankey jumps at the FIS Nordic World Ski Championships on Feb. 26, 2019 in Seefeld, Austria.
Logan Sankey got started in ski jumping in the name of fun. And it was all thanks to another sport.
Growing up in Colorado, the 23-year-old learned how to ski when she was two years old. By the time she was 11, she had started racing with the Steamboat Springs Winter Sports Club Alpine because that's what her friends were doing.

"I really loved it, and I had a lot of fun," Sankey remembered.

But thanks to her "amazing" coach at the time, she developed a love for flying through the air.
Part of the training for ski racing involves practicing downhill jumping, where skiers try to land as short as possible off the knolls (a.k.a. a mound). Because flying through the air causes you to lose speed, you practice absorbing the jumps.

"But my coach — who was just so awesome — would always let us at the very end of training try to jump as far as possible, just for fun," she said.

It was there during a fun moment of training where the idea of ski jumping first grabbed her.

Sankey quickly moved on to practicing with some small jumps and continued to train in alpine racing and ski jumping for a year. After attending the inaugural Fly Girls camp in 2014 at 16, she was hooked.

"I decided I wanted to fly through the air more often and made the switch full-time to ski jumping."
International competition soon followed, including six world championships — four of them with the junior team where her best finishing place was 20th. She has shown competitive consistency with several top 15 results in Continental Cups.

Now training out of Park City, Utah, she said she sometimes misses alpine skiing.

"But there is nothing that quite compares to the feeling of flying through the air, suspended by yourself and your skis," Sankey said.

It's a feeling she would compare to "the moment when you cross the top of a rollercoaster, or when there's turbulence in the plane, and you get that little stomach drop. You kind of feel like you're free-falling for a second. Ski jumping is like a controlled free fall."
While she calls it fun, it can also be terrifying.

"I think a lot of people think if you are a ski jumper, you have to be fearless, but we do get scared just as easily. Things that scare anyone else scare me: like spiders or walking home alone in the dark."

But one thing she's not afraid of is heights.

"I know some ski jumpers who get up there on the high towers and can't look over the edge," Sankey said. "I think for a lot of people, fear of heights kind of creeps up on you as you get older, and the love of the sport that you developed as a kid is what keeps you in it."

It's kind of like her love for the Olympics, Sankey explained.

"I remember as a little kid watching the Olympics — even before I was competitive in sports — and thinking, I want to do that!"

As the Olympic Winter Games Beijing 2022 inch closer, she works hard to make that dream a reality.
Having just competed in her first world cup event of the season, she didn't do as well as she'd hoped. But she said she learned a lot and feels confident going into the world cup in Lillehammer this week, where she'll be building off some personal bests from the summer.

"To go to Beijing and have the culmination of the goal I had before I even knew it was a goal, I think I would be incredibly proud of myself," said Sankey, who competed in her first international competition in 2016 at the Youth Olympic Games in Lillehammer where she placed twelfth.

"Whether or not I go to this specific Olympics is important for me to remember, and to know that sport, in general, has given me so much and will continue to give me so much — and that is not contingent on me being a 2022 Beijing Olympian."

Whether or not it happens is up to her, Sankey stays focused.

"I try to keep my goals self-based," Sankey said. "I think it's important for me to stay focused on the things that I can control: training my best and competing with a clear head."
In the spring, she juggles her training with school as a student in mechanical engineering at Dartmouth College.

"I think it gives me balance," she said about finding time for both. "Ski jumping is hard mentally, and school is also hard mentally — but in very different ways. I think having one to balance the other keeps me from getting burnt out mentally. Making sure I'm not thinking about ski jumping one hundred percent of the time is important."

Down the road — whether in one year or ten years — she'd like to be still involved with the sport in some way, assuming it's still fun.

"If I'm still loving it and enjoying it, then yes, in five years, I'll still be a ski jumper, and maybe that means putting other aspects of my life on hold. But if I decide there are other things I want in reflecting on myself, then that's an evaluation. I just have to keep in tune with my feelings and what brings me joy in the moment.

"I don't want to shortchange the present by worrying too much about the future. But I also really believe that it's important to plan things and to make sure you're not missing opportunities," Sankey said.

Her ultimate goal is to take advantage of all the opportunities she was lucky enough to have been provided growing up. Eventually, she'd like to leverage that to ensure that other people have the same options — especially women.

"We don't have the same number of events [as the men] in the Olympics still, and we don't have equal prize money on the world cup circuit. So making sure that no young girl or young woman decides not to become a ski jumper because of that inequality is important to me."

Whatever her future holds, she knows it will be something that is bringing her joy — the same joy she experienced when she first started ski jumping.
Lisa Costantini is a freelance writer based in Orlando. She has covered Olympic and Paralympic sports for various publications, and has contributed to TeamUSA.org since 2011.