Hannah Roberts Is Helping Set The Standard For Women's BMX Freestyle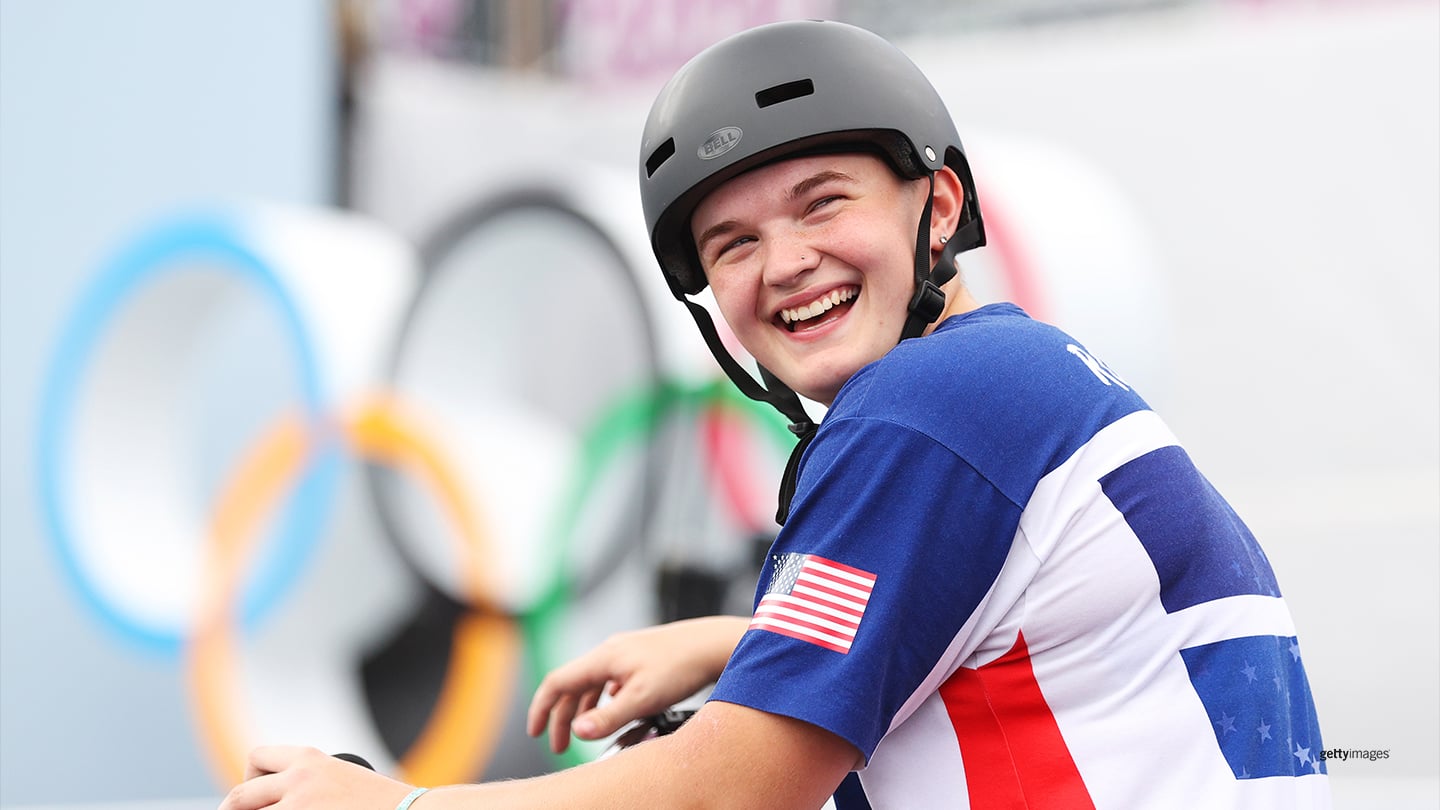 Hannah Roberts poses for a photograph prior to the Women's BMX Freestyle seeding event during the Olympic Games Tokyo 2020 on July 31, 2021 in Tokyo.
Hannah Roberts just turned 20, but she's already been on top of the BMX freestyle world for years, winning world titles and pushing the limits of the sport.

Now, she's an Olympic silver medalist and using her platform to continue to fight for gender equity and more opportunities for women.

When Roberts first started in 2016, BMX freestyle was only just opening up all of its world competitions to women, she explained to Lolo Jones and Lindsay Czarniak, hosts of the "On Her Turf" NBC Olympics podcast.

"It was the first time we ever had a world series," Roberts said. "And obviously the pay discrepancy. Men were making $8,500, and we were making 250 euro for a win. So that was kind of crazy. Luckily I was 14 years old and I had parents that saw my dream and were helping me get to these events until 2017 when sponsors started picking up and events start sending me to their contests."

Roberts started BMX at the age of 9, inspired by her cousin, former pro BMX rider Brett "Mad Dog" Banasiewicz. She was competing by the age of 12, and at 16 won not only her first world title but also the first ever awarded by the UCI in women's BMX freestyle. That was in 2017.

In those days not so very long ago it was difficult to follow the sport, however. As Roberts pointed out, they didn't even have a livestream of contests for the first two or three years of having a world circuit.

"The only way you could see how we competed was if one of us went live on social media," she said during the podcast. "Contests used to never post about us. The X Games still doesn't have a women's class. There are so many things still happening that we're trying to make equal."

Roberts won her second world title in 2019 and became the first woman ever to land a difficult trick called a 360-tailwhip in competition. That same year she went undefeated during world cup competition, winning that title as well as the Pan American Games and the national championship.

She became the first American to qualify for the Olympic Games in BMX freestyle, which debuted in Tokyo, back in February 2020. This past June she won her third world title at the UCI Urban Cycling World Championships and was heavily favored to win gold in Tokyo. The Buchanan, Michigan, native was the top scorer in the seeding round and held a high score of 96.10 midway through the final.

After Great Britain's Charlotte Worthington did the first-ever backflip in women's competition on her second run and scored a 97.50, the pressure was on. Roberts put her foot down after doing a trick on her third and final run, and that was it. Worthington won the gold and Roberts the silver.

Far from being disappointed, however, Roberts was elated with her result. She posted a photo of the podium to her Instagram page, writing, "That's a wrap for the @tokyo2020 games! I'm so pumped to walk a way with second I felt so good on the bike and had so much fun HUGE congrats to @chazworther for taking first with a jaw dropping run! You are absolutely insane! Also congratulations to @nikita.ducarroz for bronze, you killed it yesterday!

This sport means way more than contests! I'm so proud to call you all family! #bmx #bmxlife #olympics #silvermedalist"
Roberts had plenty to look forward to returning to the U.S. Having married her girlfriend at the beginning of the year, the pair recently bought a house that they share with their two dogs.

And things are getting better in terms of women's opportunities in BMX as well. Some events have started to pay men and women equal prize money, she said, and although women still lag behind men in world cup events in terms of money, the discrepancy isn't as large as it was a few years ago.

"We're moving up," she said. "It's a slow process and something we've had to pull teeth for, but the progression is undeniable. It's nice to see that they can't use us not having the skill set that the men have anymore. That's what they used to say to us, so it's nice they can't say that anymore."
Karen Price is a reporter from Pittsburgh who has covered Olympic and Paralympic sports for various publications. She is a freelance contributor to TeamUSA.org on behalf of
Red Line Editorial, Inc.