Caeleb Dressel: A Humble Olympic Champion Is Not Counting His Medals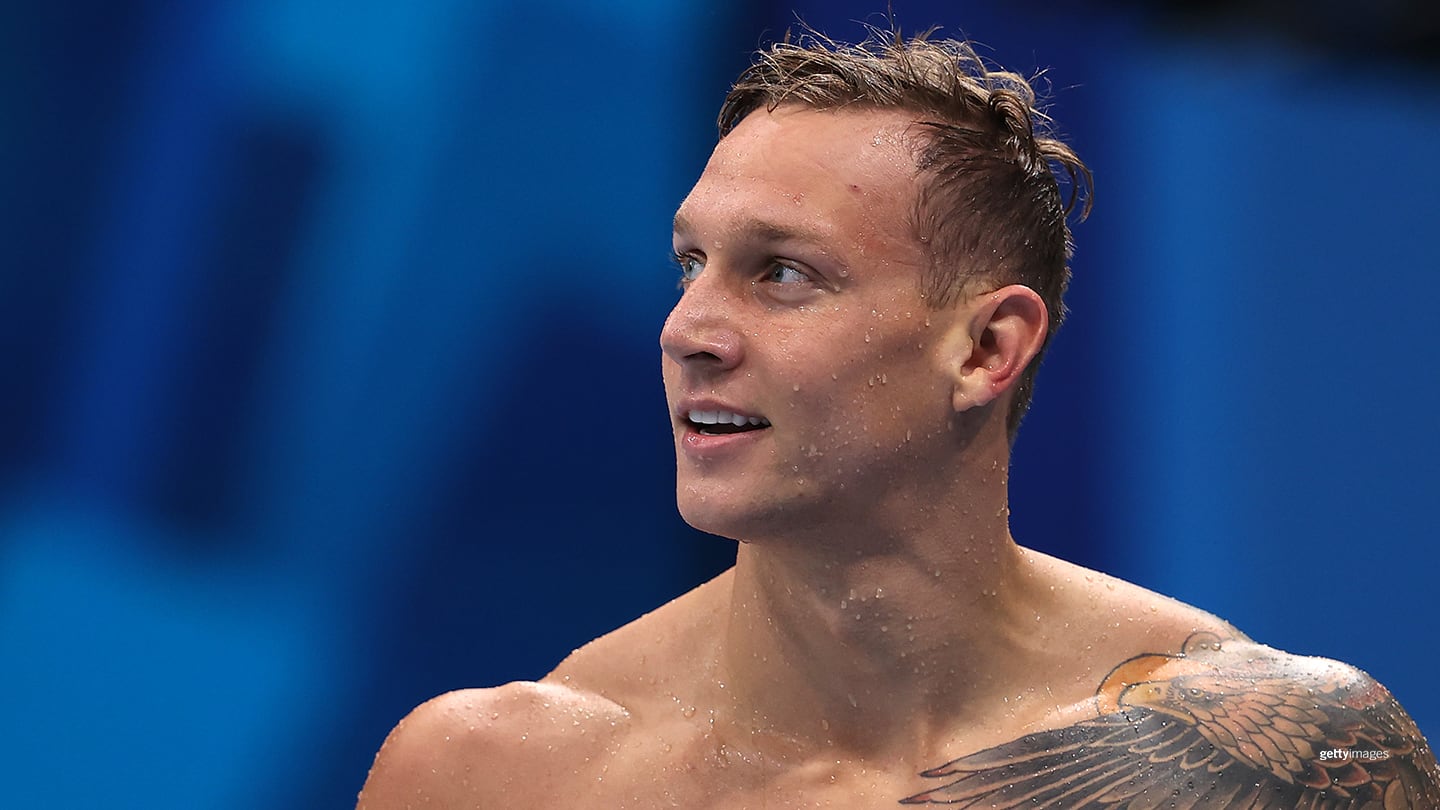 Caeleb Dressel at the Olympic Games Tokyo 2020 on Aug. 1, 2021 in Tokyo.
TOKYO — At the Olympic Games Tokyo 2020, Caeleb Dressel joined elite company.

The 24-year-old swimmer won five Olympic gold medals in Tokyo, a feat that only 10 other Olympians have accomplished, including swimmers Michael Phelps, Matt Biondi, and Mark Spitz. Historic figures on the list include Finnish running legend Paavo Nurmi, who won five Olympic gold medals on the track in 1924, American Anton Heida who claimed five golds in gymnastics at the 1904 Games, and Eric Heiden, who famously speed-skated to five Olympic gold medals at the 1980 Lake Placid Games.

But don't look for Dressel to flaunt his accomplishments. He is a humble champion who shies away from the spotlight — confessing after he won the 100-meter butterfly in world record time that "the sport was a lot more fun when no one knew my name."

In the Catch-22 of celebrity, Dressel's humility and honesty will likely have the opposite effect, making him an even bigger champion.
Dressel made his Olympic debut in Rio five years ago. Back then, he was a 19-year-old student at the University of Florida, an up-and-coming sprinter who qualified for his first Olympic Games in the 100-meter freestyle. At the 2016 Rio Games, he finished sixth in the 100 freestyle, then won two Olympic gold medals as part of the men's 4x100 freestyle and medley relays.

"I was still a teenager in that moment," Dressel said of his Rio experience. "I wasn't necessarily happy with how I did. And I knew the next go around, I wanted to achieve a lot more than just being a relay swimmer."

A year later, he dominated at the 2017 world championships, winning an astonishing seven gold medals. People started calling him the next Michael Phelps — a comparison Dressel refuses to acknowledge because it's not fair to Phelps.

Dressel almost matched that feat at 2019 worlds, claiming six world titles and finishing as runner-up with the U.S. men in two relays.

With the Tokyo Games on the radar, Dressel deflected questions about his growing celebrity. His goal, he said, was not to accrue a war chest of medals. It was simply to reach his potential.

He is also quick to deflect praise onto his teammates and competitors.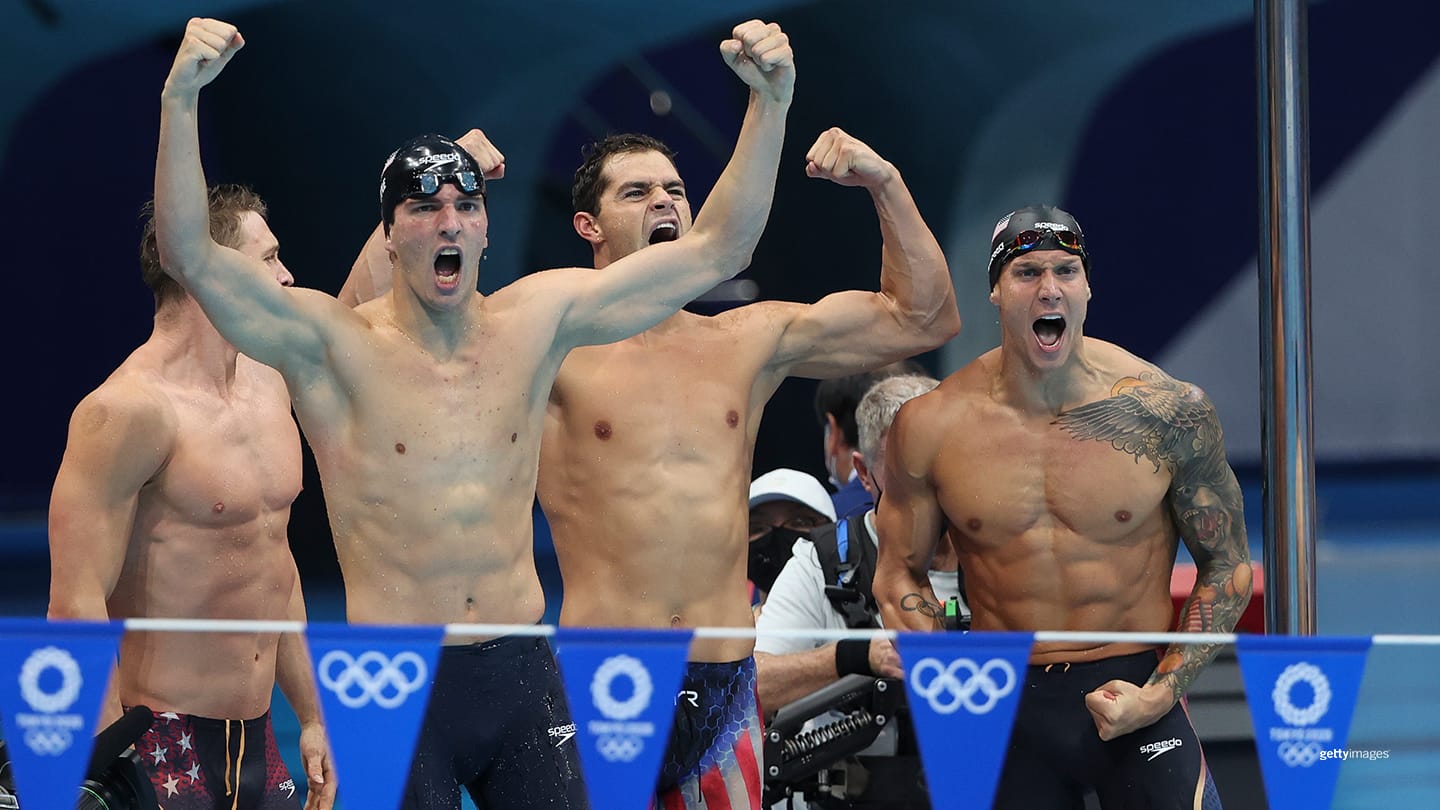 Caeleb Dressel celebrates with teammates at the Olympic Games Tokyo 2020 on Aug. 1, 2021 in Tokyo.
After anchoring the men's 4x100 freestyle relay to gold — his first race in Tokyo — he credited his teammates with the win, saying "there's four guys for a reason, it's certainly not just me and it's certainly not just one guy."
Then, after he set a world record in the 100 butterfly, he talked about rival Kristof Milak, the 21-year-old from Hungary who chased him down in the final 50 meters.
"He's really good at butterfly," said Dressel of the Hungarian swimmer. "He swam [the 100 fly] perfectly. He's going to put me on the job one day, so I'm going to hold on as long as I can."
Later that same morning, in the mixed medley relay — an event that made its Olympic debut in Tokyo — Dressel anchored the U.S. team with the freestyle leg, the only male to swim that leg in the final. The U.S. had one of its toughest performances in history in this race, and Dressel dove into the water in last place. Many thought he would surely catch the "girls" in front of him.
But Dressel did not dismiss the competition in that relay.
"Racing is racing, no matter if you're a guy or girl," he stated. "I'm not going to rule someone out because they're a girl. I mean, I don't care. Who am I to say, 'Oh yeah, it's easier racing girls? No. I didn't catch a single one of them."
He did in fact catch three of them. But his statement speaks volumes. He does not think of himself as the swimming king that he is.
Dressel seems happiest talking about his teammates. He joyfully recounted how he had helped teach a few of the women on the team how to play poker during the pre-Games training camp in Hawaii, and how the team bonded during coffee runs and meals. When asked for a post-press conference photo, Dressel said yes, but only if teammate Zach Apple could also be in the picture.
In turn, his teammates speak highly of him.
"He leads both in and out of the water and is just an incredible swimmer," said Katie Ledecky, a three-time Olympian and 10-time Olympic medalist. "It's just amazing to watch him get up on the blocks and race and see him get out with his start to those huge leads, we all admire his start. He has a great family, really cares about his teammates, and is just a really great presence on the pool deck for Team USA."
"It's just so impressive to see the competitor, the man that Caleb has become," added two-time Olympian Ryan Murphy, who first met Dressel when he was six years old. "This is a really hard meet. You need to be at the top of your game, and Caleb did that, he went best times in every single race. That's just so impressive to come in here with all the pressure, he had a lot on his shoulders. He handled it great, and, and I'm just so proud of him."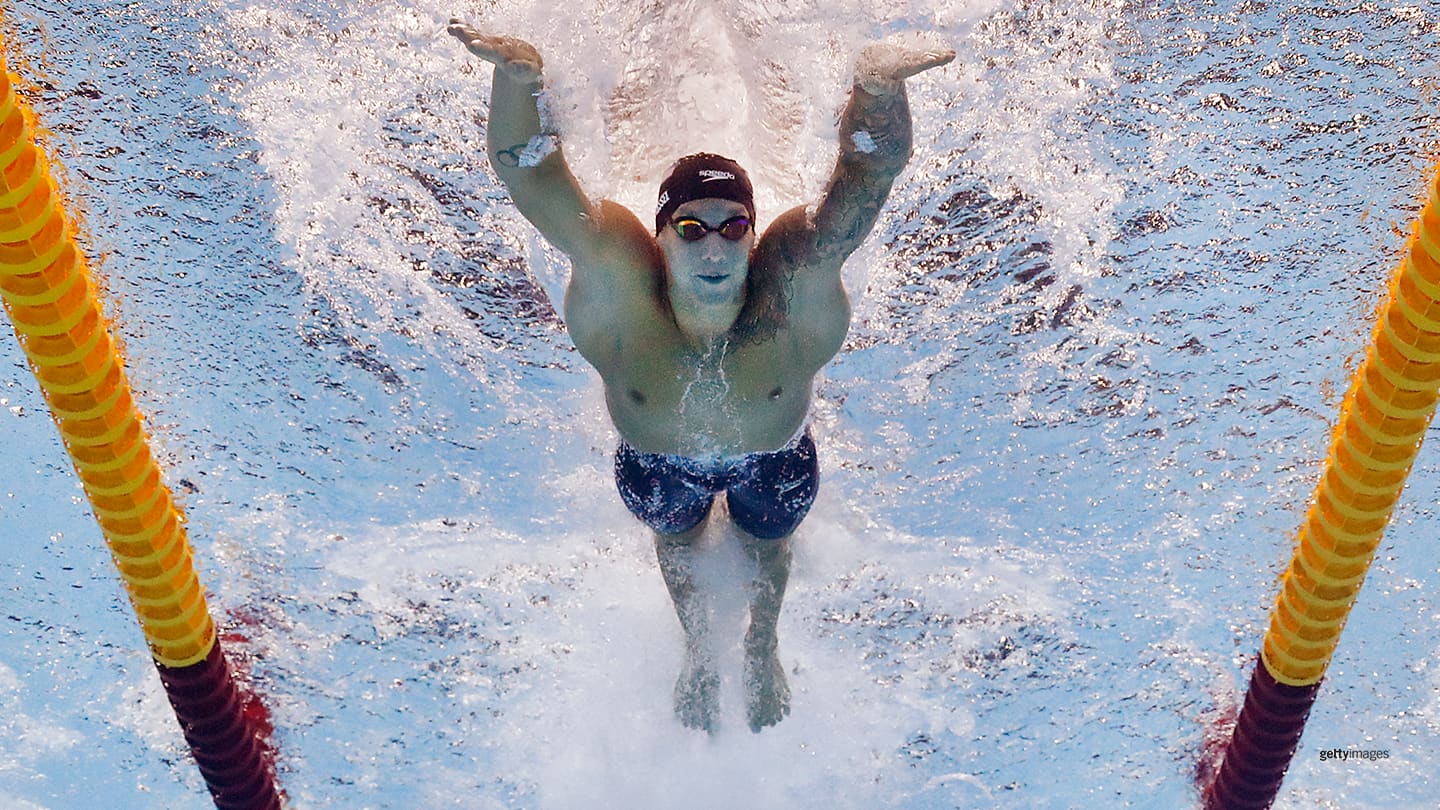 Caeleb Dressel competes at the Olympic Games Tokyo 2020 on Aug. 1, 2021 in Tokyo.
In addition to his humility, Dressel was honest about his nerves and emotions. He showed the world that he's human. He had a hard time eating, sleeping, and napping during the week of Olympic swimming, he said, and (partly) joked that he had lost 10 pounds during the Games.
"I don't want you guys to make me seem like a giant baby," he said. "Yeah, I get tired, I get nervous. … There we go."
He cried after setting an Olympic record in the 100-meter freestyle. And he talked about the monastic life he was leading in the Olympic Village, not even calling his wife and family because he did not want to expend the emotional energy. He knew he would cry again.
On the final day of swimming at the Tokyo Olympic Games, Dressel expressed happiness and relief — about the week he had had and that it was over. He was done with swimming for a while, he said.
But after winning five Olympic gold medals, setting two Olympic and world records, and swimming three races in one morning session, Dressel was not yet ready to reflect on what he had accomplished. He simply said that he would soon recap what went well and what could have gone better.
After his final race — the men's medley relay — Dressel did concede that he was proud of himself, but not because of his medal count.
"I think I reached my potential here at these Games," he said as he leaned on Apple's shoulder. "And it was really fun racing. I'll give myself a pat on the back. Then I just want to go home, put it away and, you know, move forward."
When told that he is now in elite company with his five Olympic gold medals, Dressel — as expected — downplayed it.
"Of course I'm happy with how I did here," he said. "But it's not my goal to beat anybody in particular. It's about achieving what I feel like my potential is."
An award-winning freelance writer based in Vermont, Peggy Shinn has covered six Olympic Games. She has contributed to TeamUSA.org since its inception in 2008.