U.S. Baseball Team Tops South Korea To Get Gold Medal Rematch Against Japan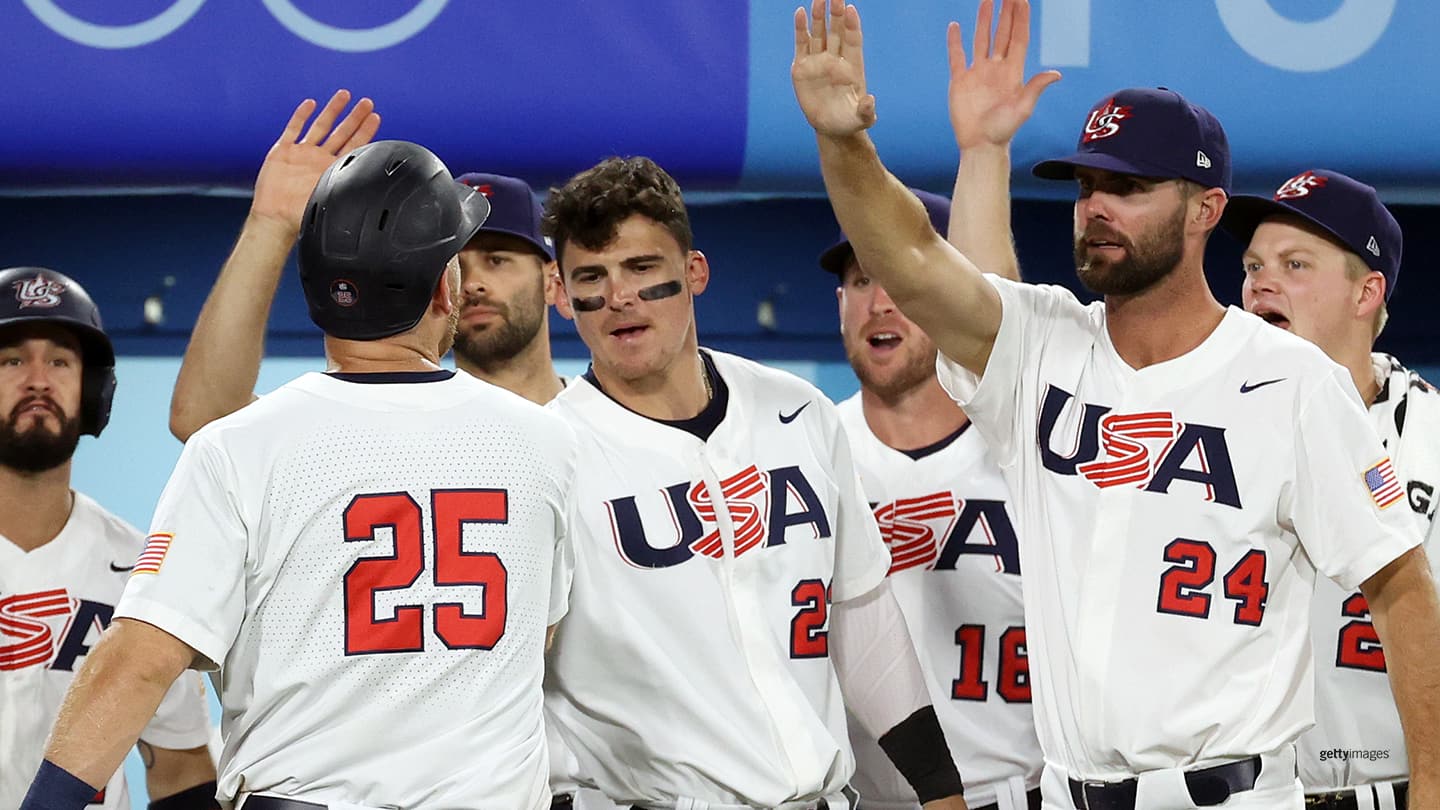 The U.S. baseball team celebrates at the Olympic Games Tokyo 2020 on Aug. 5, 2021 in Yokohama, Japan.
The U.S. baseball team put its back against the wall with a second-round loss to Japan on Aug. 2, but now will get a chance for revenge on the hosts for a gold medal after defeating South Korea 7-2 in the semifinal Thursday night at Yokohama Stadium.
Joe Ryan started and allowed just one run in 4.1 innings and Tyler Austin went 2-for-4 with two RBI to boost Team USA to victory. Ryan and South Korea starter Eui-Lee Lee dueled in the game's first half, with Lee going five innings, striking out nine and surrendering just two runs. But the U.S. broke the game open in the sixth after Lee exited, scoring five runs and putting the game out of reach. The gold-medal game is set for Saturday in Yokohama.
The U.S. got out to a 2-0 lead thanks to a Jack Lopez RBI single in the second and Jamie Westbrook's moonshot home run to left in the fourth. Ryan ran into his first real trouble in the top of the fifth, hitting a batter then allowing his first run after back to back singles. Ryder Ryan entered in relief with a runner in scoring position and promptly induced a double play. Ryan would pitch the sixth as well and didn't allow a baserunner.
Cue up "Here Comes The Boom" by Nelly. @jwesunderscore4 takes one deep to increase the lead!

Bottom 4
🇰🇷 | 0
🇺🇸 | 2@USABaseball x #TokyoOlympics pic.twitter.com/xSdSB4XCSU


— Team USA (@TeamUSA) August 5, 2021
Former MLB All-Star Todd Frazier started the bottom of the sixth with a 12-pitch at-bat that ended in a walk, and the U.S. basepaths were busy after that. Five different South Korean relievers struggled to replace Lee as Team USA scored five runs. The U.S. would record two more walks and three hits in the inning, the final one coming off the hot bat of Austin. His single raised his average in the tournament to .400 and plated two runs, raising his RBI total to seven.

Protecting a five-run lead, reliever Scott McGough's struggles continued in Tokyo in the top of the seventh as he allowed three hits and one unearned run. Anthony Gose entered and ensured South Korea would get no closer, striking out both batters he faced to end the threat. Gose would come back out for a scoreless eighth. Anthony Carter then locked won the ninth, pitching a perfect inning to send Team USA to the gold-medal game.

The U.S. took the hard road in the tournament, having to play and win a second round repechage against the Dominican Republic as a result of its loss against Japan. The hosts will be the better rested team as they defeated South Korea on Wednesday, giving them an extra day off before Saturday's gold-medal game. The U.S. and Japan have never met for Olympic gold, but did meet in the 1992 and 2008 bronze-medal games.
Want to follow Team USA athletes during the Olympic Games Tokyo 2020? Visit TeamUSA.org/Tokyo2020 to view the medal table, results and competition schedule.
Todd Kortemeier is a sportswriter, editor and children's book author from Minneapolis. He is a contributor to TeamUSA.org on behalf of
Red Line Editorial, Inc.