Wrestler Adeline Gray Comes Up Short In 76 Kg. Final, Earns First Olympic Medal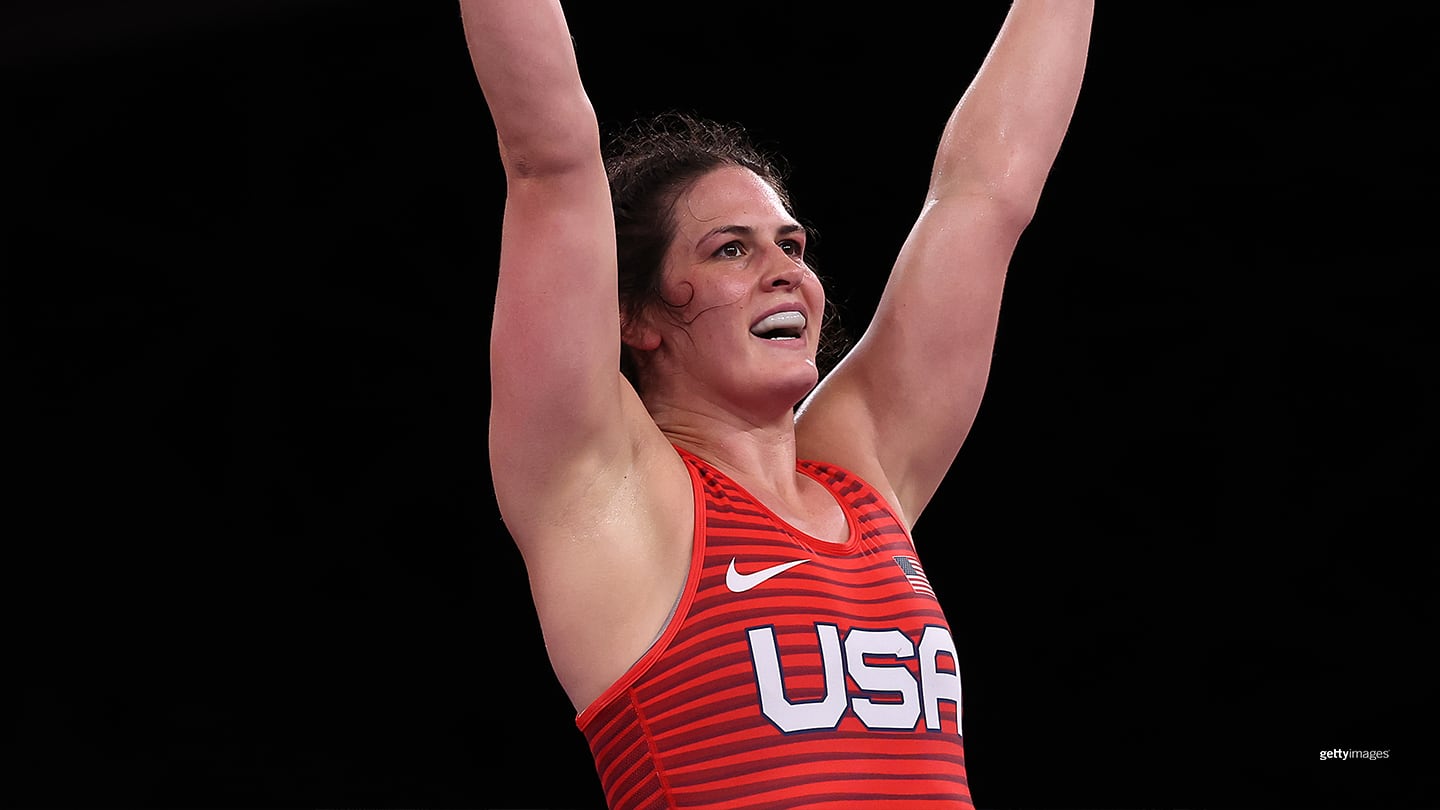 Adeline Gray at the Olympic Games Tokyo 2020 Aug. 2, 2021 in Chiba, Japan.
Already a five-time world wrestling champion, the accomplished Adeline Gray had been waiting a long time to add an Olympic medal to her impressive array of hardware, but it wasn't the color she was looking for.

In the women's 76 kg. gold-medal match at Makuhari Messe Hall, Gray dropped a 7-3 decision to Aline Rotter-Focken of Germany after falling behind 7-0 early in the second period. Rotter-Focken picked up six of those points on counterattacks.

"You don't come to lose, but I came out here to fight," said Gray, "and I gave it my all, and I took some shots, and I went in there and battled, and she threw me off my game and, unfortunately, I didn't come out on top.

"I still am coming home with a silver medal from the Olympics, and I am just so thrilled for that."

Rotter-Focken, 30, had previously announced her intention to retire after these Games. She becomes the first Olympic women's wrestling champion from Germany. She also has a world championship to her credit, having won the women's freestyle 69 kg. class in 2014.

A 30-year-old Denver resident, Gray had reached the championship final by defeating Aiperi Medet Kyzy of Kyrgyzstan in the semifinals, 3-2. In previous final round victories, Gray outpointed Turkey's Yasemin Adar, 6-4, and downed Zaineb Sghaier of Tunisia by fall.

Graceful in defeat, Gray said she's pleased with the state of women's wrestling and takes her role as a role model for young girls quite seriously.

"I didn't dream big enough," Gray said. "I didn't know I could be a professional athlete in my 30s. I didn't know that I could have a husband and a career and be able to balance those two things at this stage. I really held myself back at a young age because I didn't know these things were possible.
"So, I hope all the little girls watching really understand that they can go and get master's degrees, they can go and win Olympic medals, and they can go and have balance in their lives, focusing on very big things."

Despite her obvious disappointment, Gray took time to promote another U.S. wrestler.
"My teammate's in the finals tomorrow, and she's been killing it," Gray said. "Tamyra Mensah-Stock is someone everyone has to watch. She's an incredible human being, and she's going to go out there and be an Olympic gold medalist tomorrow, and I'm so excited for her."

Mensah-Stock of Colorado Springs, Colorado, defeated Alla Cherkasova of Ukraine, 10-4, in the women's freestyle 68 kg. semifinals after a pair of earlier lopsided wins in the final round.

In the Greco-Roman 97 kg. class, G'Angelo Hancock of Colorado Springs defeated Mikheil Kajaia of Serbia, 5-1, then dropped a 4-3 decision to Poland's Tadeusz Michalik.

Ildar Hafizov of the U.S. Army World Class Athlete Program dropped a 7-1 decision to Sergey Emelin of the Russian Olympic Committee in the Greco-Roman 60 kg. repechage.
Want to follow Team USA athletes during the Olympic Games Tokyo 2020? Visit TeamUSA.org/Tokyo2020 to view the medal table, results and competition schedule.
Bob Reinert spent 17 years writing sports for The Boston Globe. He also served as a sports information director at Saint Anselm College and Phillips Exeter Academy. He is a contributor to TeamUSA.org on behalf of
Red Line Editorial, Inc.