U.S. Eventing Team Places Sixth, Doug Payne The Top Individual In 16th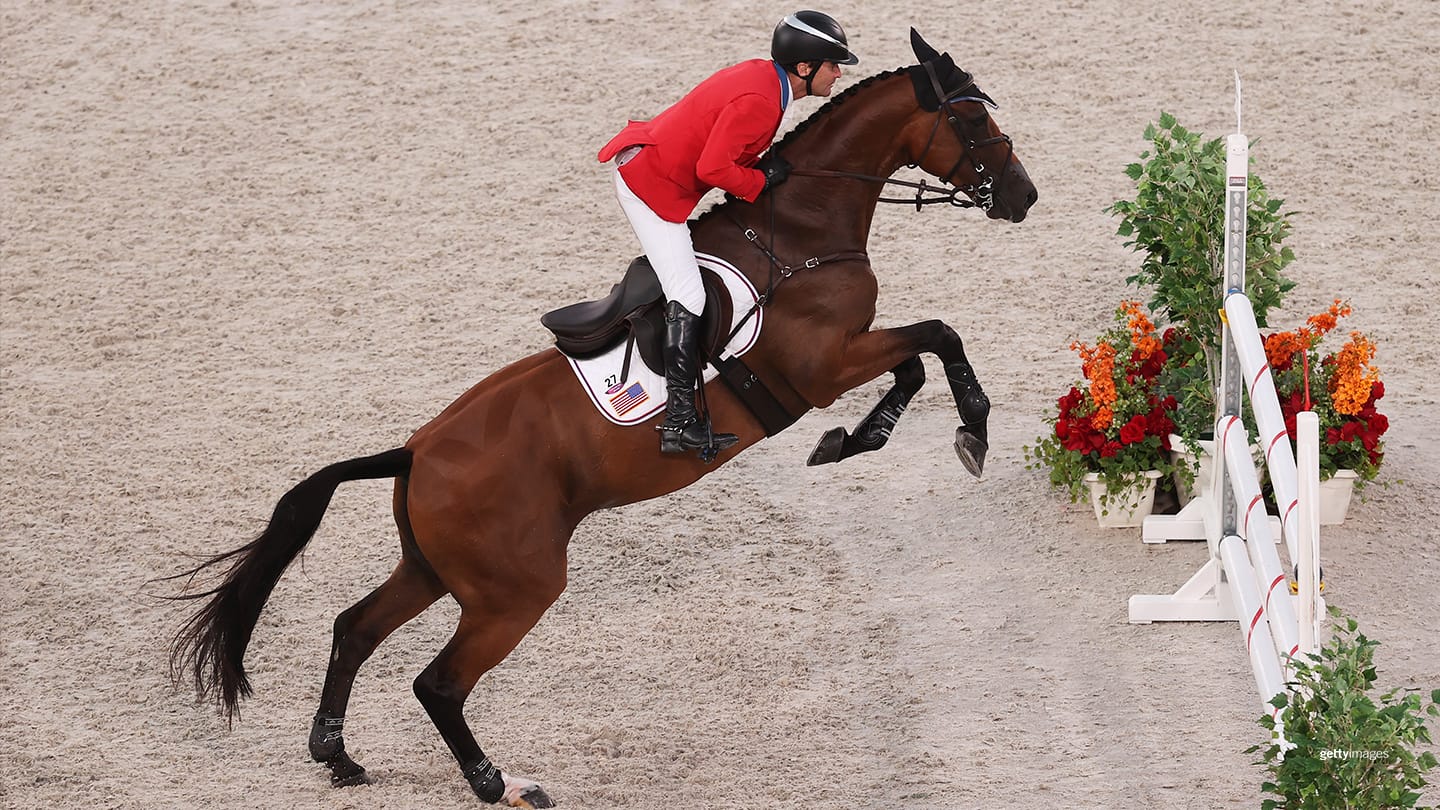 Phillip Dutton competes at the Olympic Games Tokyo 2020 Aug. 2, 2021 in Tokyo.
Three American riders combined to earn the U.S. Olympic equestrian team a sixth-place finish Monday in the eventing jumping team final and individual qualifier at Tokyo's Equestrian Park.

The U.S. team had a total of 125.80 penalties. Great Britain won its first gold medal in the event since 1972 with 86.30. Australia took the silver with 100.20, and France claimed the bronze with 101.50.

Martin Boyd of Cochranville, Pennsylvania, led the way for the U.S. in 15th place aboard Tsetserleg TSF with 38.70, followed by Phillip Dutton of West Grove, Pennsylvania, and his mount, Z (19th, 43.30), and Doug Payne of Aiken, South Carolina, who rode Vandiver (20th, 43.80).

All three riders qualified for the individual event that followed. The top 25 riders and those tied for 25th advanced.

Payne paced the Americans in the individual final, placing 16th on the strength of 48.20 penalties. Boyd followed in 20th place with 52.30. Dutton was 21st with 54.10.

Dutton, who medaled in the event at the 2016 Rio Games, spoke about his and Z's performance after the competition.

"Really disappointed, obviously," Dutton said. "He's trying quite hard."

It was yet another hot day during these Olympic Games. Did the conditions affect his horse?

"Obviously, it was a hot day, and they're not at their best, because it was a day where they really exerted themselves," Dutton said. "But he felt fine today."

And what of the overall U.S. team performance?

"It's certainly a big improvement from a team point of view," Dutton said. "Certainly, you can always try to do a bit better. We're aiming for more, but it's not horrible. It's the Olympic Games, so you got to be at your best."

Germany's Julia Krajewski won the individual gold medal aboard Amande De B'Neville. That combination incurred just 26 penalties.

Tom McEwen of Great Britain and his mount, Toledo De Kerser, took home the silver medal. McEwen had 29.30 penalties. He added the silver to his gold medal in the team event.

Riding Vassily De Lassos, Andrew Hoy of Australia secured the bronze medal. He had 29.60 penalties. Hoy collected a silver medal in the team competition.
Want to follow Team USA athletes during the Olympic Games Tokyo 2020? Visit TeamUSA.org/Tokyo2020 to view the medal table, results and competition schedule.
Bob Reinert spent 17 years writing sports for The Boston Globe. He also served as a sports information director at Saint Anselm College and Phillips Exeter Academy. He is a contributor to TeamUSA.org on behalf of
Red Line Editorial, Inc.