Bobby Finke Is Officially Team USA's Most Successful Male Distance Swimmer In A Generation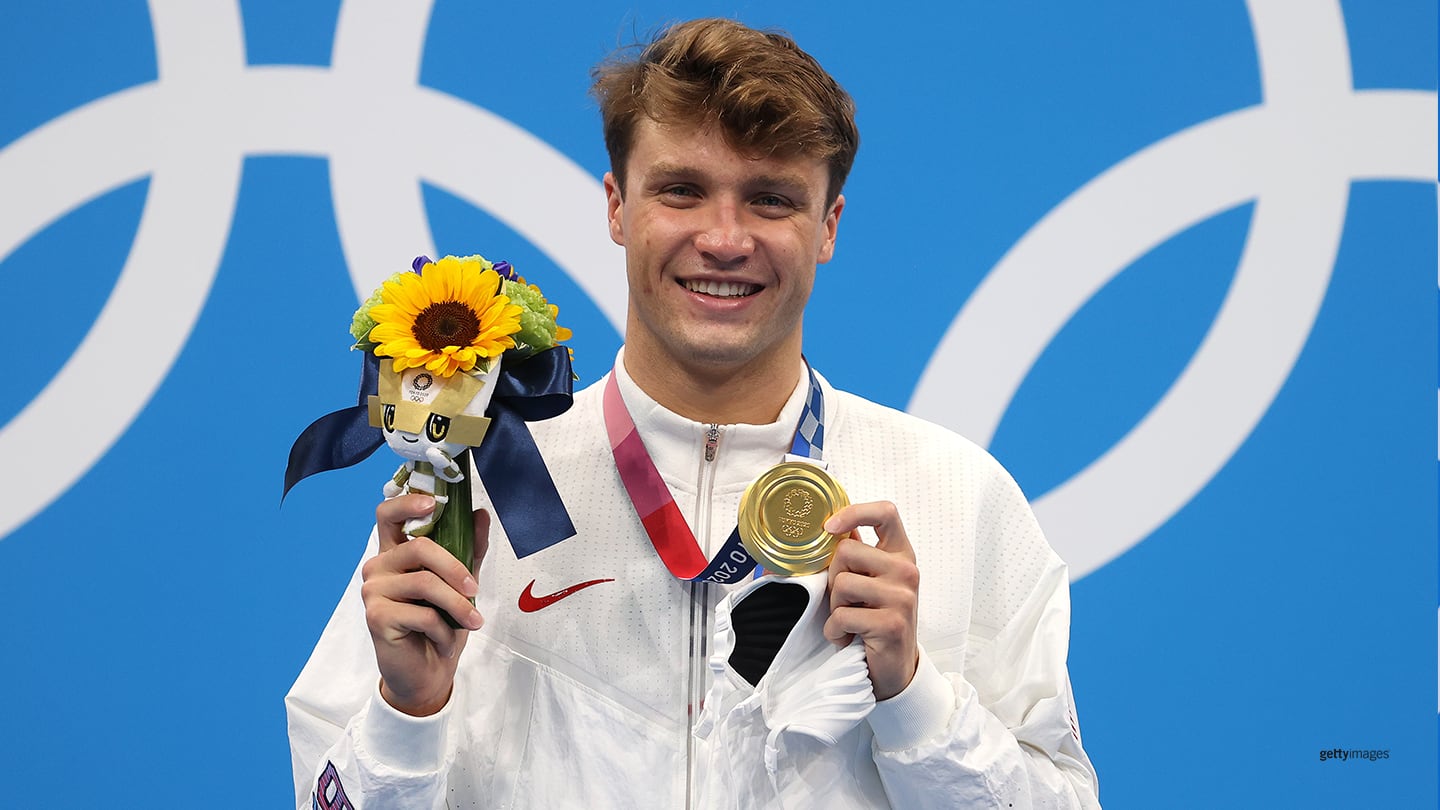 Bobby Finke poses in the podium of Men's 1500m Freestyle at the Olympic Games Tokyo 2020 on Aug. 1, 2021 in Tokyo, Japan
TOYKO — Here's the thing about gators. They might look like they're just chillin' there, hanging out. When they decide to make a move, though, you'd better not blink.

It's a technique called ambush hunting.

And of course the Gator we're talking about here is Bobby Finke, of the University of Florida variety.

The Florida-born, Florida-raised and now Florida-educated swimmer unleashed his breakneck closing speed for the second time in four days on Sunday to claim his second gold medal at the Olympic Games Tokyo 2020. This time it was in the men's 1,500-meter freestyle, making him the first U.S. man to win that event since 1984. It came after Finke put in a near identical performance to win the Olympic debut of the men's 800-meter freestyle event on Thursday.

Not over 'til it's over. 🥇@USASwimming x #TokyoOlympics pic.twitter.com/wDQcnajdY7


— Team USA (@TeamUSA) August 1, 2021
"Honestly, it doesn't really seem real," said Finke, a 21-year-old from Clearwater, Florida. "I came in not really expecting to medal. I was just going to try my best to make the finals. So to come out of it with two golds, it means the world to me, especially for my family and teammates."

A relative unknown coming into Tokyo, at least outside of hardcore swimming circles, Finke has in some ways been preparing a lifetime for this moment. The son of a former collegiate swimmer in mom Jeanne and swim coach in dad Joe, Finke followed his older sisters Autumn and Ariel into the sport. All three Finke kids went on to compete D1, and in 2016 all three qualified for the U.S. Olympic Team Trials.

"I kind of just followed in their footsteps," Finke said.

Over the course of a few days in Tokyo, Finke not only set the new family standard but also a new national standard for American men's distance swimming.

"I don't think we necessarily saw the performance in the 800 going the way that it went, but we certainly saw it coming in the mile," U.S. coach Dave Durden said. "I think everybody in the building knew what was coming down that last 100 of the mile."

The 1,500 is the longest race in the pool, almost double the length of the other distance event, the 800. When they dive in, swimmers must be prepared to windmill through the water for about 15 minutes.

Finke did that with remarkable consistency Sunday. In covering 30 lengths of the pool, he swam 27 in a row within .58 of a second — between 29.25 and 29.83. That kept him in third place for much of the race.

Then, on the last lap, he sped up, dropping down to 28.60 seconds on the outbound length.

He came back in in 25.78. Talk about an ambush hunter.

"I was trying to gain confidence through that last 300 just try to hold on and sprint my butt off at the end," he said.

Mission accomplished.

Sunday's race was remarkably similar to the 800. Having two NCAA titles to his name, but no major international success, Finke began as a relative unknown behind Italy's Gregorio Paltrinieri, the sport's dominant distance swimmer in recent years and the defending 800 world champion, as well as Mykhailo Romanchuk of Ukraine.

Finke spent most of the race in fifth place, within eyesight of Paltrinieri, the leader for the first 14 laps. At the midway point of the final lap, Finke touched the far wall still in fourth place. Then his blazing 26.39 split — 1.65 seconds faster than Paltrinieri — shot him into first place.

For comparison, Paltrinieri, who won the silver medal, closed with his second-fastest 50-meter split at 28.04 — or 1.65 seconds slower than Finke.

The result stunned even Finke.

"I honestly did not expect to win at all," Finke said afterward, "not even a medal to be honest with you."

Finke's time of 7:41.87 in the 800 broke the U.S. record he had already set in prelims, while also continuing a rapid drop of more than six seconds from his time at the Olympic trials in June.

And the 800, he's said, was his weaker race.

Cheered on Sunday, the final day of swimming, by a thunder-stick wielding contingent of fellow U.S. swimmers, by far the biggest delegation on hand at the Tokyo Aquatics Center, Finke again swam his race in the 1,500. From the 550-meter mark, he remained steady in third place, just behind Florian Wellbrock of Germany and Romanchuk, with Paltrinieri rounding out the lead pack.

Two thirds through the race, the in-arena announcer reminded the few hundred people in attendance of Finke's finishing speed. A few minutes later Finke showed them himself.

His final time of 14:39.65 again marked a six-second drop from the trials, and was 1.01 ahead of Romanchuk, who took silver. Wellbrock, in the bronze position, was a quarter-second behind Romanchuk. Paltrinieri, the defending Olympic champion who came back after a mononucleosis diagnosis in June, was fourth.

In that final lap, all they could do was watch.

"I don't like guys who swim just the last 50 so fast," Romanchuk joked.

The U.S. is by far the most dominant country in Olympic swimming, with more than twice as many medals as the second-best country, Australia. One of the rare droughts in that success was in the longtime lone men's distance event, the 1,500. Although Americans have won medals in recent Olympics, the last to win gold was Mike O'Brien in 1984.

"It was something I was aware of going into trials," Finke said.

The Tokyo Games brought another distance opportunity with the addition of the 800 free. It was added to these Games in conjunction with the women's 1,500 to even out the program; although the men's 800 is contested at the world championships, the only time Olympic men's swimmers previously swam a comparable distance was in 1904, when an 880-yard event was held.

After Finke's performance here, the U.S. now has a bona fide men's distance star.

"I hope a lot of younger kids get inspired and come up here and kick some butt too," he said.

Following the whirlwind week of racing in Tokyo, the U.S. swimmers are now quickly heading home, owing to the strict requirements intended to limit the spread of COVID-19. Some peace and quiet will be a welcome change for Finke, after months of intense prep for these Olympics.

"I'm just looking forward to taking my dog Brewster to a park and walking around," he said of the family's beloved German Shepard-Golden Retriever mix. "I haven't been able to do that since Christmas break. So I'm just really looking forward to that."
Want to follow Team USA athletes during the Olympic Games Tokyo 2020? Visit TeamUSA.org/Tokyo2020 to view the medal table, results and competition schedule.
Chrös McDougall has covered the Olympic and Paralympic Movement for TeamUSA.org since 2009 on behalf of Red Line Editorial, Inc. He is based in Minneapolis-St. Paul. Peggy Shinn contributed to this report.