Team USA Veterans Bring Home 4 Gold, 1 Silver On Final Night of Para Swimming In Tokyo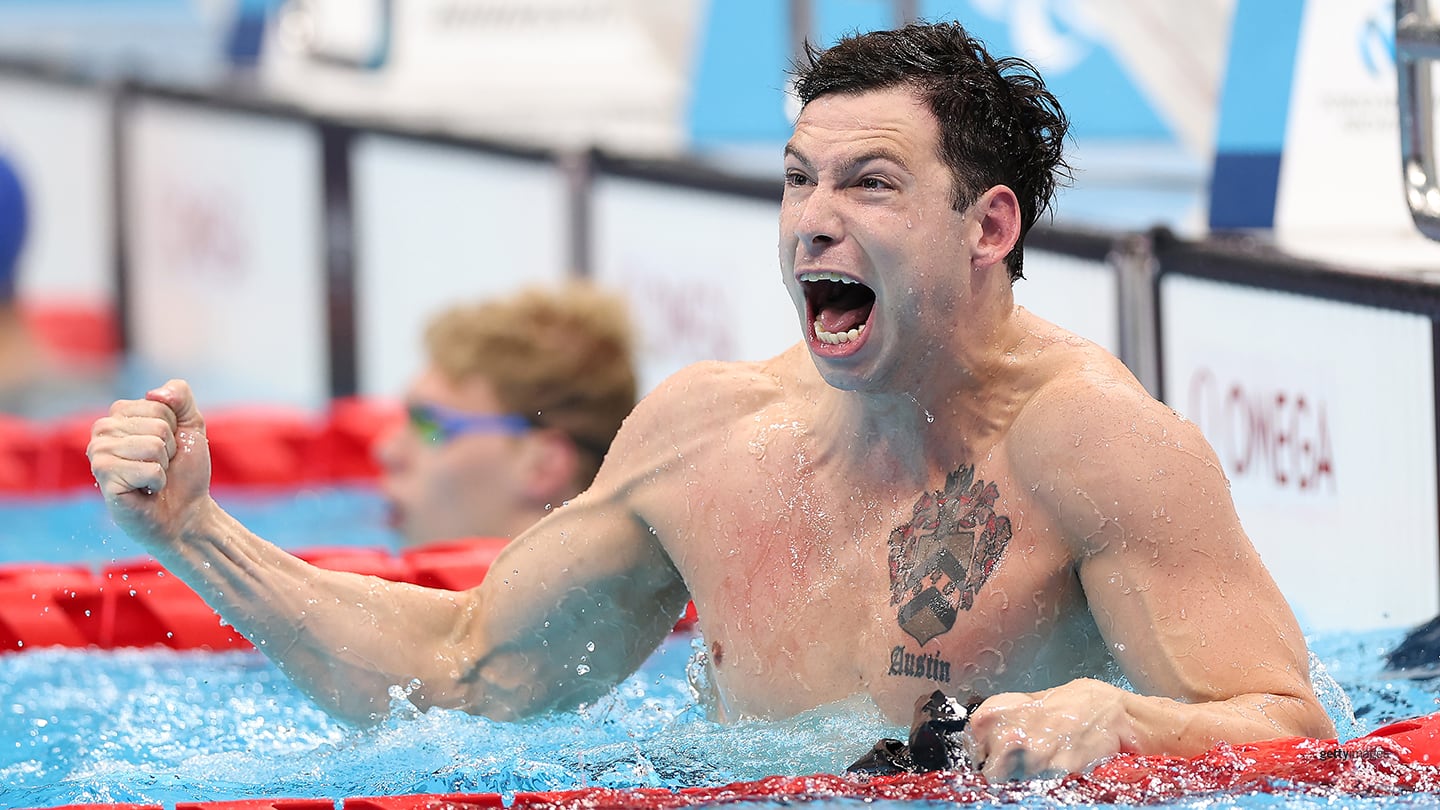 Evan Austin celebrates winning the gold medal in the Men's 50-meter Butterfly S7 at the Paralympic Games Tokyo 2020 on Sept. 3, 2021 in Tokyo, Japan.
TOKYO – The U.S. national anthem filled the Tokyo Aquatics Centre four times on Friday night as Team USA closed out the para swimming competition in Tokyo with four straight gold medals.


Veterans Robert Griswold, Jessica Long, Elizabeth Marks and Evan Austin all captured gold in their final swims at the Paralympic Games Tokyo 2020. Mallory Weggemann added to her medal count with a silver.


In total, Team USA para swimmers won 35 medals at the Tokyo Paralympics – 15 gold, 10 silver and 10 bronze. Jessica Long earned the most individual medals (two gold, two silver, one bronze) in addition to her gold with the women's 4x100-meter Medley Relay 34 points. Ten medals out of the total 35 were won by first-time Paralympians.


Team USA's Evan Austin provided a moment to remember on the last night of Para swimming at the Tokyo Games. The three-time Paralympian won his first gold medal in the men's 50-meter butterfly S7, exploding in celebration when he realized he touched the wall first.


In a close finish, Austin won gold in 28.98, followed by Ukrainian Andrii Trusov in 29.03 for silver and Colombian Carlos Daniel Serrano Zarate in 29.34 for bronze. Austin came into the Paralympic final as the reigning world campion.


"I'm filled with gratitude," Austin said. "It's been a really unbelievable ride. I'm so thankful for my family, my friends and this village of support I've had for the entire journey. I really wouldn't be here without them."


Outside of his gold-medal moment, Austin has been soaking up all the love and support from his teammates on Team USA. One of three co-captains for the Tokyo Games, he said he's thankful the team trusts him to be a leader.


"Seeing members of this team get more excited for the results of their teammates than for their individual results has been really inspiring and encouraging. This is a long meet. Ten days really starts to grind but we had success throughout and I think that kept us motivated. I love the spirit of this U.S. team. This is a great way to end the meet after 10 long days, and we're having an absolute haul today. I think that's a testament to this team's belief in one another and our abilities and the fact that we're not going to quit until the very end."


The Indiana native made his debut at the Paralympic Games London 2012. While he's been a constant on the men's side of U.S. Para swimming, Austin had not secured a top-five Paralympic finish until Tokyo, where he won gold and bronze. He hoped that the younger swimmers can learn something from his journey in the sport.


"Fight the good fight," Austin said. "This is a long process, and some of them won't end like mine is now and that's okay. It really is. Because of the hours you spend in the pool, the friendships you make and the bonds that you forge just by grinding every day…it really helps you shape who you are as a human. I'm going to take away lesions from this sport that will extend a lot longer than whatever time I went."


Austin wasn't sure what his next step in Para swimming will be. He plans to take time off when he gets back to the U.S. to evaluate what's next. Most importantly, he plans to share this gold medal with the people he loves most. He got choked up thinking about the moment.


"Hugs and tears. I'm surrounded by a family that loves me so fiercely and has given so much for me to be here," Austin said. "I just really cannot wait to see them."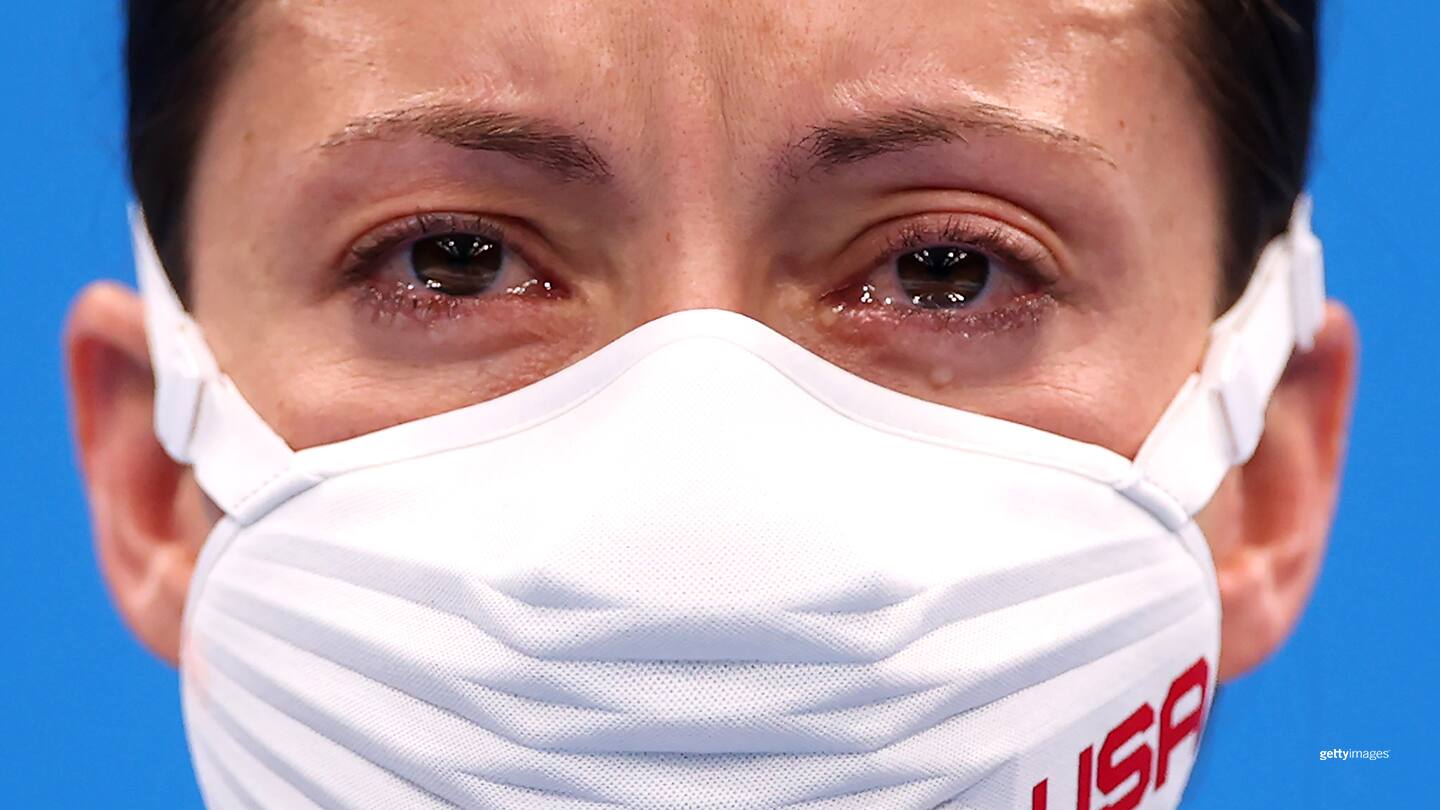 Elizabeth Marks shows her emotion during the medal ceremony for the Women's 100-meter Backstroke S6 Final at the Paralympic Games Tokyo 2020 on Sept. 3, 2021 in Tokyo, Japan.
Team USA's Elizabeth Marks brought the tears for all the Americans in the Tokyo Aquatics Center during the medal ceremony for her final Tokyo race.
Elizabeth Marks won gold in the women's 100-meter backstroke S6, smashing the world record by almost two seconds in 1:19.57. China's Yuyan Jian won silver in 1:20.65, and Germany's Verena Schott took bronze in 1:21.16.
"Winning the gold feels great," Marks said. "I've loved every race that I've gotten to swim. This one is one of my favorites because I get to breathe the whole time, so it was amazing. There's some really fast girls in that pool so I was very excited that I could hold my own with them."
Marks was injured while serving in the U.S. Army as a combat medic in Iraq. She found swimming in 2014 as part of her recovery and has represented Team USA at two Paralympic Games.
In perhaps the most emotional medal ceremony for Team USA at the Paralympics, Marks burst into tears hearing the national anthem and seeing the American flag raised. When asked about her emotions in that moment, Marks simply said she loves her flag and her country.
"I accomplished so much more than I had anticipated," Marks said when reflecting on her time in Tokyo. "I just came here to have a good experience and try to present myself with gratitude and soak in the moments. I think that my fourth-place race is just as special as this last one."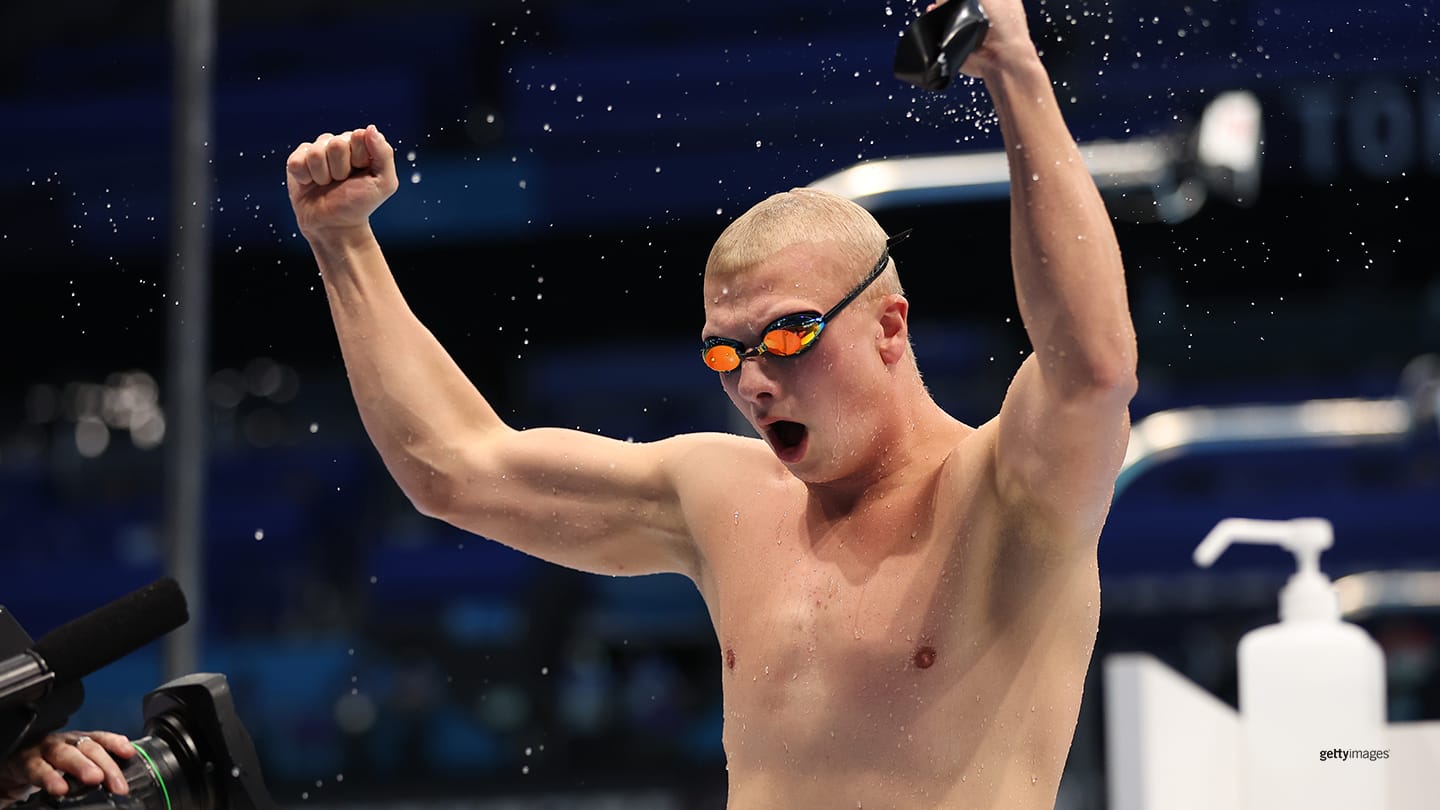 Robert Griswold celebrates winning the gold medal in the Men's 100-meter Butterfly S8 at the Paralympic Games Tokyo 2020 on Sept. 3, 2021 in Tokyo, Japan.
Joining Evan Austin as the other Team USA man to bring home gold in the pool on Friday night, Robert Griswold was out for redemption in the men's 100-meter butterfly S8.
Griswold won in 1:02:03, taking a body-length lead in the first 25 meters and never looking back. Feng Yang of China touched in for silver at 1:03.20, and Ukrainian Denys Dubrov took bronze in 1:03:23.
After coming second in the same race at the 2019 world championships, Griswold felt blessed to win gold. He said he felt like he made a mistake in the world championship race that forced him to become a better athlete. In Friday night's final, he left no room for errors.
"I went back after prelims and analyzed the race of every single competitor verses their historical data, and then looked at mine," Griswold said. "It gave me a lot of confidence going into tonight that if I execute when I need to execute then I've got a really good shot at winning this thing."
Griswold said the experience of being a two-time Paralympian really helped him be successful in the Tokyo Games.
"Honestly I think it was a little bit of recognizing my vulnerability," Griswold said. "I went into Rio so scared that I wasn't going to win a medal," Griswold said. "I think now I really understand the experience and understand how the racing at the Paralympic Games works."
His results spoke for themselves. The American will leave Tokyo a two-time gold medalist and world record holder in the 100-meter backstroke S8. Despite his success, some of Griswold's best memories will come from being able to experience the Games through the eyes of his teammates.
"Seven of our 10 men on the team have never been to a Paralympic Games, and I think I did not appreciate some of the little things that first time I came," Griswold said. "This time, I was able to appreciate it with them. One of the most special experiences was opening our team gear and getting to see the awe on their faces and really be able to take a step back and enjoy it."
The ever-humble Griswold said he plans to get into coaching when he returns to the states as well as start graduate school. Like many of his teammates, he's also eyeing Paris in 2024 and potentially the Los Angeles Games in 2028.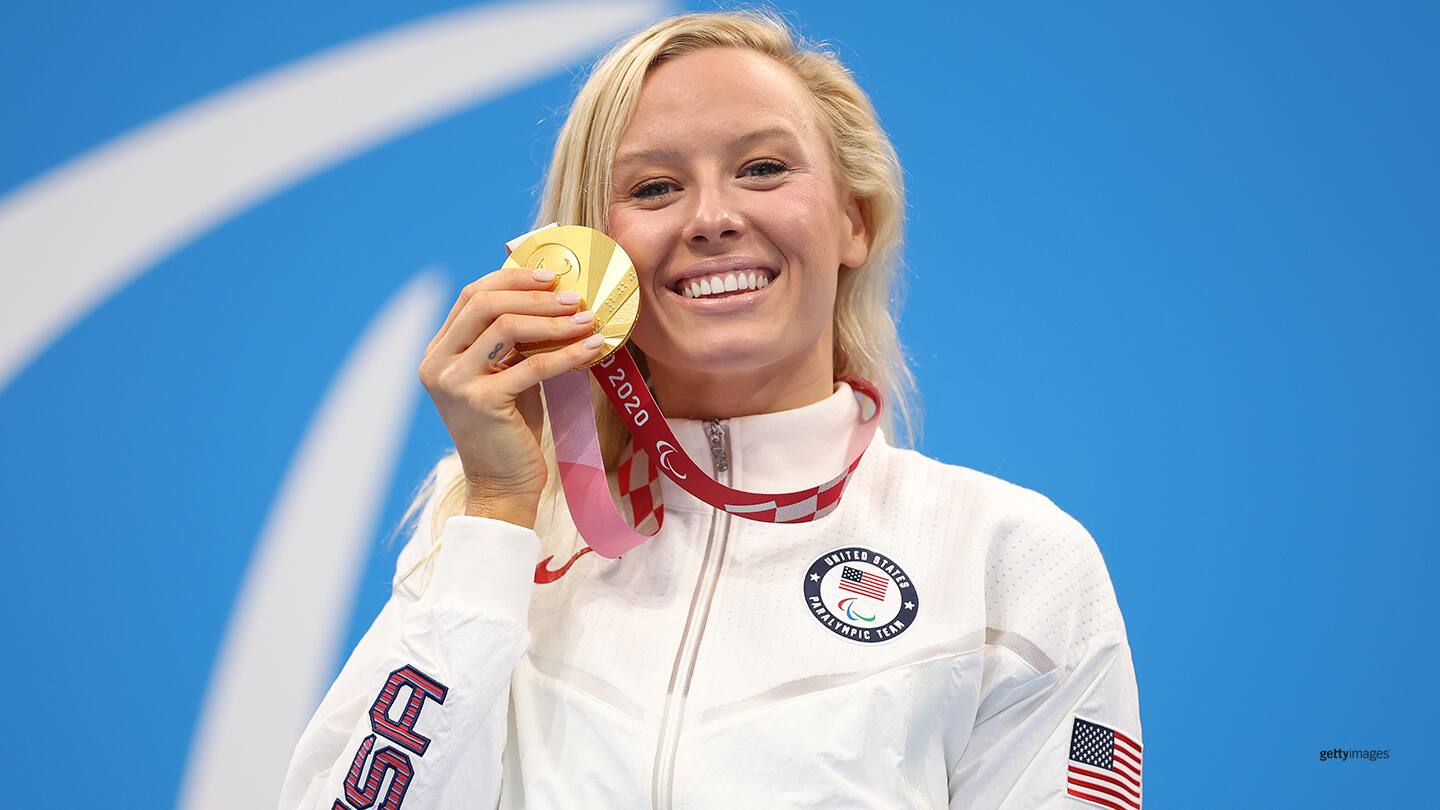 Jessica Long celebrates during the medal ceremony for the Women's 100-meter Butterfly S8 at the Paralympic Games Tokyo 2020 on Sept. 3, 2021 in Tokyo, Japan.
Team USA's Jessica Long won the fourth gold for Team USA on Friday night. It was a long, action-packed meet for the four-time Paralympian, who swam seven races and ended with a medal count of three gold, two silver and one bronze.
"Day 10 is challenging," Long said. "I truly have always said the Paralympics are for those who are super-mentally tough and that is what I tried to channel today. Because I was tired and hurting and sore, but I love swimming and I love to race and that is what I tried to do tonight."
Reflecting on her meet as a whole, Long said she did what she came here to do. Tokyo exceeded all of her expectations.
"This is one of the most amazing Paralympics I've ever attended out of all five," Long said. "I keep telling my parents…you would have loved this stadium; just how electric it is and how kind everyone is. I'm so glad I stuck around for this one because after Rio there was a serious conversation about retirement…so I'm just thankful I stuck with it."
Long hoped her fans watching her reach her 29th career Paralympic medal in this meet will showcase how incredible the Paralympic movement is, especially with Los Angeles in 2028 on the horizon.
"I hope this is a perfect build up for LA 2028," Long said. "Because by the time we get to LA, I want every single person in the U.S. to know what the Paralympics are, to call it the correct name and to get just as excited as they do for the Olympics. I think we're starting to see it, and that excites me. Especially being 12-years-old in the movement and to watch it grow."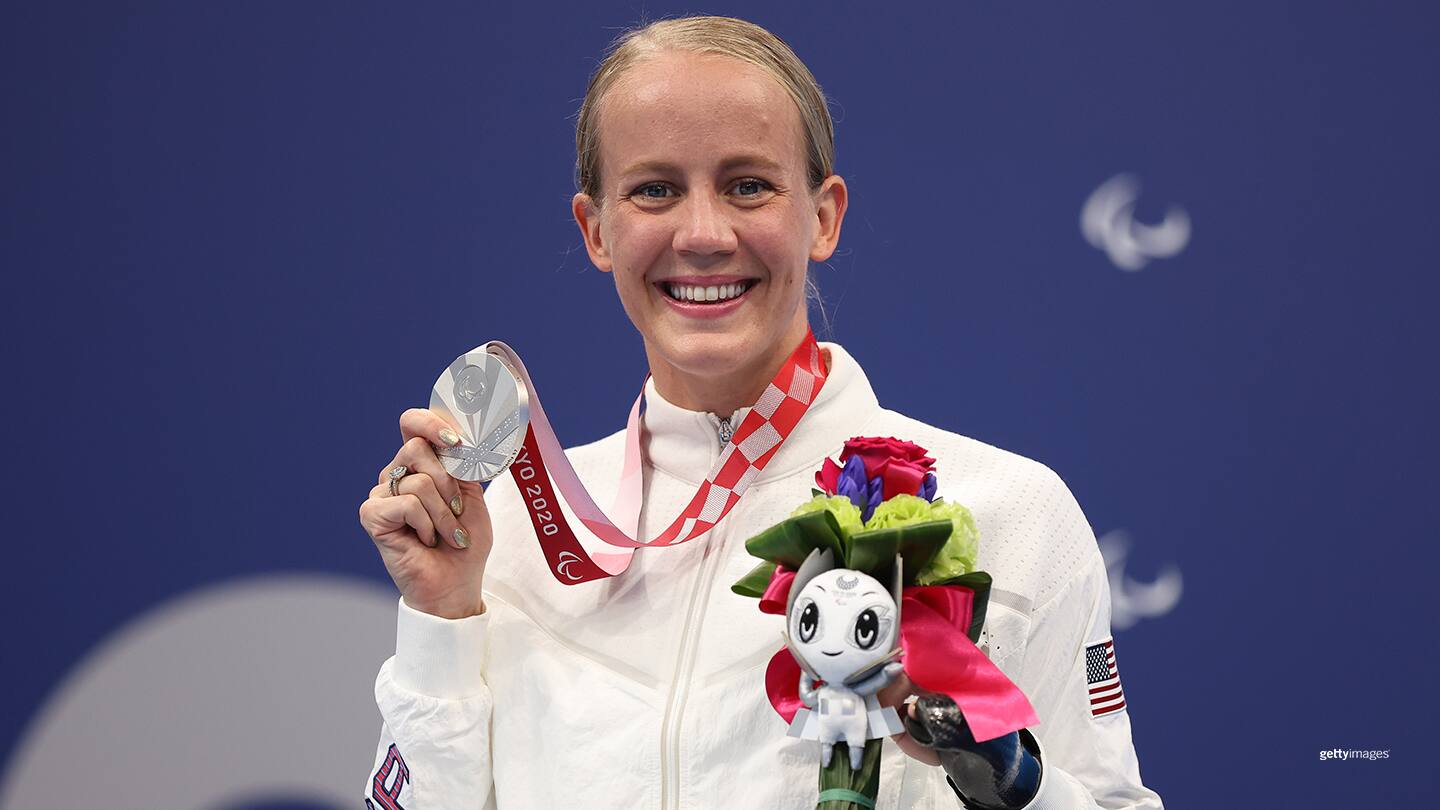 Mallory Weggemann celebrates during the medal ceremony for the Women's 50-meter Butterfly S7 at the Paralympic Games Tokyo 2020 on Sept. 3, 2021 in Tokyo, Japan.
Mallory Weggemann won Team USA's final swimming medal for the Tokyo Paralympics.
Weggemann won silver in the women's 50-meter butterfly S7 with a time of 34.30. Canada's Danielle Dorris won gold with a world record 32.99. Italian Giulia Terzi touched in just behind Weggemann to take bronze in 34.32. Team USA's Julia Gaffney took fourth, McKenzie Coan took seventh.
"I feel great, and I have no complaints," Weggemann said. "It's day 10. It's my favorite race. It wasn't a best time, which was originally our goal, but at the same time I trust that every time my body gets in that pool it gives me everything it has in the moment. A long time ago I came at peace with whatever is on that scoreboard when I finish is what it is, and I'm proud of that."
The three-time Paralympian had an incredible meet, capturing three medals - two gold and a sliver.
"I decided when I showed up that I was just going to have fun doing this," Weggemann said. "I fought for a really long time to be here, and it has not been an easy fight. There have been a lot of moments throughout this journey where I didn't think this was possible and so with that I've learned to enjoy every race for what it is, doing what I absolutely love to do and giving everything I have in that moment."
Weggemann said she cannot wait to return home and share her success with the friends and family that have supported her on this journey.
"I cannot wait to give my husband a hug," Weggemann said. "I miss my family so much and so to be able to hug them all and to show my coach these three medals that we have worked so hard for."
Weggemann said she has exciting plans for the fall related to promoting her book Limitless. She and her husband also want to begin their journey towards starting a family. As for swimming, Weggemann was clear that she'll be back in the pool for Team USA.
"I will be in Paris and if my body allows me to, I will compete for as long as I can, Weggemann said. "So my eyes are already on 2024."
Want to follow Team USA athletes during the Paralympic Games Tokyo 2020? Visit
TeamUSA.org/Tokyo-2020-Paralympic-Games
to view the medal table and results.
Katie Grunik is a digital content creator covering the Paralympic Games Tokyo 2020 for TeamUSA.org. She currently serves as the digital content coordinator for the U.S. Olympic & Paralympic Committee.