Ice Dancers Hubbell, Donohue Win Third Straight World Championship Medal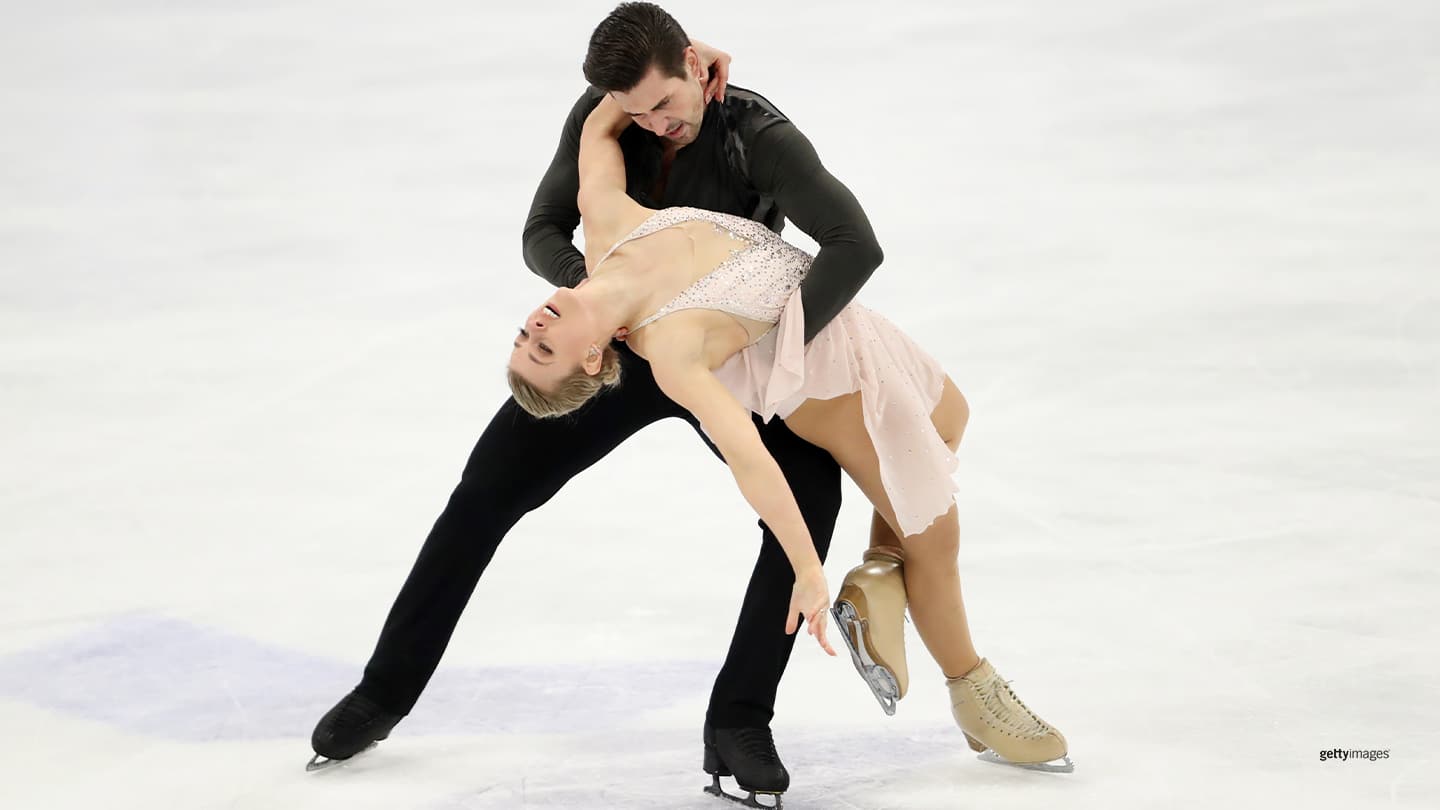 Madison Hubbell and Zachary Donohue perform at the ISU World Figure Skating Championships on March 27, 2021 in Stockholm, Sweden.
Madison Hubbell and Zachary Donohue won their third consecutive world medal at the 2021 World Figure Skating Championships in Stockholm, Sweden, on Saturday, although it wasn't the color they most wanted.

The three-time U.S. champions poured their hearts, and every ounce of their energy, into a deeply emotional and technically challenging free dance to a medley of Jeff Buckley and k.d. lang's renditions of the soulful ballad "Hallelujah."

The captivating program produced deep edges, brilliant ice coverage and seamless steps — nearly everything but the gold medal, which went to Victoria Sinitsina and Nikita Katsalapov of the Figure Skating Federation of Russia (FSR), who led the field with 221.17 points.

"Our performance felt very present and intentional, and it is really a joy to skate together when it's like that," Hubbell said. "But there is also that little dissatisfaction of not reaching our goal of bringing home the gold medal. Right now, I'm a little bit numb."

Hubbell and Donohue, who amassed a total 214.71 points, won silver for the second time; they also placed second in the world in 2018. In 2019, they won bronze. The 2020 world championships were canceled, due to the COVID-19 pandemic.

"We came here for a gold medal, and there is definitely disappointment around that … We also know that we are progressing, that we are building, we are gaining the qualities we want as a team," Donohue said. "We look at this as momentum, creating a hunger."

Entering the free dance, the Americans trailed the FSR dancers by a bit over two points after Friday's rhythm dance. That's not much in singles' competition — Nathan Chen overcame an eight-point deficit after his short program to win a third world title earlier in the day — but it is an appreciable amount in ice dance. Still, they had high hopes.

"You don't know the (judges), we don't know what could happen," Hubbell said on Friday. "We can skate well and come second, we could skate OK and win, that is the thing. We won't know when we step out on the ice what it is going to take. We are just going to show our programs, all the work we've put in, and the rest is not our job."

While there was little Hubbell and Donohue could have done to infuse more performance quality into their program, several of their step sequences gained Level 3 — instead of the highest Level 4 — from the technical panel. Their final element, circular steps, earned just Level 2. This, alone, likely cost them two points.

"The perfect performance doesn't exist," Donohue said. "I could probably find you ten things off the top of my head I could have done better — extension, stretch, pushed a little more."

"My goal was to be focused on my partner from beginning to end, and that's what I came off with," he added. "We like to talk about (how) we make our own wins, and that's a win in my book."

Canadians Piper Gilles and Paul Poirier climbed from fourth place after Friday's rhythm dance to claim bronze with 214.35 points.

Madison Chock and Evan Bates — who train alongside Hubbell and Donohue in Montreal, Quebec, under Marie-France Dubreuil, Patrice Lauzon and Romain Haguenauer — entered the free skate in third place and also hoped to win a third world medal. Instead, they placed fourth with 212.69 points.

Saturday was the final time the two-time U.S. champions competed their "Snake and Snake Charmer" free dance, the program that led them to the 2020 U.S. title as well as the 2020 Four Continents crown.

"It's been a signature program for us," Bates said on Friday. "The last few days at home training it was really emotional. I think we can use that in a good way tomorrow and bring the emotion we've brought in practice. It's been a big focus of ours, to put our hearts and souls into the skating and to let the rest take care of itself."

The emotion was there on Saturday, and the polished, highly detailed choreography showed off Chock's charismatic presence and Bates' strengths as a partner. But Bates made a minor error on the twizzles (fast, one-foot turns). In addition, the judges gave them slightly lower program component scores (PCS) than the top three teams.

"Maddie was so excited when we finished. She looked at me, and I was like, 'I didn't skate as well as you did, babe,'" Bates said (he and Chock are an off-ice couple). "There were certainly just a few seconds in the program where I made some technical errors that were obviously costly and honestly, we're quite disappointed about it."

Disappointed, too, are Kaitlin Hawayek and Jean-Luc Baker, who performed a haunting, free-flowing program — set to a remix of Blondie's "Heart of Glass" and Philip Glass selections — that had no major errors yet earned a lower score than they had hoped.

"Technically, I think we put out a solid performance and met all of the (technical) requirements with a very strict panel here, but the judges were looking for something clearly different," Hawayek said. "So, we're going to make sure that we get the proper feedback, and our coaching team also will be on top of that, for sure, with us. And we have to go back to the drawing board and come back stronger for next season."

Despite their disappointment, Hawayek and Baker earned 188.51 points to place ninth and equal their best finish at the world championships.

With all three couples placing in the top ten, Team USA easily qualified three spots in ice dance for the Olympic Winter Games Beijing 2022.
Lynn Rutherford is a sportswriter based out of New York. She is a freelance contributor to TeamUSA.org on behalf of
Red Line Editorial, Inc.