Make It Two: Anastasia Pagonis Ends Night 2 Of Para Swimming Trials With New World, U.S. Records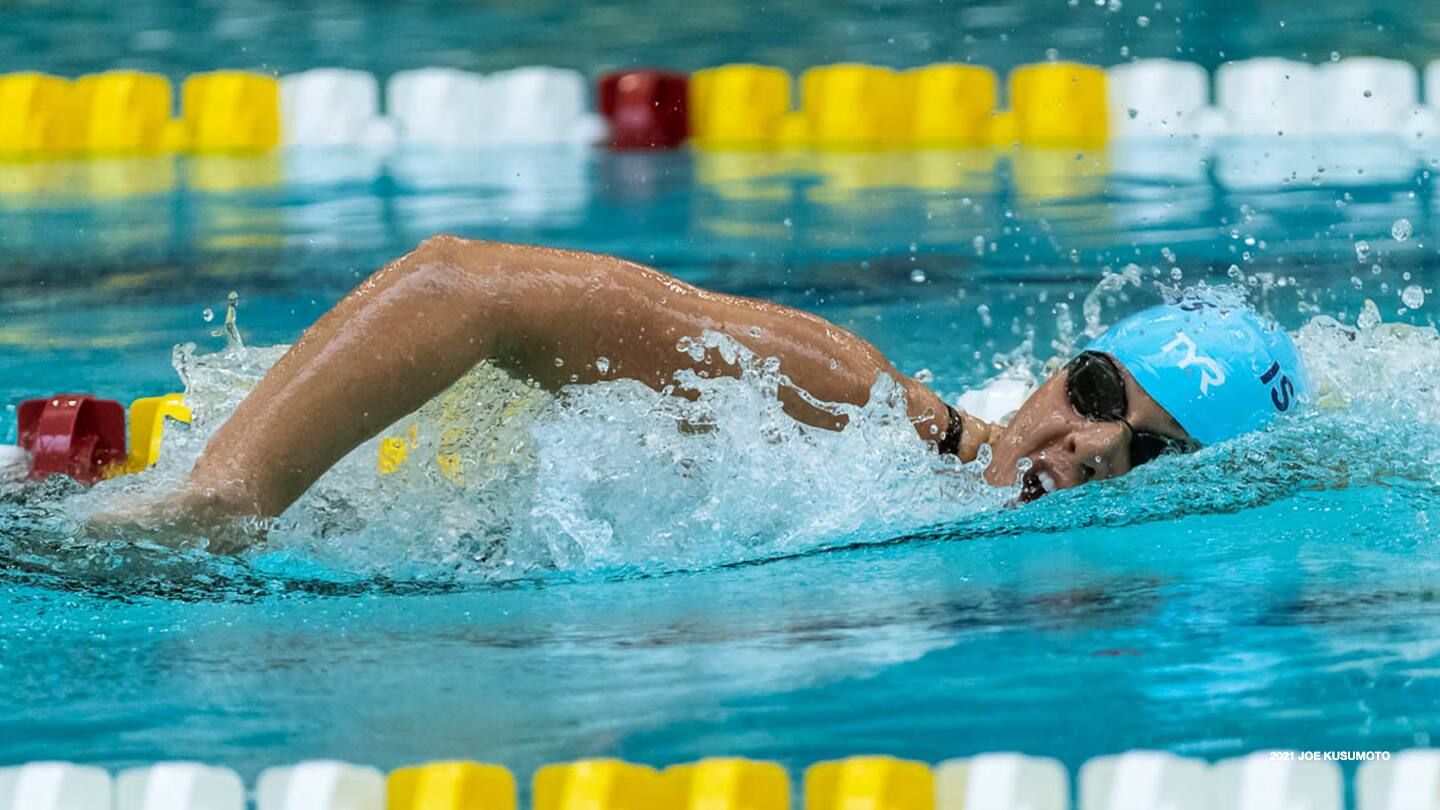 Anastasia Pagonis competes at the U.S. Paralympic Swimming Trials on June 18, 2021 in Minneapolis.
MINNEAPOLIS — Anastasia Pagonis is competing in the U.S. Paralympic Team Trials for Swimming this week for the very first time, having lost essentially all of her vision just two years ago.

By any measure, she had one heck of a start on Friday.

The 17-year-old from Long Island, New York, set a world record in the preliminaries in the S11 400-meter freestyle, then lowered it during the finals later on that night. She also set an American record in the 100-meter freestyle in the preliminaries.

"It's really exciting," she said of competing in her first Paralympic trials, which are taking place alongside those for cycling and track and field through Saturday in Minneapolis. "I never thought this would end up happening when I lost my vision two years ago. I never thought I would be here. So just being in this environment is exciting."

Pagonis, who began losing her vision at the age of 11, swam a time of 4 minutes, 59.28 seconds in the prelims of the 400 freestyle to break the record of 5:02.19 set by Liesette Bruinsma, of the Netherlands, in 2019. Pagonis swam even faster in the final, winning in 4:56.16.

She also set an American record in the 100-meter freestyle, also in the S11 classification, in the prelims with a time of 1:06.89. She later won the event with a time of 1:06.89.

"I'm here to have fun and I think that's the most important thing, and not let the nerves and the stress take over," she said. "I'm just making myself super excited and not putting a lot of pressure on myself."

Sims Swimming Strong In Hometown
Natalie Sims was thrilled when she found out that the trials were going to be held in Minneapolis, having been born and raised in nearby Edina. And even though fans can't be in attendance at the meet due to COVID-19 safety concerns, Sims is still enjoying being in such familiar surroundings as she goes for her second Paralympic team.

On Friday, she found herself going down to the wire with another hometown girl, Summer Schmit, of Grant, Minnesota, in the S9 400-meter free. Sims touched in 4:57.85, Schmit in 4:57.86.

"It was a dogfight out there that last 50 (meters)," said Sims, who was born without her right hand. "She pushed me the first 200 of that race and all I was thinking is I trained so hard to get here, I just want to finish strong. I finished with my right hand, but, you know, best time ever, first time under five (minutes), so it's very exciting."

Another hometown swimmer, two-time Paralympic medalist Mallory Weggemann, of Eagan, Minnesota, finished second in the S7 100-meter freestyle in 1:11.37.

Records Tumble On Night Two
A number of American records found new owners on day two of the trials.

Leanne Smith set a record in the S3 50-meter backstroke in the prelims with a time of 55.67 seconds, then broke it in the finals in 54.20. David Abrahams set the S13 U.S. record in the 100-meter freestyle with a prelims time of 56.80, and Matthew Torres swam the S8 400-meter freestyle final in 4:29.52 to win and set a record.

Big Names Come Out In The 400 Free
The women's 400-meter freestyle had more than its share of thrills.

In the S8 class, four-time Paralympian Jessica Long (4:44.31) edged Morgan Stickney (4:45.77) to earn her third win so far in Minneapolis. Long, of Baltimore, is looking to add to her career total of 23 medals in Tokyo.

In the S7 class, two-time Paralympian McKenzie Coan, of Clarkesvile, Georgia, was just shy of the American record of 5:04.87 with a personal best of 5:04.88.

Fairplay, Colorado, native and 2016 Paralympian Sophia Herzog won the S6 class in 6:09.21.

Mikaela Jenkins, of Evansville, Indiana, won the S10 in 4:52.64.

And finally, world record holder and two-time Paralympian Becca Meyers, of Baltimore, led the S12 class in 4:25.74.

Those weren't the only wins of the night for Coan and Meyers, either. Coan also took first in the S7 100-meter final with a time of 1:10.80, just ahead of Weggemann. Meyers also won the S12 100-meter final in 1:02.47.

Some Other Winners
Two-time Paralympian Evan Austin, of Terre Haute, Indiana, won the men's S7 400-meter in 4:50.20.

Raleigh, North Carolina, native Hannah Aspden, who was the youngest Team USA swimmer to medal at either the Olympics or Paralympics in 2016, grabbed first in a highly-competitive S9 100-meter final with a time of 1:03.87.

Paralympian Robert Griswold, of St. Louis, won the S8 men's 100-meter in 1:02.88.

Yaseen El-Demerdash, of Overland Park, Kansas, won the men's S10 100-meter in 57.07 seconds and the 400-meter in 4:32.57.
Karen Price is a reporter from Pittsburgh who has covered Olympic and Paralympic sports for various publications. She is a freelance contributor to TeamUSA.org on behalf of
Red Line Editorial, Inc.