U.S. Para Swimmers Add Five More Gold Medals On Day 2 Of World Series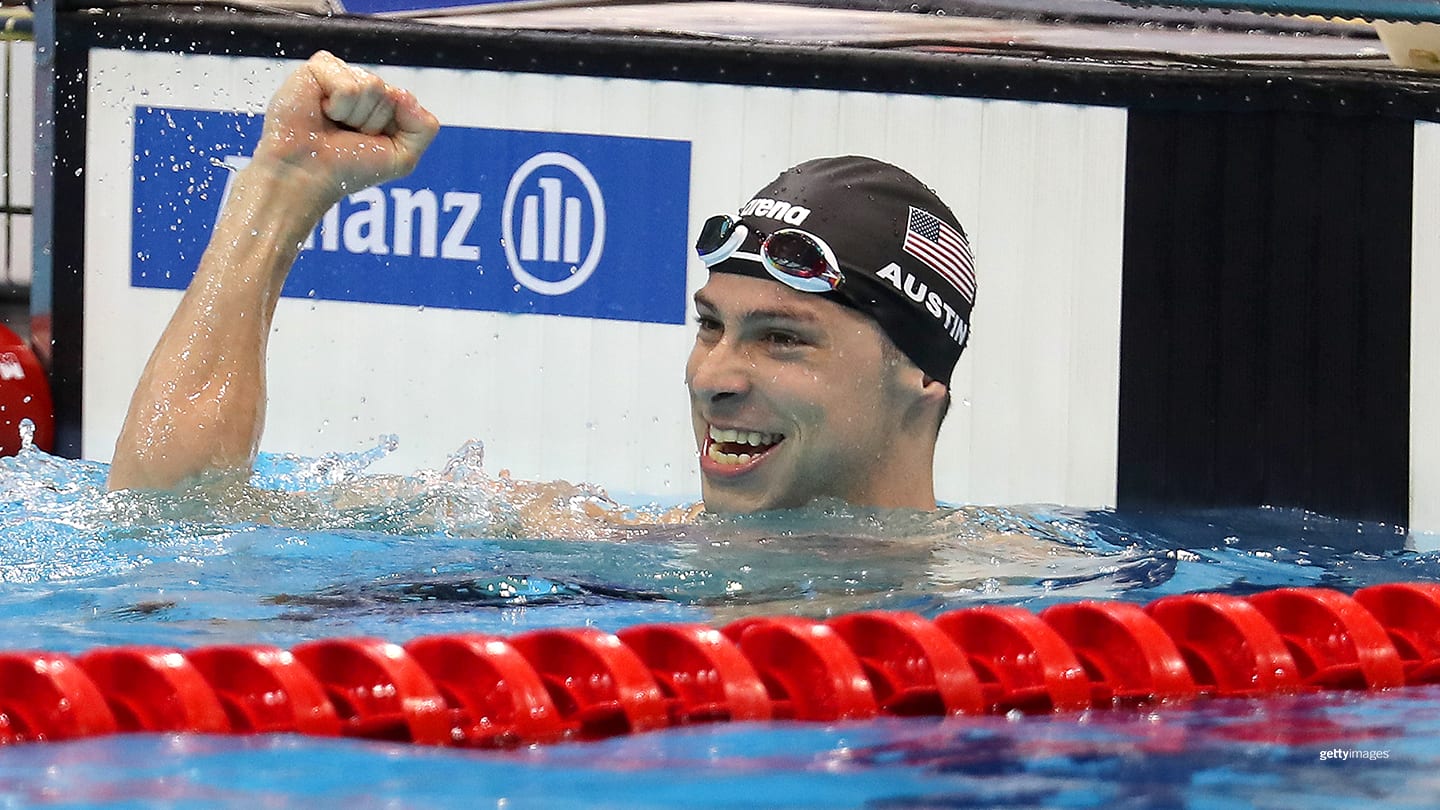 Evan Austin celebrates victory in the Men's 50m Butterfly s7 final at the London 2019 World Para-swimming Allianz Championships at Aquatics Centre on Sept. 9, 2019 in London, England.
Five gold medals, 14 total medals and a dozen broken records made for an outstanding second day in the pool for Team USA at the Para Swimming World Series in Lewisville, Texas.

The top performer for the U.S. on the day was two-time Paralympian Evan Austin, who earned gold medals in both the 400-meter freestyle and 50-meter butterfly. Austin also broke a pair of American records. Like many members of Team USA, Austin was just happy to be back competing. The medals are just a bonus.

"It's awesome. It's been really great to reconnect with teammates that I haven't seen in over a year," Austin said. "That's probably the best part, having this community back together and the ability to race."

Lawrence Sapp added to his medal haul, winning in the men's 100 fly to add to his 200 free silver medal from Thursday. Morgan Stickney (400 free) and Paralympic gold medalist Mallory Weggemann (50 fly) won the other gold medals for Team USA.

Seventeen-year-old Anastasia Pagonis set the American record in the 400 free prelim Friday afternoon, then beat her own record in the final and won the silver medal. She added another silver in the 50 free. Even Pagonis was impressed with the performance.

"I was expecting to go out and do the best that I could do, and I ended up doing better than I wanted, so I'm really happy," she said. "It's so different racing against people you're supposed to be racing against instead of able-bodied people. It gives you this boost of confidence, so I just love it. I feel so free in the pool."

Julia Gaffney (50 fly) and Paralympic medalist Lizzi Smith (100 fly) each won silver medals. Three-time Paralympic gold medalist McKenzie Coan (400 free), 13-time gold medalist Jessica Long (100 fly), gold medalist Ellie Marks (50 fly), Gia Pergolini (50 free) and Matthew Torres (400 free) all won bronze medals to round out the 14-pack of medals for Team USA.

The World Series concludes Saturday from Lewisville, the only U.S. stop on this year's calendar.
Todd Kortemeier is a sportswriter, editor and children's book author from Minneapolis. He is a contributor to TeamUSA.org on behalf of
Red Line Editorial, Inc.